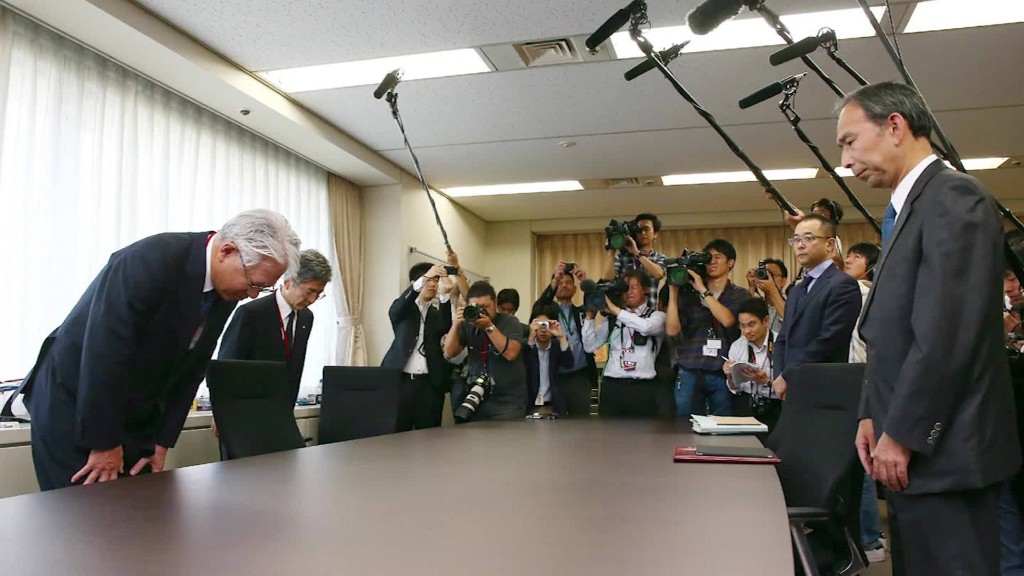 The steelmaker at the center of Japan's latest corporate scandal is facing an uncertain future after it admitted shipping more products that may not have been up to standard.
Investors dumped shares in Kobe Steel (KBSTY) again on Wednesday, scything another $700 million off its market value. The plunge followed an equally dizzying slump on Tuesday.
Kobe Steel has now lost more than 30% of its value in two days since it revealed that employees faked data about the strength and durability of aluminum and copper parts sold between September 2016 and August 2017 to the autos and aerospace industries.
The crisis deepened Wednesday when the company confirmed that it was also investigating potential falsification of data relating to steel powders, which are also used to make cars.
A Kobe Steel spokesman told CNNMoney that the powders had been sold to one customer, who he declined to identify.
The falsification scandal has rocked Japanese industry. Toyota (TM), Honda (HMC) and Nissan (NSANF) all bought Kobe products with fake certification, as did Mitsubishi Heavy Industries (MHVYF) for its new regional passenger jet.
Boeing reviews supplies
Subaru (FUJHF) has also confirmed that it bought affected products. Subaru and Mitsubishi are major suppliers to Boeing (BA).
A Boeing spokesman said the company was inspecting its supply chain for any impacted components.
"Nothing in our review to date leads us to conclude that this issue presents a safety concern," the Boeing spokesman said.
Mitsubishi has also said it believes the safety of its plane -- Japan's first commercial airliner for 50 years -- has not been compromised.
It's still unclear what the unfolding scandal will cost Kobe Steel. It has yet to estimate the financial impact.
Struggle to survive
But some analysts warn it may struggle to survive.
"There is a danger Kobe will go bust," said Alexander Medd, head of Bucephalus Research, an independent financial research firm based in Hong Kong.
Medd said that Kobe Steel was already facing a crunch because its running costs and investments are higher than the cash its business is generating. Sales and profits have slumped over the last two years.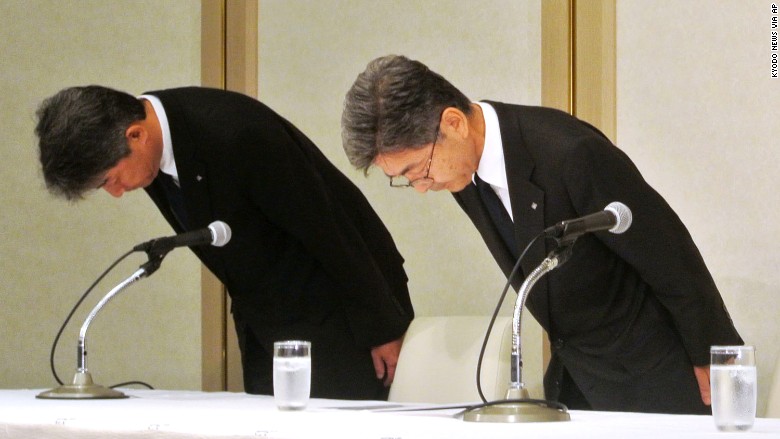 "Any drop in sales could be catastrophic," Medd added, predicting that foreign customers could ditch Kobe for its competitors.
The scandal has echoes of another Japanese corporate disaster. Takata was forced to file for bankruptcy earlier this year after faulty parts caused air bags to explode. The scandal was linked to 11 deaths and prompted the recall of millions of vehicles.
Related: Is Toshiba too big to fail?
The auto manufacturers drawn into the Kobe scandal all used its metal in vehicle doors and hoods, and they're still trying to figure out which models are affected.
Nomura analyst Masataka Kunugimoto said that of the automakers named so far, only Subaru extensively used aluminum hoods across its major models.
Kunugimoto added that in the event of any recall Kobe Steel would be made to foot the bill.