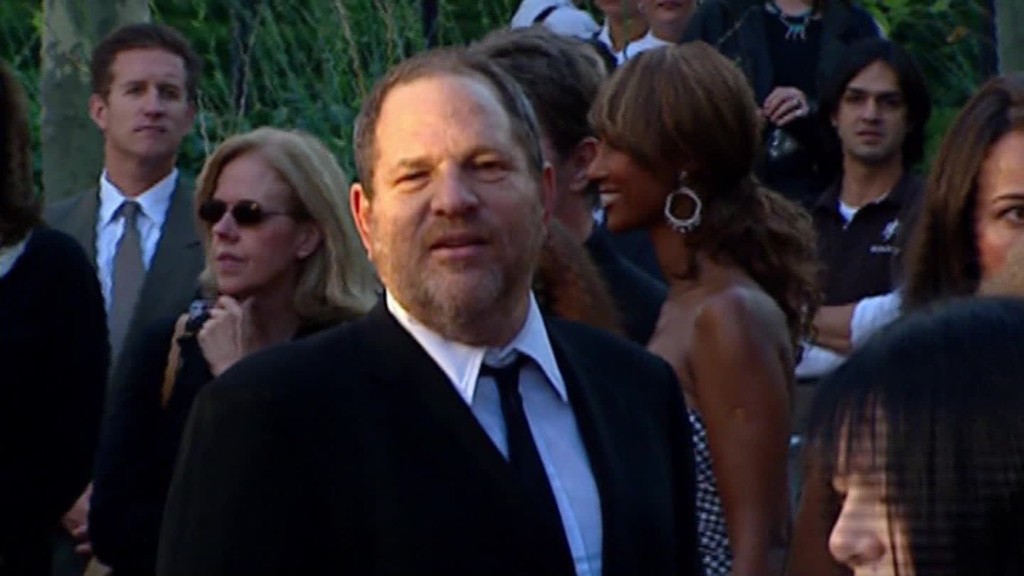 Harvey Weinstein is heading to rehab. His wife of 10 years, Georgina Chapman, is heading to divorce court. And his former company is heading into an uncertain future.
Questions are swirling about whether Weinstein is in legal jeopardy now that more women have come forward accusing him of rape, assault and other misconduct. And there are indications even more women will speak out in coming days.
The board of the Weinstein Company movie studio, which fired him on Sunday, issued a statement on Tuesday night expressing shock and dismay at new allegations of "extreme sexual misconduct and sexual assault."
"These alleged actions are antithetical to human decency," the board members, including Harvey's brother Bob, said. "These allegations come as an utter surprise to the Board. Any suggestion that the Board had knowledge of this conduct is false."
On Wednesday, actor Cara Delevingne added her account of an alleged incident of sexual misconduct by Weinstein to those of other women who have come forward.
This claim of innocence generated immediate skepticism in media circles. The actor Rose McGowan, who The New York Times reported received a $100,000 settlement from Weinstein 20 years ago, said on Twitter that "they all knew" and repeated her call for the board to be dissolved.
The challenges for the business are formidable.
Some partners are thinking about backing away from projects. Amazon told The Hollywood Reporter on Tuesday night that "we are reviewing our options for the projects we have with The Weinstein Co."
This week Harvey Weinstein's name was removed from the credits of Weinstein Co. shows like "Project Runway." The company is contemplating a name change to wipe away the Weinstein name altogether.
But there's no way to forget the chilling accounts published by The New York Times last week and The New Yorker on Tuesday.
Ronan Farrow's reporting for The New Yorker included three separate accusations of rape -- including a claim that Weinstein forcibly performed and received oral sex and forced vaginal sex.
A spokeswoman for Weinstein said "any allegations of non-consensual sex are unequivocally denied by Mr. Weinstein."
Farrow also interviewed numerous women who alleged assault and harassment.
A few hours later, The Times published allegations from more women, including Gwyneth Paltrow and Angelina Jolie, both of whom said Weinstein harassed them in the 1990s.
"This way of treating women ends now," said Paltrow, who alleged that Weinstein harassed her after hiring her for a role when she was 22.
Weinstein had no comment on their assertions.
Hollywood expressed shock at the predatory behavior described in the news stories. The New Yorker also focused on the belief that many employees at Weinstein Co. had knowledge of the misconduct.
That's what may have prompted the board to issue its statement on Tuesday night.
Avowing "utter surprise," Bob Weinstein, Lance Maerov, Richard Koenigsberg and Tarak Ben Ammar said they are "committed to assisting with our full energies in all criminal or other investigations of these alleged acts, while pursuing justice for the victims and a full and independent investigation of our own."
Related: Harvey Weinstein believes his brother Bob betrayed him
The company's further distancing from Weinstein came hours after his wife, Georgina Chapman, a founder of the designer clothing company Marchesa, told People magazine: "I have chosen to leave my husband."
"My heart breaks for all the women who have suffered tremendous pain because of these unforgivable actions," she said in a statement.
Representatives for Chapman has not responded to CNN requests for comment. The pair have two young children.
Weinstein, meanwhile, is bound for rehab, his representative confirmed to CNN late Tuesday. The spokesperson declined to say when Weinstein will report for treatment and where.
Hollywood is accustomed to taking moral stands on a variety of issues. But the avalanche of sexual-misconduct allegations has placed the industry in the uncomfortable position of looking inward.
This isn't entirely new territory. The charges against Weinstein follow rape accusations against Bill Cosby and, before that, director Roman Polanski.
Yet Weinstein's high profile as a maker of Oscar-caliber films -- and the array of big-name talent that has passed through his orbit -- is forcing people who have worked with him to address what they knew, or perhaps should have known.
"Weinstein," actor Ewan McGregor tweeted on Wednesday. "It's about time this came to light and he is getting is just deserts. Heard rumours over the years but this is awful. Bye Bully!"
People who are already hostile toward Hollywood are seizing on the scandal, eager to claim hypocrisy by those who spoke out against Fox News' Roger Ailes and Bill O'Reilly, and especially then-presidential candidate Donald Trump when the "Access Hollywood" tape surfaced a year ago.
Critics have said that people who worked with Weinstein, Democratic politicians who accepted his money, and late night hosts have all been slow to address the scandal.
The floodgates opened on Tuesday. Meryl Streep, Ben Affleck, George Clooney and Matt Damon were among the actors who issued statements or gave lengthy interviews about the story, which has seized Hollywood's attention at a time usually dominated by talk of Oscar frontrunners.
Former President Barack Obama and Hillary Clinton both also denounced Weinstein in statements.
The question now is how many more women will come forward.
Speaking to Don Lemon on "CNN Tonight" alongside actor and Weinstein accuser Louisette Geiss, attorney Gloria Allred said she had spoken with more accusers who "do not want to speak out publicly."
But, she added, "some may."
The scandal has compelled others to come forward with their stories.
In a series of tweets on Tuesday, actor Terry Crews said the Weinstein story was causing him post-traumatic stress because he was once assaulted by a male executive.
"Hopefully, me coming forward with my story will deter a predator and encourage someone who feels hopeless," Crews tweeted.