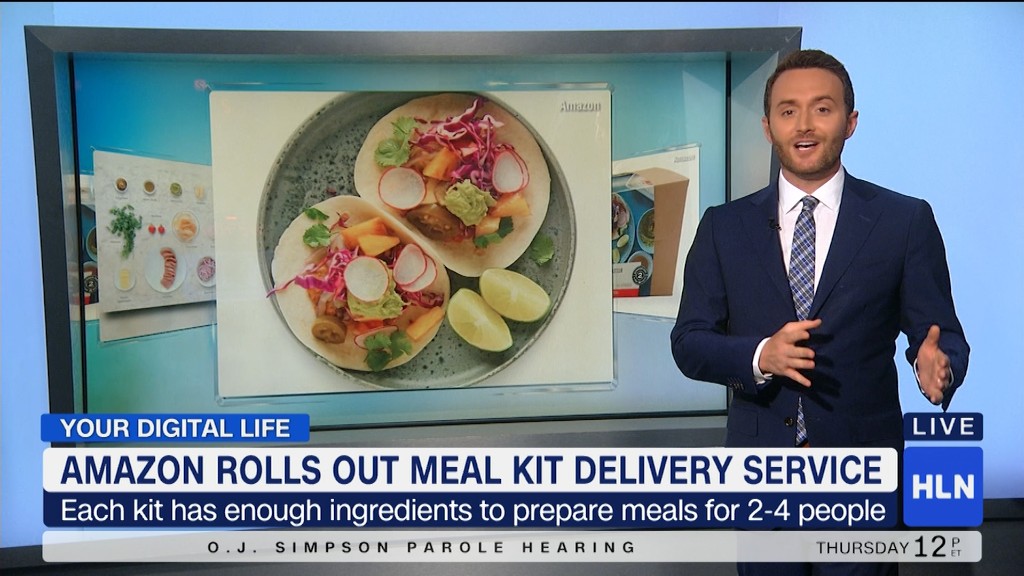 Like many twenty-somethings, I don't enjoy going to the supermarket (or stores, generally).
Long lines and chilly aisles? No thank you.
I decided to try AmazonFresh, Amazon's online grocery delivery service.
For a monthly fee of $14.95, AmazonFresh gives you access to a range of budget-friendly groceries and delivers them straight to your door.
Fresh subscriptions are only available to current Prime members in select cities, and there's a $9.99 delivery fee for orders under $40.
Was the subscription fee worth the convenience? Here's what I learned.
Choice matters
AmazonFresh offers flexible delivery options, which made it easy to schedule shipments around my often-chaotic schedule.
I could select a delivery date and time and whether or not I wanted to be present when my order arrived.
And I could feel confident that my groceries would remain fresh even if they were left on the doorstep for a few hours. That's because Amazon packs perishables in temperature-controlled tote bags filled with ice packs.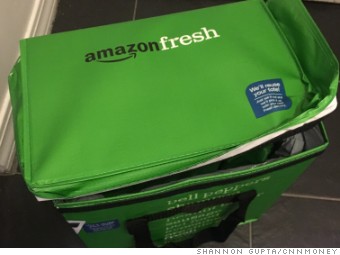 The ordering process was also accommodating. If I forgot to purchase something, I could add it to my order even after I'd placed it.
I was less impressed with AmazonFresh's food offerings. Some of my favorite brands, such as my go-to tomato soup, didn't fall under the Fresh subscription.
Related: Whole Foods just got a whole lot cheaper
I could still order the soup as a regular Amazon item, but it wouldn't ship as part of my Fresh order. That's because Amazon ships orders by subscription. There are several plans available, including Prime Pantry, which delivers household supplies and toiletries.
Each subscription has its own rules. Amazon's new service, Instant Pickup, lets you order basic snacks and toiletries and pick them up from an Amazon locker within two minutes.
AmazonFresh, on the other hand, does not offer immediate delivery. If you're like me and often find yourself craving random snacks, this can be a problem.
Even if AmazonFresh did provide instant delivery, placing an order solely for a $4.49 bag of beef jerky or $1.99 bag of Goldfish -- and then paying a $9.99 delivery fee -- just isn't that smart.
Free shipping is everything
It was difficult to reach the $40 free shipping minimum in general. As a single person who dines out more often than she should, I typically spend just $20 per week on groceries.
Waiting more than one week to place an order wasn't an option either, given that I run out of certain items, such as bread and cheese, very fast.
I managed to reach the minimum by padding my orders with AmazonFresh's non-food offerings, such as toilet paper and pet supplies.
Call me crazy, but I'd rather stock up on toiletries than pay for shipping.
What you see isn't always what you get
Amazon usually chose the freshest meat and produce, but I once received a shriveled lemon rather than the plump one in the online picture.
Amazon does offer a 30-day refund policy if you aren't satisfied with the condition of your Fresh items, but I opted to turn my shriveled lemon into lemonade, literally.
And the items that arrived weren't always the exact ones I'd ordered.
Related: How to save on your grocery bill
After placing one of my Fresh orders, I received an email that the brand of paper towels I'd purchased was out of stock. Amazon said I wouldn't be charged for the item and would instead receive a similar pack of paper towels for free.
This happened a second time when I placed an order for honey-roasted turkey cold cuts. Instead, I ended up with plain roasted turkey, free of charge.
Never underestimate the power of customer service
While most of my AmazonFresh orders arrived within my scheduled delivery window, two of my orders did not.
I called customer service after both instances and was graciously refunded.
Amazon noted that the second delivery failed amid a neighborhood-wide delay, but it's unclear why my first order did not arrive.
Was AmazonFresh worth it?
Despite the helpful customer service and low-priced items, AmazonFresh just doesn't make sense for my budget or my lifestyle.
Related: Walmart wants to deliver your food -- and put it in the fridge
But if you usually exceed $40 on your grocery trips and don't live near a supermarket, AmazonFresh could be a smart money-saving option.
It all depends on your priorities -- and what you're willing to pay for convenience.