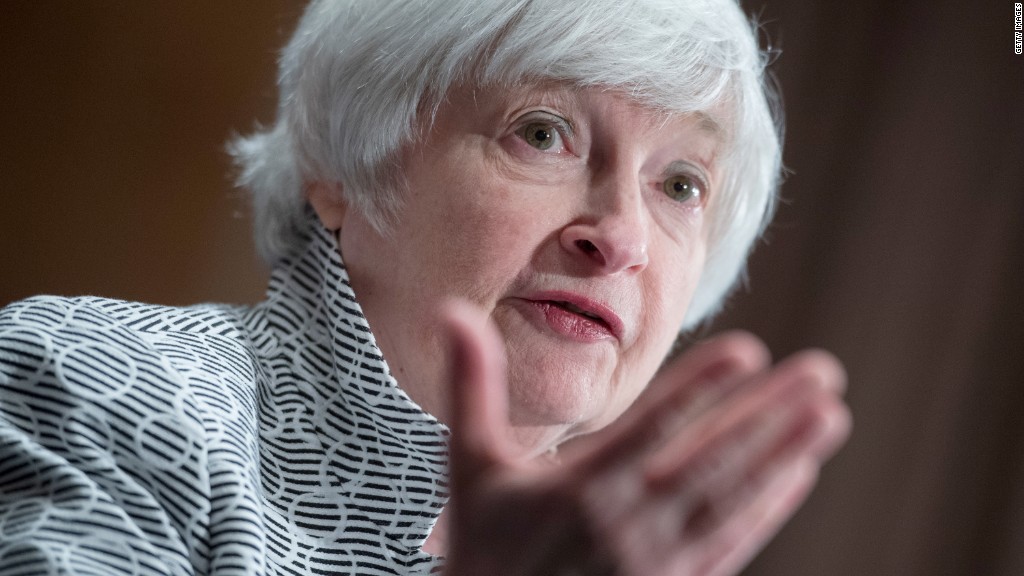 JPMorgan Chase is taking another victory lap.
The bank, which recently surpassed Bank of America to become the biggest bank deposit holder in America, reported earnings and revenue for the third quarter Thursday that easily topped forecasts.
Chase posted a quarterly profit of $6.7 billion, up 7% from a year ago. That worked out to earnings per share of $1.76, well ahead of Wall Street analysts' consensus estimate of $1.65 a share.
The strength was led more by plain vanilla consumer banking operations -- like lending money for credit cards, cars, mortgages and taking in deposits -- than it was about Wall Street investment banking.
Chase posted a 16% increase in profits from its consumer and business banking unit. But earnings fell 13% in its corporate and investment bank division. That was largely because of a drop in revenue from bond and stock trading.
The relentless march higher for stocks this year, coupled with interest rates that remain stubbornly low, has led to decreased market volatility. And that's bad for investment banks, which tend to do better when there is more trading activity.
Related: JPMorgan Chase devotes $10 million to fight poverty in DC
But CEO Jamie Dimon didn't seem concerned. In many respects, it's good that Main Street is starting to show signs of life.
"The global economy continues to do well and the U.S. consumer remains healthy with solid wage growth," Dimon said in a statement.
Shares of JPMorgan Chase (JPM) dipped slightly in early trading on the news. But it's been a great year so far for Dimon's bank. It's also been a great year for his competitors.
Chase's stock is up more than 12% this year and not far from an all-time high. Asset manager BlackRock (BLK) posted strong results on Wednesday, pushing its stock to a new record high in the process.
Citigroup (C) also reported a profit that was better than expected Thursday. Bank of America's (BAC) latest results are due out Friday. Bank of America's shares are up 17% this year while Citi's stock has soared more than 25%.
Still, there are many risks that could potentially derail the bank rally.
What's next for the Fed?
Banks have been rising as the Federal Reserve has slowly but steadily boosted interest rates. Banks do better when rates are higher because it makes their lending operations more profitable.
But if the Fed raises rates too aggressively, that could slow consumer spending and the overall economy. President Trump is expected to name a nominee for the position of Fed chair sometime soon.
Related: Dimon and other CEOs feeling good, but still want tax reform
He could stick with current chair Janet Yellen, but there is growing speculation that he might name Kevin Warsh, a former Fed governor who could boost rates much faster than big banks would like.
Deregulation despite political fighting?
Trump may continue to try and unwind Obama-era rules that put more restrictions on big banks. That could be a positive for the industry, but it's unclear if the president can work with his own party, let alone Democrats.
And the relationship between the president and business has continued to sour as well. Dimon was a member of Trump's strategic council of business leaders that was disbanded after violence at a white nationalist rally in Charlottesville, Virginia this summer.
Dimon, like most CEOs, would prefer that the president focus more on tax reform as a way to boost the economy, and less on heated and divisive political rhetoric.