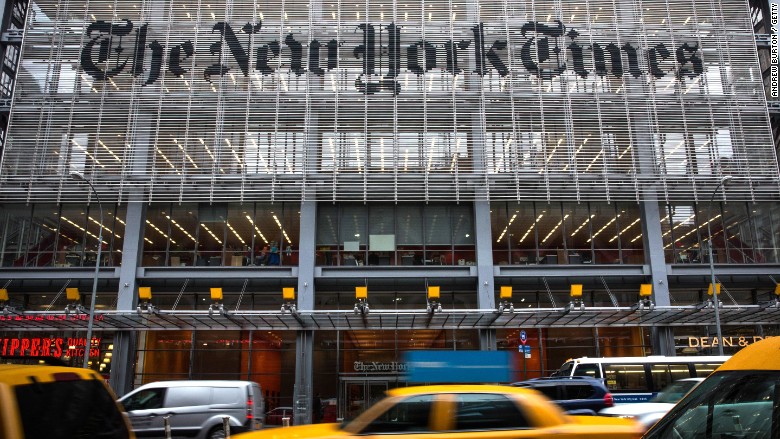 It's a sign of The Times.
The New York Times posted a notice on Friday urging newspaper staff to keep opinions off of their Twitter (TWTR) feeds and Facebook (FB) pages.
The new guidelines encourage reporters to keep using social media as a way to engage with readers and improve reporting. But the guidelines warn that posting opinions or partisan content can jeopardize credibility.
"It's important to remember that tweets about President Trump by our reporters and editors are taken as a statement from The New York Times as an institution, even if posted by those who do not cover him," Times reporter Peter Baker, who helped fine-tune the new guidelines, wrote in the notice. "The White House doesn't make a distinction. In this charged environment, we all need to be in this together."
Related: New York Times book review sparks controversy
This isn't the first time management at The New York Times -- which employs a number of high-profile reporters with extensive social media followings -- has warned about social media.
Last September, at the height of the presidential election, public editor Liz Spayd revealed that associate managing editor Phil Corbett had sent out at least two memos in three months aimed at tamping down on "editorializing" via social media.
Spayd's piece, entitled "Leave the Editorializing to Our Colleagues on the Opinion Side," urged "repeat offenders" to heed the notices.
In the updated guidelines posted Friday, executive editor Dean Baquet again pleaded for reporters to make sure they are "engaging responsibly on social media, in line with the values of our newsroom."
Along with an updated set of rules, the notice also offered advice for handling social media's notorious trolls, who have grown emboldened as Trump has ratcheted up his anti-media rhetoric.
Related: Showtime making documentary on New York Times in age of Trump
When posts are "threatening or abusive," the guidelines recommended simply ignoring or blocking the user.
This is "especially important as a strategy for women, at a time when people think that rape memes are a good way to respond to a story they don't like by a female New York Times writer," reporter Rukmini Callimachi said in the post.
Some of the guidelines were more logistical. For example, one bullet said Times journalists should think twice before tweeting at the @AmazonHelp account to complain about a late package -- or complaining to any customer service account for that matter.
"While you may believe that you have a legitimate gripe, you'll most likely be given special consideration because of your status as a Times reporter or editor," the guideline states.
And for those Twitter users who follow Times reporters for a first-look at their scoops, that may be changing. The updated rules ask that reporters "publish exclusives on our own platforms first, not on social media" -- though there may be exceptions.