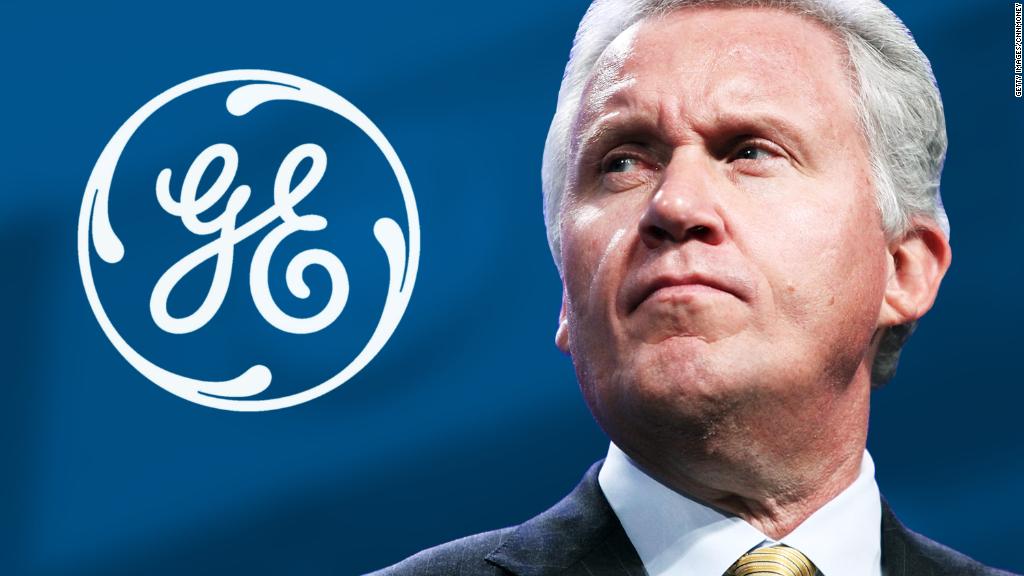 1. GE, Procter & Gamble in the hot seat: The boardrooms of General Electric and Procter & Gamble, two titans of corporate America, have been consumed by drama lately. Stay tuned for more this week.
Both companies are scrambling to put down revolts from investors angry about poor performance in two of the most widely held stocks in the U.S. In fact, the same activist shareholder, Trian Partners, is at the heart of both uprisings.
Trian waged the biggest board battle ever against Procter & Gamble (PG), a fight that ended last week in a contested vote. The maker of Tide, Crest, Gillette and other consumer brands said it won. Nelson Peltz, the billionaire activist in charge of Trian, refused to concede.
Against that backdrop, Procter & Gamble will release quarterly earnings on Friday morning. The numbers aren't expected to be pretty, with sales projected to rise barely 1%. P&G's sluggish results underscore why Peltz wanted to shake things up by trimming the number of business units at the company and launching new products to attract younger customers.
General Electric (GE), perhaps witnessing the heated board battle at P&G, took a friendlier approach towards Trian by offering Ed Garden, the firm's co-founder, a seat on the board.
A management shakeup at GE has so far failed to restore confidence in the company. The changes included the retirement of longtime CEO Jeff Immelt and exit of Jeffrey Bornstein, the chief financial officer.
GE shares tumbled to a four-year low last week, leaving them down 27% in 2017. It's the worst Dow stock this year by a long shot, especially compared with Boeing's 68% surge.
Expect new CEO John Flannery to field plenty of questions on Friday morning during GE's earnings call about his vision for stabilizing the company. GE's free cash flow, a key metric of financial healthy, has declined for six straight years. Flannery has pledged to cut costs, but that may not be enough to stop the bleeding.
GE is "increasingly likely" to cut its coveted dividend, JPMorgan analyst C. Stephen Tusa Jr. warned last week in a report.
Given Trian's history of pushing conglomerates to shrink themselves, Tusa said there's a growing chance of a "comprehensive breakup" of GE.
2. UnitedHealth earnings: UnitedHealth (UNH) is reporting third quarter earnings on Tuesday morning.
The insurer has had a good year. Last quarter, United reported 8% growth and an additional 2.5 million customers since that period in 2016. .
The company will share its earnings in the wake of President Trump's executive order ending health care cost-sharing reduction subsidies. The decision may not affect the insurer all that much: United has already exited most of the ObamaCare state exchanges. We could learn more on Tuesday about its plans moving forward.
3. Netflix earnings: Netflix (NFLX) will report its third quarter earnings on Monday. When the company last shared earnings, we learned that it added more than 5 million subscribers in the second quarter, bringing its overall subscriber base to about 104 million.
Wall Street analysts are bullish on Netflix. JPMorgan (JPM) said on Friday that it's raising estimates ahead of Monday's report, thanks to Netflix's higher prices and recent partnership with T-Mobile (TMUS).
4. Windows 10 event: Microsoft's (MSFT) updated version of Windows 10 will be available Tuesday, as well as some of the company's new virtual reality products.
In July, the tech giant reported that Surface sales fell by 2% from last year. Surface revenue went down by $20 million, the company said, mostly because of a decline in the amount of Surfaces sold.
5. Coming this week:
Monday -- Netflix earnings
Tuesday -- Earnings from UnitedHealth, Morgan Stanley (MS), Goldman Sachs (GS) and IBM (IBM).
Wednesday -- American Express (AXP) earnings
Thursday -- United Airlines (UAL) earnings; 30th anniversary of Black Monday; Deadline for pitches for Amazon (AMZN) HQ2 location
Friday -- Earnings from General Electric and Procter & Gamble.