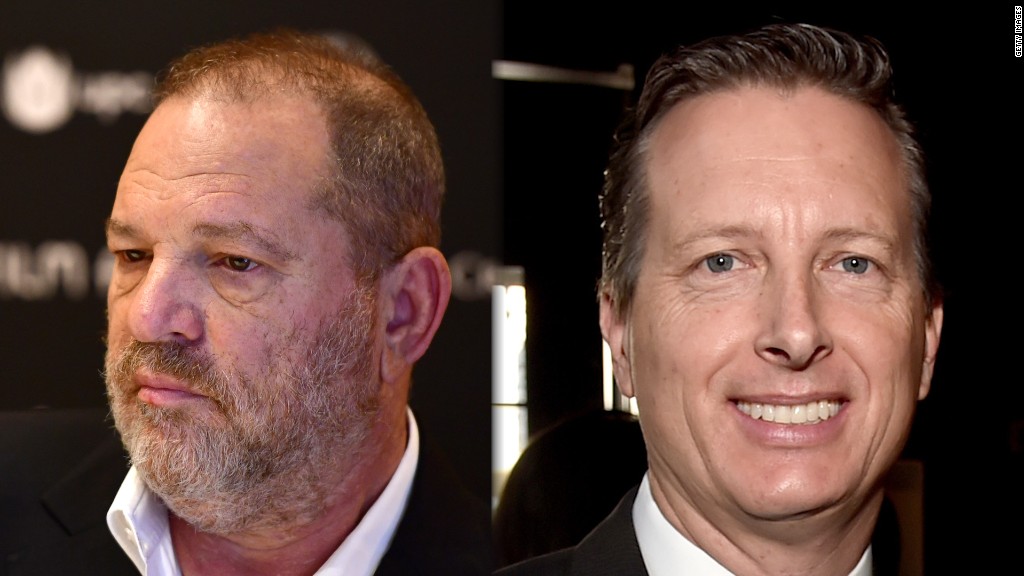 Woody Allen, who called the sexual assault and harassment allegations directed at Harvey Weinstein, "very sad for everybody involved" in a BBC interview over the weekend, is now clarifying his remarks.
"When I said I felt sad for Harvey Weinstein I thought it was clear the meaning was because he is a sad, sick man," Allen said in a statement obtained by CNN on Monday. "I was surprised it was treated differently. Lest there be any ambiguity, this statement clarifies my intention and feelings."
Weinstein is facing dozens of allegations that include sexual assault and rape.
Allen called the situation "tragic for the poor women that were involved, sad for Harvey that [his] life is so messed up" in an interview with BBC.
He told the outlet that he'd heard rumors about misconduct by Weinstein, which have swirled around the industry for decades, but he was not aware of the more serious accusations.
Weinstein, through a spokesperson, has "unequivocally" denied "any allegations of non-consensual sex."
Allen, who has faced his own separate sexual assault allegation from his adopted daughter, also said he hopes that women speaking up will lead to "some amelioration." But he added that he doesn't want it to lead to a "witch hunt atmosphere ... where every guy in an office who winks at a woman is suddenly having to call a lawyer to defend himself."
Related: Another legal team shakeup for Weinstein, more fallout ahead
"You do hear a million fanciful rumours all the time. And some turn out to be true and some -- many -- are just stories about this actress, or that actor," Allen said.
Allen's son, Ronan Farrow, played a major role in breaking the news about Weinstein's alleged behavior. In a bombshell story published in the New Yorker on October 10, Farrow documented three rape allegations against Weinstein, along with several other accusations of assault and harassment.
Weinstein has since been ousted from his company and been ejected from the Academy of Motion Picture Arts and Sciences and BAFTA, the British version of the Academy. He faces legal probes from authorities in London and New York.
Farrow was outspoken in the wake of the assault allegations against his father.
He publicly supported his sister, Allen's adopted daughter Dylan Farrow, when she wrote an open letter in 2014 alleging sexual abuse by Allen. At the time, Allen, through a spokesperson, called the letter "untrue and disgraceful."
The statement also said that back when the allegations were first surfaced, in the early '90s as Allen was splitting up with actress Mia Farrow, "a thorough investigation was conducted by court appointed independent experts. The experts concluded there was no credible evidence of molestation; that Dylan Farrow had an inability to distinguish between fantasy and reality; and that Dylan Farrow had likely been coached by her mother Mia Farrow. No charges were ever filed."
Related: 'SNL' takes on Harvey Weinstein
Two years after Dylan's letter was published, Ronan published his own open letter in The Hollywood Reporter. It criticized how the press handles accusations against powerful men and chronicled his own struggles in dealing with the publicity surrounding his father's alleged abuse.
Weinstein -- through his companies Miramax and The Weinstein Co. -- has been involved with several of Allen's projects.
They include 2008's "Vicky Christina Barcelona" and 1995's "Mighty Aphrodite." The latter film is at the root of one harassment allegation against Weinstein that was surfaced in Ronan Farrow's New Yorker story.
That accusation was lodged by Mira Sorvino, who co-starred with Allen in "Mighty Aphrodite" and won an Oscar for her role.
More than a week after the first accusations against Weinstein were published by the New York Times, women continue to come forward with additional stories.
--This story has been updated with Allen's statement. CNN's Brian Stelter contributed to this report.