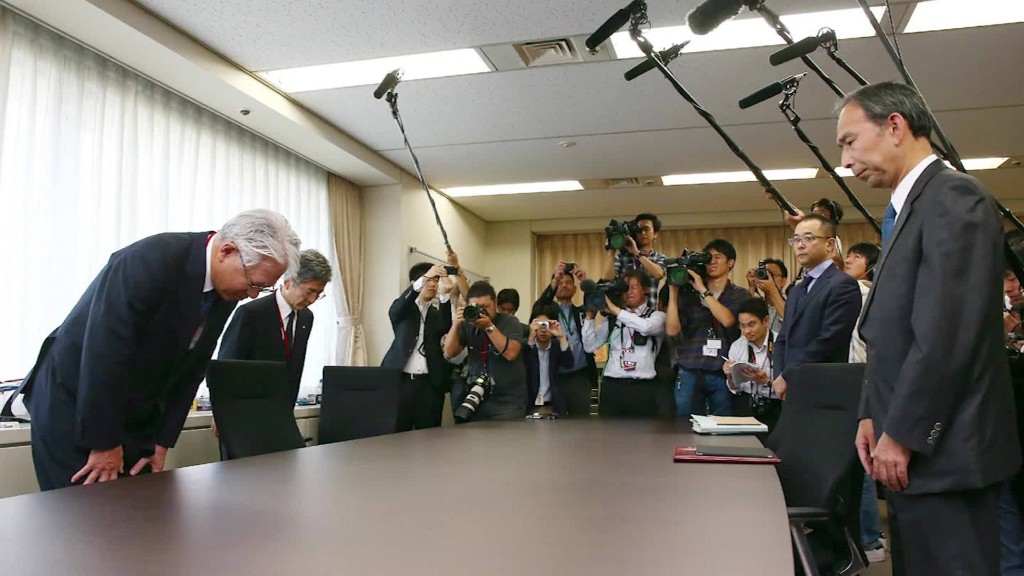 It's the latest big scandal to rock corporate Japan.
Kobe Steel (KBSTY), a century-old industrial giant, has admitted to falsifying data on products sold to top customers like Boeing (BA) and Toyota (TM).
It says as many as 500 companies could be affected, including manufacturers of Japan's famous bullet trains.
Here's the lowdown on the crisis that's rippling through major industries around the globe:
What happened?
Essentially, Kobe employees faked reports to make it look as though products met the specifications requested by customers when in fact they didn't.
The scandal initially concerned copper and aluminum parts, but has spread to steel products, too. It has raised doubts about thousands of tons of material shipped over a period of more than 10 years.
For the aluminum and copper parts, false data was given about their strength and durability.
Related: New corporate scandal shakes Japan Inc
Which industries?
Kobe steel sells metal to all kinds of different businesses. Some of the main industries to which it has supplied the suspect products include aviation, automobiles, railways and nuclear power.
Who's affected?
In the aerospace industry, Boeing and Japan's Mitsubishi (MHVYF) both used Kobe parts made with falsified data in their aircraft. But the two companies insisted they don't believe the parts present a safety concern.
Japanese automakers Toyota (TM), Honda (HMC) and Nissan (NSANF) acknowledged they had used affected Kobe materials but were still assessing the consequences for their vehicles.
Ford (F) has said it found aluminum parts in the hood of its Mondeo model in China, but can't confirm if they were sourced during the affected period.
Other big companies -- including GM (GM), Mazda (MZDAF) and plane-maker Airbus (EADSF) -- said they haven't found any suspect parts so far but are combing their supply chains regardless.
Related: Kobe Steel scandal ensnares Boeing and Mitsubishi
What happens next?
The future of Kobe Steel is unclear, but it looks bleak right now. Its stock has nosedived 40% since the revelations first emerged.
Some analysts have warned the company could go bust, and others have suggested it could be broken up and sold off to rivals.
Kobe hasn't put a number on the likely size of the financial hit from the scandal. The firm's CEO has said it will bear the costs of any product recalls by its customers. He is also leading an internal probe into what happened.
Related: How things got ugly for some of Japan's biggest brands
Doesn't this sound familiar?
Japan Inc has amassed a growing pile of embarrassing scandals in recent years.
They include Takata's deadly airbags, Mitsubishi Motors' fudged fuel-efficiency tests and Toshiba's damaging debacles over its accounting and nuclear power business.
-- Sherisse Pham, Yoko Wakatsuki in Tokyo, and Jon Ostrower in Seattle contributed to this article.