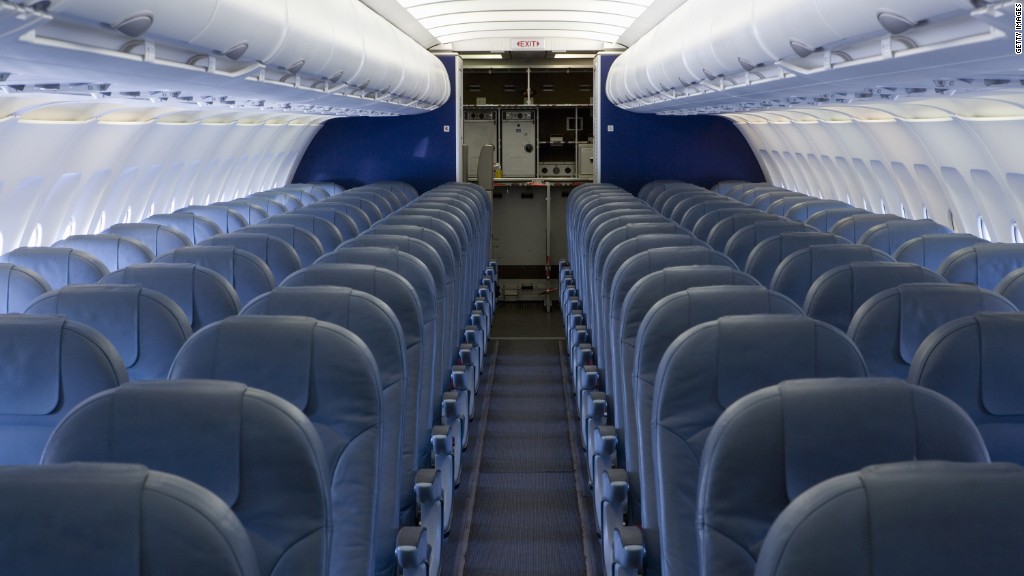 Finally, after 97 years, Australian airline Qantas gets to fly the way it's always wanted.
The Australian airline on Monday took delivery of the first of eight 787-9 Dreamliners from Boeing. It's a jet that Qantas is pinning its future to -- part of a years-long turnaround from record losses.
Next March, Qantas will inaugurate the first ever nonstop airline service between Australia and Europe, connecting Perth with London -- a 17 hour journey.
"Given the tyranny of distance in our geographical position in our part of the world this new generation of [aircraft] really allows us to start to overcome the disadvantages of our geography," said Gareth Evans, Chief Executive of Qantas International.
Qantas has had to rely on airplanes that couldn't profitably make the journey between the continents without stopping. The Kangaroo route, as it became known, required multiple stops along the air corridor between Australia and the U.K.. In the 1930s the journey took as long as 11 days.
More recently, the airline's longest-range jets would still have to stop in Singapore or Dubai on their way into Europe.
With the 787, Qantas is establishing a new hub in Western Australia, its new non-stop gateway to Europe. By overflying Asian and Middle Eastern mega-hubs "that really starts to redefine our international network," said Evans.
Back from the brink
In 2014, Qantas International was bleeding money, logging a staggering $2.8 billion AUD net loss for the year.
The airline has since radically reshaped itself. It laid off more than 5,000 staff, cut aircraft types from 11 to eight and accelerated retirement of older, less efficient jets. It also implemented an 18 month wage freeze for 23,000 employees to offset inflation, according to its annual report.
In its most recent fiscal year, Qantas International inked a $327 million profit and renewed a partnership with Emirates airline to feed its passengers through to Dubai, connecting to over 60 cities in Europe, the Middle East and North Africa.
Related: From 10 days to nonstop: How London to Australia flights have changed
The Australian carrier has been flying the Airbus superjumbo A380, its biggest and longest-range airplane, for nearly a decade, but with limited success even on the busiest routes across the Pacific to the U.S.
"Qantas, like most A380 operators, struggles to fill the A380 sustainably year-round," according to a recent report by the Centre of Asia Pacific Aviation.
Alan Joyce, Qantas Group Chief Executive, said two 787-9s (which seat half as many passengers) are less expensive to operate than a single A380 flight.
But for right now, that's all on paper. Shareholders and management will wait to see if the ultra-long haul strategy pays dividends. The group has purchased eight 787s with the option to buy as many as 45 more.
"There's still work to do,"said Joyce.
Weight is everything aboard an aircraft, but even more so for the jet's unprecedented mission to overfly Asia on its 9,000 mile journey to Europe. Should the aircraft be too heavy, a strong headwind may force an expensive fuel stop, busting its chance for profit. Qantas' 787-9 is flying with just 236 seats. Oneworld alliance partner American Airlines flies the jet with 285.
The airline is examining a decade of weather patterns between the continents to optimize route planning. Even its Japanese Noritake dinnerware has been redesigned to be 20% lighter.
Project Sunrise
Qantas' Dreamliner experiment is paving the way for it to try and conquer commercial aviation's final frontier.
In August, Joyce posed a challenge to Boeing and Airbus: Deliver us an airplane in 2022 that can fly nonstop from Sydney to London and New York. That flight between Australia and the U.K. capital would clock in at 20 hours and 20 minutes and Sydney to New York would be 18 hours and 7 minutes, according to Qantas.
"We've taken up Alan's challenge," said Dr. Dinesh Keskar, senior vice president of Asia Pacific sales for Boeing.
Related: Qantas challenges Boeing and Airbus to cross aviation's 'last frontier'
Joyce said the airline wants a full load of passengers and cargo on Boeing's 777-8X for the more than 20 hour flight between Sydney and London. While New York and London are at the top of Qantas's wish list, it's also eyeing destinations as far as Cape Town and Rio de Janeiro.
"While the aircraft is close, it's not quite there," said Joyce of both Boeing and ultra long range Airbus A350.
Qantas is playing to bragging rights of producing a superlative jetliner, even if the selected plane maker only builds 10 or 20.
"Each manufacturer really needs to try and do this and achieve it, because the seal of approval," said Joyce. "There is a lot of credibility having Qantas on an airplane. I think the manufacturers want that seal of approval."
Correction: An earlier version of this story misstated how long Qantas has been in operation.