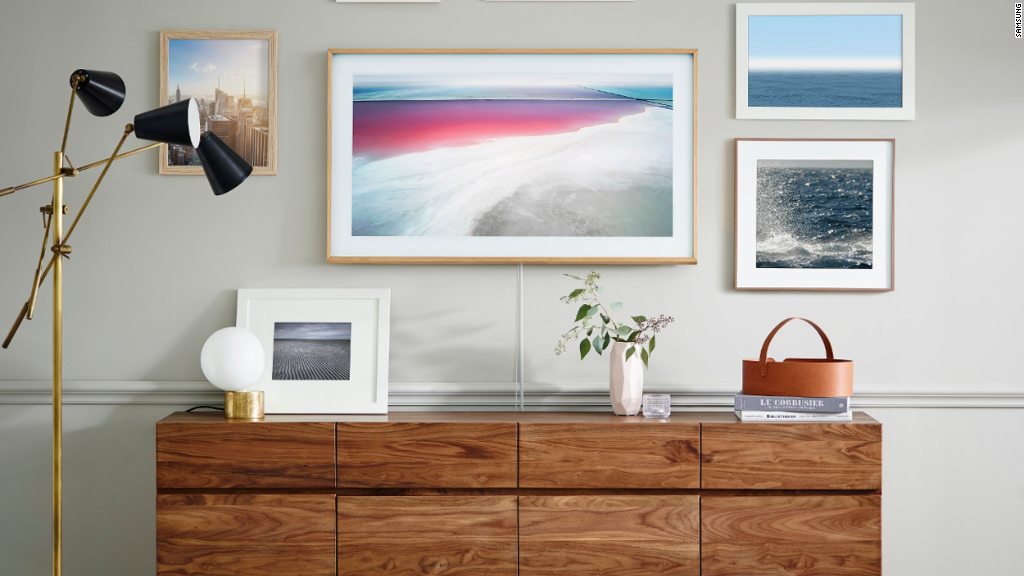 Jonathan Adler is known for bright and bold statement pieces, patterned prints and modern decor.
But one of his biggest challenges over the years has been blending technology into the home.
"I've spent a lot of time as a designer solving the problem of how to hide technology," Adler told CNN Tech. "I've done things like put a painting over a television."
But with his latest venture, the famed interior designer wants tech to look good and serve as an accent, much like furniture and pillows.
Adler has partnered with startup Aura Frames on a digital picture frame that pairs with an app, pulls in photos in real time and lets friends and family members add pictures. It uses facial recognition, artificial intelligence and machine learning to curate your best iPhone photos.
"To me, this is like jewelry for the home," Adler said. "It seemed like a way to make technology actually beautiful and not something to hide."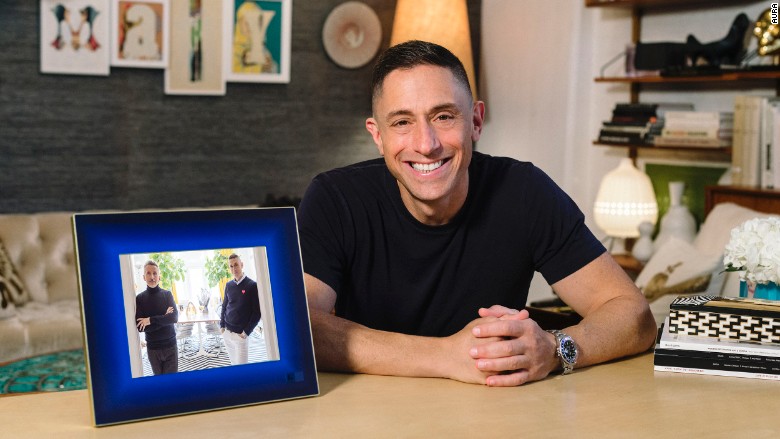 Related: Is your TV an eyesore? Samsung wants to change that
The blue special edition Adler frame ($399) launched on Monday online and in select stores. Adler has also been named Aura's creative director in residence for the next year and will design a second frame.
Digital picture frames were popular nearly 10 years ago before fizzling out. The frames were often clunky and required an SD memory card loaded with photos. Aura, which launched in 2016, is hoping its modern and elegant take on digital frames will help drum up excitement again.
The concept comes from veterans in the tech industry: Both co-founders Abdur Chowdhury and Eric Jensen previously worked at Twitter (TWTR) and AOL.
Using facial recognition, Aura's frames automatically creates photo collections of the people users take pictures of the most. It avoids pulling in images with low contrast and poor resolution or those that are blurry, duplicates or contain nudity by using a combination of AI and machine learning.
New photos are added to collections in real time -- and friends and family can contribute shots remotely, too. You can also swipe up to "love" the added picture, and person will get a notification.
The frame can be controlled with an accompanying app, or you can gesture to move it to the next photo (thanks to its built-in motion sensors). It also offers unlimited storage.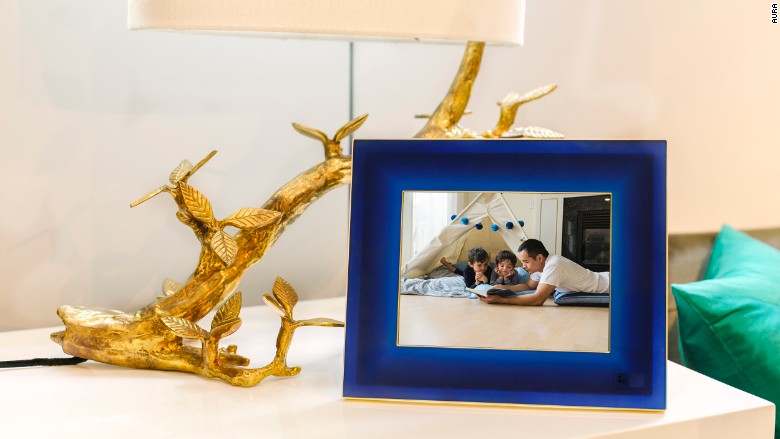 Related: Ferrari sells for record $10 million at charity auction
Attractive tech products are a part of an emerging trend. Samsung (SSNLF) has launched Frame TVs designed to look like a framed piece of art on your wall until they turn on.
Meanwhile, Amazon (AMZN) recently updated the look of its original Echo smart speaker with new finishes like wood veneer, brushed metal and a heather grey fabric.