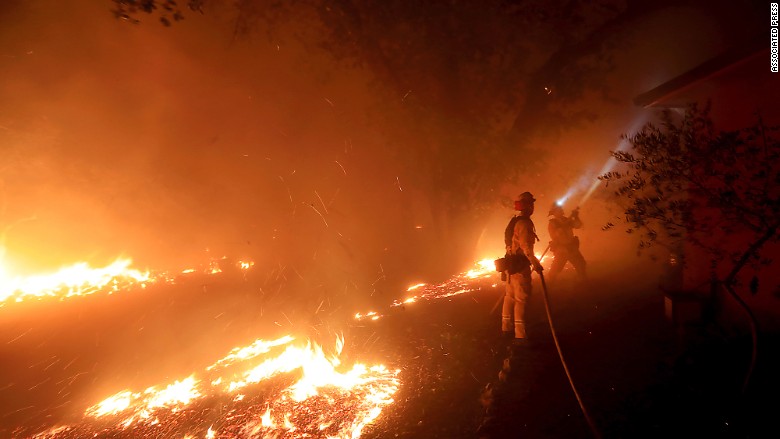 The stock of California's largest electric company has plummeted 18% since wildfires began tearing through Northern California last week.
Investors are worried that Pacific Gas and Electric (PCG) could be found liable for damages from the fires, which have led to more than 40 deaths and destroyed more than 5,700 homes and businesses.
PG&E was the worst performer in the S&P 500 on Monday after Goldman Sachs downgraded the stock over the weekend. The stock recovered about 3% on Tuesday.
California's Public Utilities Commission is looking into whether downed PG&E power lines may have contributed. PG&E told CNNMoney that it would comply with the request and any reviews.
In 2010, the agency fined PG&E $1.6 billion for an explosion in a natural gas line in San Francisco that killed eight people.
The wildfires could cause up to $65 billion in property damage, according to one analysis. Utility companies are still paying losses from California fires in 2007 and 2015, and a Goldman Sachs analyst predicted that losses from the latest disaster would take years to recover.
PG&E distributes gas and electricity to 16 million people across Northern and central California, and has said its liability insurance is capped at $800 million. Damages over that amount could force the company to pay on its own.