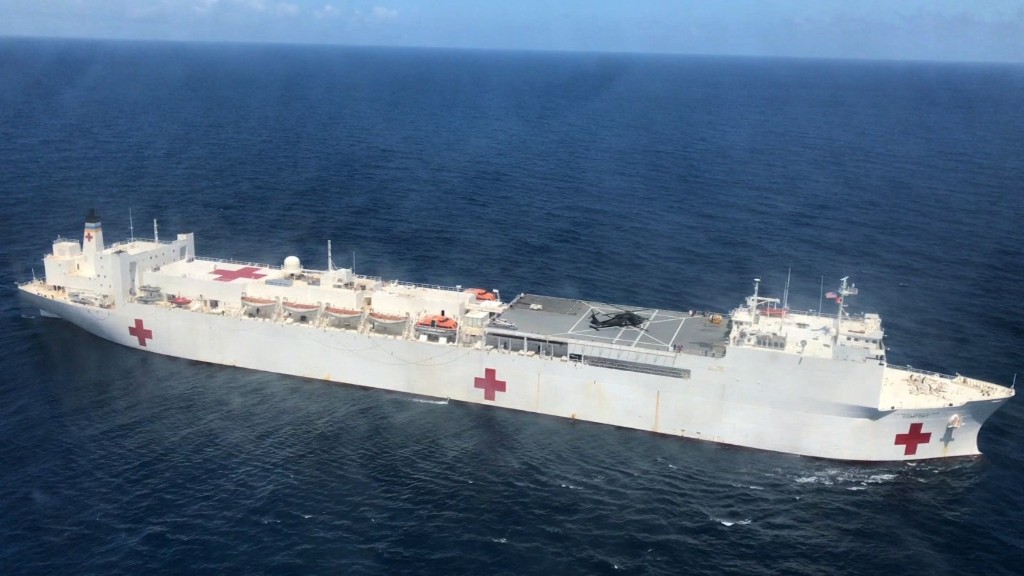 Melted medications. Surgical procedures conducted in sweltering 95-degree heat. Malfunctioning X-ray machines.
This is the reality doctors in Puerto Rico are facing almost four weeks after Hurricane Maria devastated the island.
"We're practicing disaster medicine in real life," said Dr. William Kotler, a senior resident in emergency medicine with Florida Hospital in Orlando, who spent two weeks volunteering on the island earlier this month. "We improvise if we have to, with very little resources."
Kotler and four other emergency physicians from Florida Hospital in Orlando, just wrapped up a two-week volunteer mission in Puerto Rico. Arriving one week after Hurricane Maria made landfall, they were the first medical relief team the hospital sent to the island. A second team arrived on Oct. 8 and will stay for two weeks.
"We went in blind," said Dr. Julian Trivino, who was among the first team of volunteers.
Related: Misery in Puerto Rico: No power, no job
Communications was almost entirely knocked out by the hurricane. And when the physicians arrived in the town of Aguadilla on the northwestern tip of the island, the local hospital was in bad shape. "I got there and immediately had a patient with serious head injuries from a car accident," said Trivino, who is the chief resident in emergency medicine.
Access to electricity was so shoddy that Trivino couldn't conduct a CT scan, but he was able to do an X-ray. To review the films, he had to go outside and hold the films up to the sunlight. Afterward, he used one of the team's two satellite phones to arrange for the patient to go to a trauma center.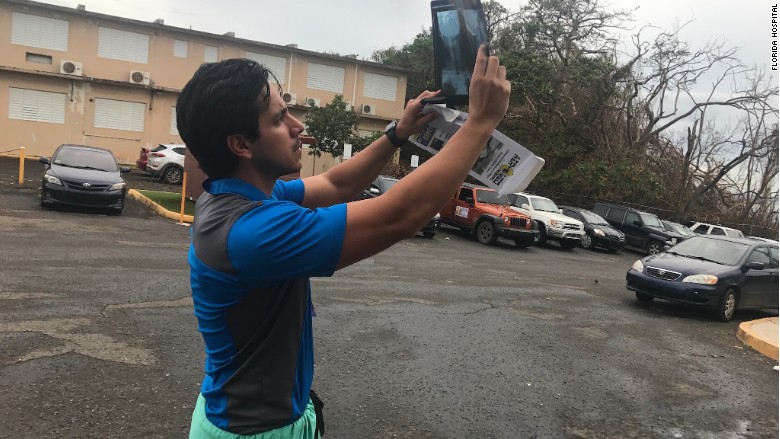 For the past several weeks, Puerto Rico's department of health has drawn up a daily list of the hardest hit areas and the U.S. military flies the physicians to these remote towns on Black Hawk helicopters.
The physicians have been visiting up to three towns a day, providing care and distributing supplies.
The teams have brought with them dozens of boxes of catheters, insulin, IV antibiotics, portable ultrasounds, X-ray machines and other critical medical supplies. Florida Hospital has been flying in additional supplies to the island every three days since the first medical team arrived.
"Just this [past] weekend, we flew in nearly 2,000 pounds of supplies," said the hospital's spokeswoman Samantha Kearns O'Lenick.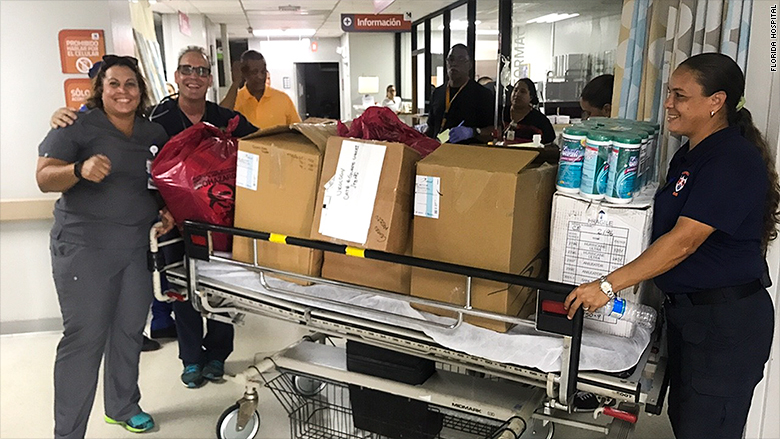 The physicians said they're concerned Puerto Rico could be headed toward a full-blown health crisis.
"Trauma centers are overwhelmed. Basic surgeries are being postponed. I've seen people lose digits because they couldn't be treated in time," said Kotler.
Related: 330 workers show up to restart Puerto Rico clothing factory
At a hospital in Carolina on the northeastern coast, Kotler and Trivino had to perform emergency surgery and attach a temporary pacemaker to a patient whose heart rate was abnormally slow.
"It was 95 degrees in this ER room. She was sweating profusely and vomiting," said Kotler. "I held her hand and stroked her head. It's what I could do to comfort her."
There were also several patients who didn't make it. In Aguadilla, it was a 42-year-old man in cardiac arrest. "He had a fever of 107 degrees. It was burning hot in the hospital. We scrambled to find ice packs to cool him down," said Kotler.
He died the next day.
"If you have a major heart attack in Puerto Rico, right now, the odds are stacked against you," said Trivino.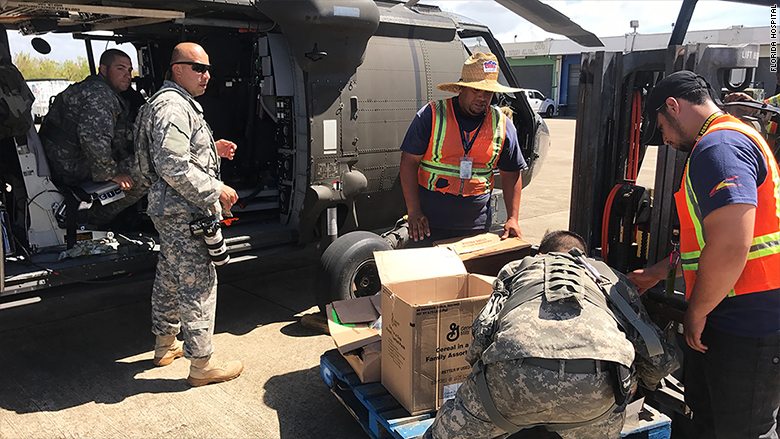 A lack of drinking water is compounding the crisis. In one town, the medical team encountered an orphanage where children were on the verge of dehydration. The physicians flew in pallets of fresh drinking water.
But Dr. Raul Hernandez, an internist based in San Juan, is bracing for an outbreak -- possibly deaths -- from waterborne diseases. He said Leptospirosis, a bacterial disease spread through the urine of an infected animals such as rodents, is becoming a growing concern.
Due to a lack of safe drinking water, people are drinking from whatever water sources they can find -- rivers, creeks, he said. If that water contains urine from an infected rat, disease will spread, he said.
So far, at least two deaths have been attributed to Leptospirosis.
Hernandez is also worried about his geriatric patients. He has been unable to contact several of them and worries whether his diabetic patients have insulin that hasn't spoiled in the heat and proper nutrition, given the food shortages. He's also concerned his patients won't be able to get prescriptions at pharmacies.
Related: 15-year-old teen in San Juan is raising funds for solar lamps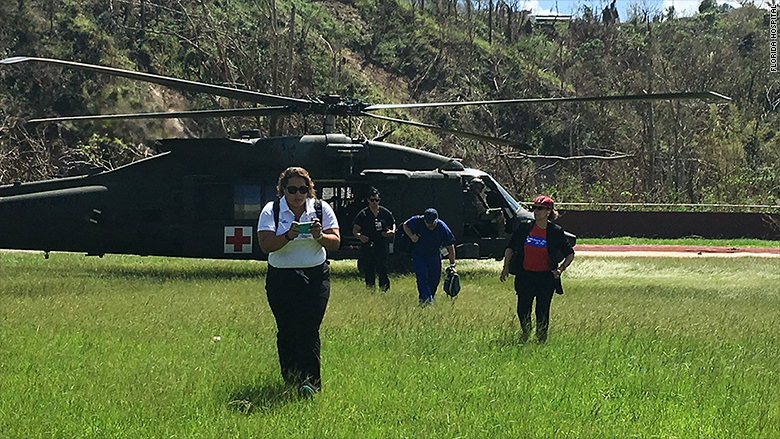 Dr. Miguel Acevedo led the second team of emergency physicians from Florida Hospital. He's visited 20 of the island's 78 towns and recently helped the third team of medical volunteers from Florida Hospital prepare for work on the island.
"They say it could take six to nine months for power to be restored fully in Puerto Rico. No hospital can plan to survive on generators for that long," he said.
The current death toll in Puerto Rico is approaching 50, according to the latest tally from the country's Department of Public Safety. But Acevedo worries that number will climb higher, especially if people with chronic medical conditions struggle to manage their health and develop life-threatening complications
What doctors are dealing with in Puerto Rico is a "Mad Max kind of situation," said Acevedo.
"The reality here is post-apocalyptic," he said. "You can't understand the seriousness of it unless you see it."