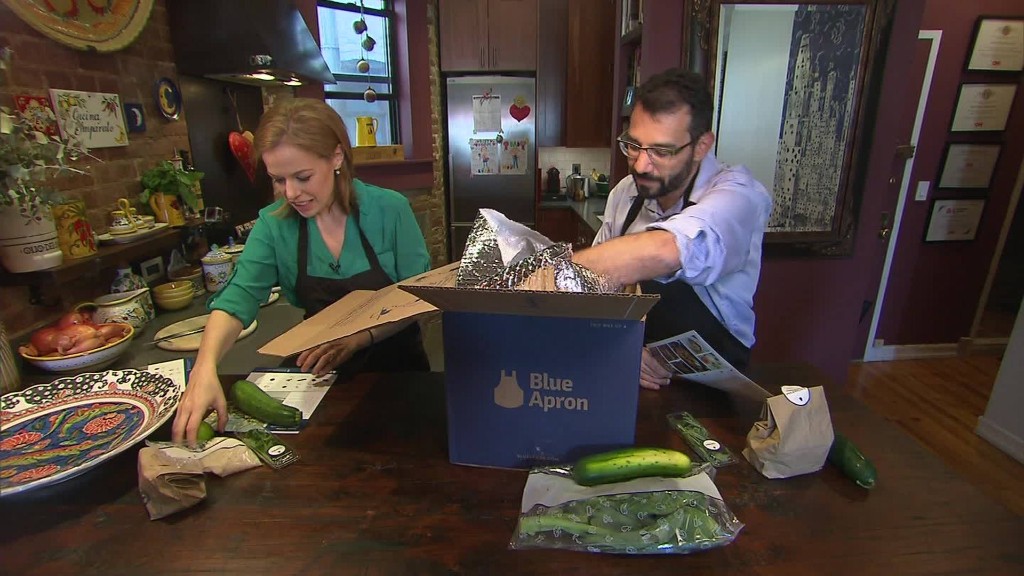 Blue Apron is fighting to get back in the black.
Blue Apron (APRN) laid off 6% of its staff across its fulfillment centers and corporate offices on Wednesday in an effort to get closer to profitability, according to a filing with the Securities and Exchange Commission.
No headcount was provided. Blue Apron reported having more than 5,000 employees when it went public in June, suggesting 300 people may have been cut.
Reps for Blue Apron did not immediately respond to a request for comment.
"A company-wide realignment, like the one we announced, is always painful, and especially so for a close-knit team like ours," Matt Salzberg, Blue Apron's co-founder and CEO, wrote in a memo to employees.
"Our leadership and Board did not take this decision lightly, and I want to assure you that we believe it was necessary as we focus the company on future growth and achieving profitability."
Related: Tech industry food fight heats up
The restructuring is just the latest indication of turbulence at the meal kit delivery company in its first months on Wall Street.
It has been rattled by new competition from Amazon (AMZN), unforeseen challenges in rolling out a new factory and steep losses. In the second quarter, Blue Apron lost $31.6 million.
In an unusual move, Blue Apron's co-founder and COO Matthew Wadiak stepped down from his role just one month after the IPO.
Blue Apron's stock has collapsed by nearly half from its IPO price. It is now teetering on the cusp of a billion-dollar valuation.
To make matters worse, Blue Apron faces a host of well-funded startup competitors, including Plated, Sun Basket and Home Chef. HelloFresh, a similar service, announced plans to go public earlier this month.