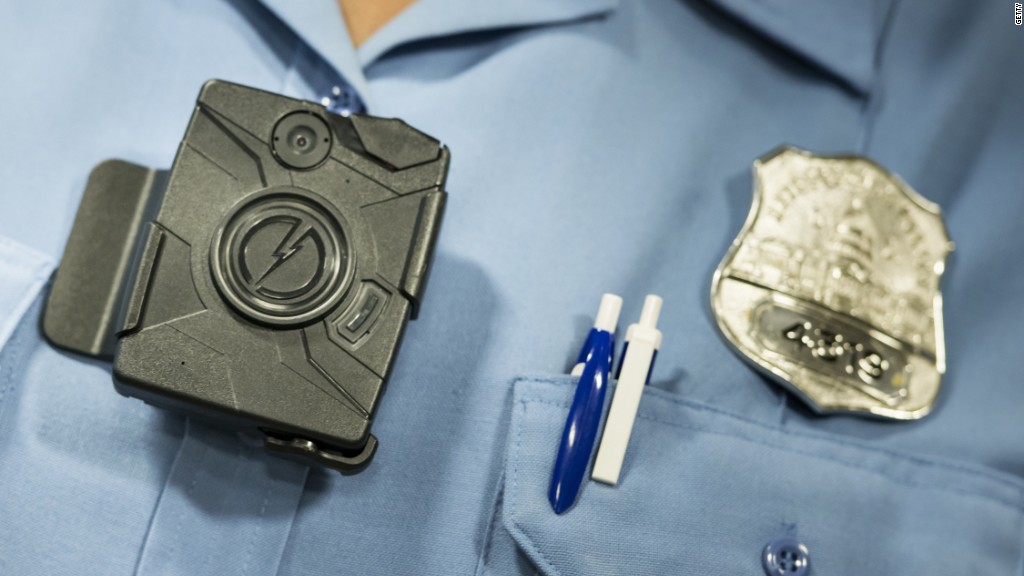 Axon Enterprise, the company that makes body cameras for police officers and the Taser line of stun guns, is having its financials looked at by the Securities and Exchange Commission. The stock fell 6% Friday on the news.
Axon disclosed in an SEC filing late Thursday that regulators were reviewing the company's 10-K annual report from 2016 and its 10-Q filing for the first quarter of 2017.
Axon used to be known as Taser. The company changed its name to Axon -- and ticker symbol from TASR to AAXN -- in April.
At the time, the company said it was also offering its Axon hardware, software and data storage services to all police departments in the U.S. free for one year.
Curiously, Axon indicated Thursday that it only just became aware of the SEC's request -- even though there were three letters from the SEC about the inquiry. One was dated on August 10 and the other two were from September.
Axon said the lapse in responding to the SEC's requests for more information was "due to miscommunication issues" and added that it now intends to respond to the SEC's queries within the next seven days.
"The Company is actively working with the SEC to resolve these matters as expeditiously as possible," Axon said in its SEC filing Thursday.
All three letters are now available on the SEC's web site.
In the first letter, SEC Accounting Branch Chief John Cash asked Axon CFO Jawad Ahsan about how the company accounts for its order backlog, which the SEC noted "increased substantially" in 2016.
Cash also had questions about revenue recognition for the company's new Taser 60 program that allowed customers to pay for the weapons in monthly installments.
Related: Axon offers to equip every cop in the U.S. with a body camera
There was also a request for Axon to disclose more information about how much the free trial program for its body cameras could impact profit margins.
The two letters from the SEC in September were admonishments from Cash to Ahsan about the company's failure to respond to his questions.
In the last one, dated September 20, Cash wrote that it was "terminating" its review and said it planned to make all of its correspondence to Axon available to the public -- which it has now done.
The SEC's questions are important since the stock has been a top market performer during the past few years -- despite hundreds of wrongful death lawsuits related to police officers' use of the Taser stun guns.
Axon's stock is up 275% in the past five years as more police departments have put in orders for body cameras in the wake of disputed shootings, most notably the death of Michael Brown, an unarmed black teenager, in Ferguson, Missouri, in August 2014.