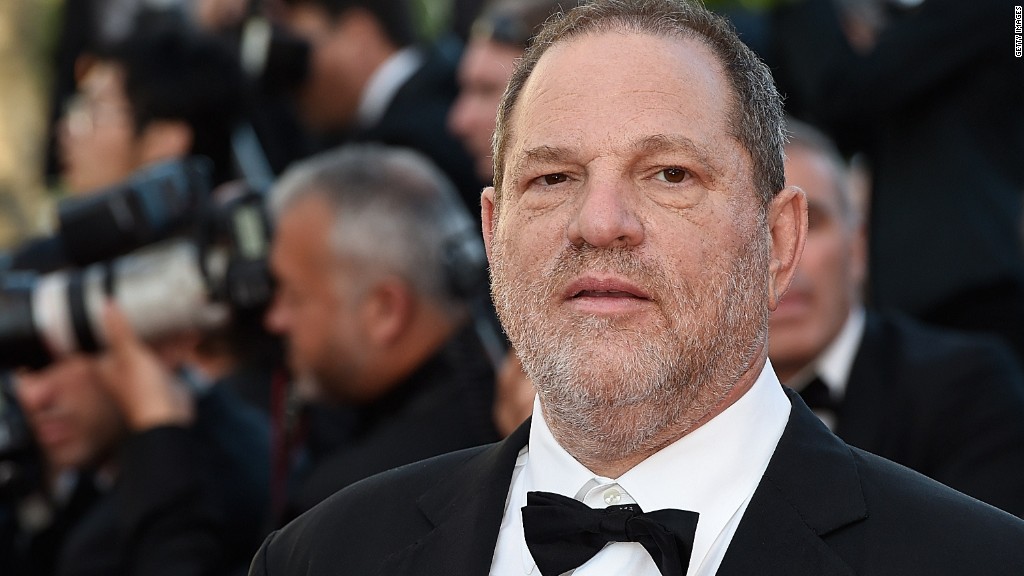 Harvey Weinstein is in increasing legal jeopardy two weeks after the initial New York Times investigation into his allegedly predatory behavior was published.
Weinstein is now the subject of police investigations in three cities -- London, New York City and Los Angeles -- as more accusers come forward. He's persona non grata in Hollywood. And his former company remains in limbo.
But this was the week the Weinstein scandal really expanded. Something that might be termed the "Weinstein Effect" can now be observed far beyond Hollywood. There are newly energized movements against sexual harassment in the fashion industry, in politics and in other fields. Some of the conversations can be measured through the hashtag #MeToo, but there are also more private discussions taking place -- with people asking "who's next?"
"Harvey is not the whole story. There are many Harveys, with varying amounts of influence, at every level in this industry," TV critic Maureen Ryan wrote in a searing column for Variety about being assaulted by an unnamed TV executive.
Related: More than 40 women have accused Harvey Weinstein of sexual harassment or assault
Earlier this week Amazon's top content executive resigned after a colleague came forward and alleged harassment. The creator of an animated show on Nickelodeon was fired. A top executive at the digital media company Vox was terminated.
Journalists are chasing allegations about powerful men in other industries as well.
Meanwhile, new stories about Weinstein's misconduct are still coming to light on a daily basis. Lupita Nyong'o's op-ed for The New York Times was particularly chilling. In it, though, she expressed hope that rampant predatory behavior "dies here and now."
That's the common thread between Weinstein's accusers and others who have come forward with disturbing allegations about other individuals. They want sexual misconduct to be history.
"Everybody has a story, and so I think this is a watershed moment," Oprah Winfrey said on CBS earlier this week. "If we make this just about Harvey Weinstein, then we will have lost this moment."
Indeed, some women say the Weinstein scandal inspired them to share long-buried secrets. Take the open letter from dozens of women who work in the male-dominated animation industry.
"In the wake of the Harvey Weinstein scandal," they wrote Thursday, "we came together to share our stories of sexism, sexual harassment and, in some cases, sexual assault" and "were struck by the pervasiveness of the problem."
Weinstein also prompted new discussions in the California state house. More than 140 women signed a letter condemning what they say is a culture where sexual harassment thrives.
"Honestly I think the Harvey Weinstein situation struck a nerve, especially in Sacramento, because there's so many of us who have lived it, breathed it, experienced it on our own," lobbyist Maria Lee told TV station KCRA.
This was, coincidentally, the week Gretchen Carlson released her book "Be Fierce" — about overcoming harassment and other misconduct in the workplace. It has been 15 months since Carlson sued Fox News boss Roger Ailes for harassment and retaliation.
"I feel optimistic that this is going to be a cultural shift," Carlson said in an interview that will air on this Sunday's "Reliable Sources."
"It doesn't happen overnight. But I do see it moving relatively quickly," she said.
As for Weinstein, he stayed silent all week long, a sharp contrast from the first seven days of the scandal, when he repeatedly said he hoped to receive a "second chance" from Hollywood.
There's no more talk of a "second chance" now. On Thursday the LAPD became the third police department to confirm an open investigation into allegations against Weinstein.
The TV Academy is starting a "disciplinary proceeding" against him. He is likely to be expelled, the same way the academy that presents the Oscars booted him last weekend. The Directors Guild is also expected to discuss the issue of sexual harassment at a board meeting on Saturday.