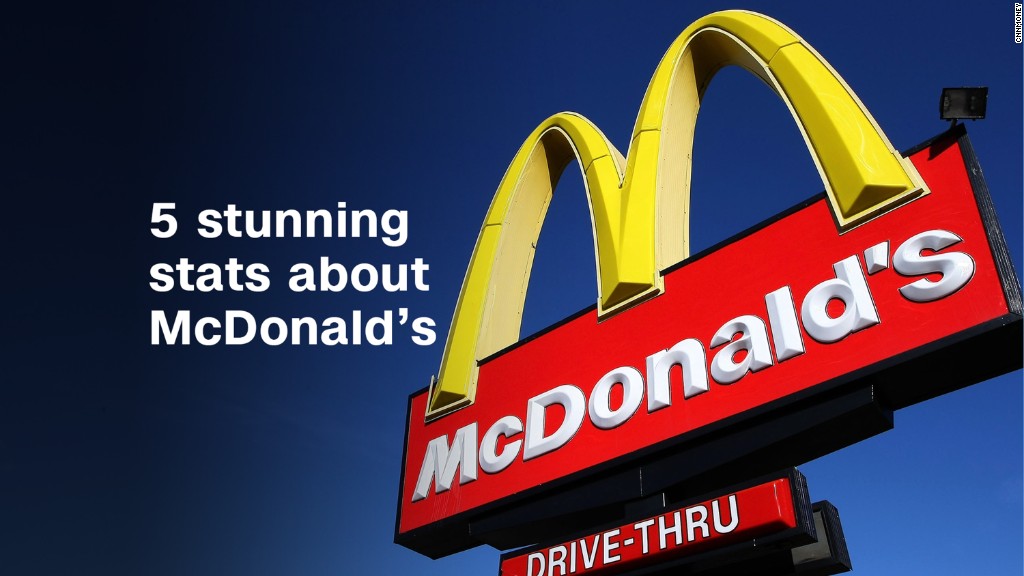 The Great American McComeback continues.
Shares of McDonald's (MCD), which was already one of the hottest stocks in the Dow this year, rose nearly 2% Tuesday after the fast food giant impressed Wall Street with total revenue that topped forecasts.
Investors brushed off the fact that overall sales were down and that earnings per share missed analysts' targets by a penny.
The drop in total revenues was mostly due to McDonald's plan to sell more company-owned stores to franchises. It's a strategy that hits revenue in the short-term but should lead to a more lucrative stream of royalty payments down the road.
And it seems the market was more impressed by the solid jump in same-store sales at Mickey D's, which measure how well locations open at least a year are doing. They jumped 6% globally and 4.1% in the U.S. Both figures were better than expected.
So you can forgive investors if they are humming the long-running Justin Timberlake "I'm lovin' it" jingle. Ba da ba ba ba! McDonald's stock is now up 36% this year and more than 70% since Steve Easterbrook was named CEO in late January 2015.
Since he took over, the company has also embraced technology, with new kiosks and mobile payments helping to streamline the ordering process. McDonald's also launched a delivery partnership with ridesharing giant Uber through its UberEats service.
It's all part of a strategy to make McDonald's into, as Easterbrook calls it, a "modern and progressive burger company."
Easterbrook has revamped the company's menu too. Under his watch, McDonald's has launched fancier signature sandwiches like the hipster delight kale and Sriracha sauce burger and more premium coffee beverages.
Related: McDonald's vows to reboot Szechuan Sauce for spurned 'Rick and Morty' fans
But McDonald's has doubled down on cheaper fare lately as well, with a $1 soda promotion and McPick 2 menu -- that offers 2 items for $5 -- helping to fuel the most recent sales growth in the U.S. The company announced on the earnings call that the chain also plans to offer $2 and $3 value menus.
So McDonald's has remained an affordable place to get a quick, inexpensive Happy Meal but it's also been enticing more consumers who might otherwise prefer fast casual fare from Chipotle (CMG) and Panera or upscale burgers from Shake Shack (SHAK).
And McDonald's isn't the only fast food company that's thriving. Shares of Burger King and Popeyes owner Restaurant Brands (QSR) are up more than 40% this year, while KFC and Taco Bell parent Yum! Brands (YUM) has gained nearly 20%.
At the same time, Chipotle continues to struggle after an E. coli outbreak in 2015 damaged its once stellar reputation. Shake Shack's stock has cooled off too after a splashy initial public offering more than two years ago.