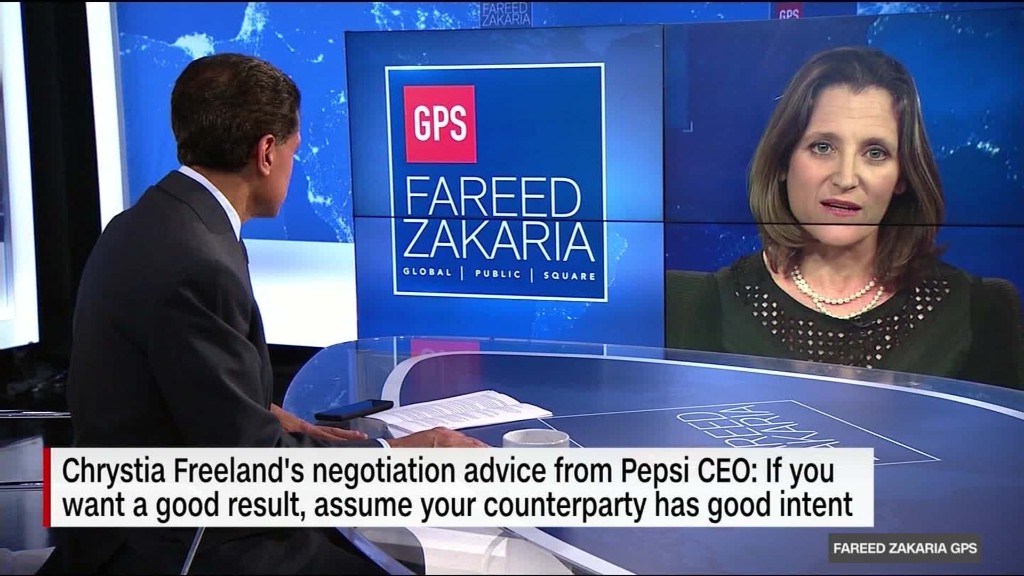 Canada and Mexico are exploring new trade ties as talks with the United States have turned gloomy.
Officials from the two nations are meeting with counterparts from Peru and Chile for the first time in Colombia this week to discuss a potential trade deal. Canadian officials hinted that the talks may be a message to President Trump and the U.S.
The meeting in Colombia "sends a strong signal to the world on the importance of free trade to increase growth and prosperity," Canada's Ministry of International Trade said in a statement.
That comment comes days after the renegotiation of NAFTA -- the pact between the United States, Canada and Mexico -- took a sharp turn south last week. Talks are expected to continue into 2018.
Trump administration officials introduced two major proposals -- one about auto manufacturing and a sunset clause for NAFTA -- that were swiftly rebuked by Mexican and Canadian negotiators.
There has been no progress on those divisive issues and President Trump routinely threatens to pull out of NAFTA.
Related: Canada's Freeland on NAFTA: 'It's easy to take us for granted.'
Canada is now talking tough.
"Canada is kind of like the girl next door. It's easy to take us for granted," Chrystia Freeland, Canada's minister of foreign affairs, told CNN on Sunday. "These [NAFTA] negotiations are really important not just for Canadians, but for Americans."
Still, it's important to note that Canada sent Francois-Philippe Champagne, its minister of international trade, to Colombia this week -- not Freeland. Champagne's office denied that the talks in Colombia were a warning shot directly at Trump.
But the meeting in Colombia is a little odd. Canada already has free trade agreements with Mexico, Chile, Peru and Colombia. Those four nations make up the Pacific Alliance, a group that promotes free trade in Latin America.
Related: If Trump kills NAFTA, farmers, bars and factories lose jobs
Nonetheless, experts say now is as good a time as ever for Canada to talk up the benefits of free trade with other nations considering what's going on with NAFTA.
"Having seen the talks sour in the latest stage of negotiations, we've now seen a reaction from Canada about talking up the importance of free trade, integration, globalism," says Neil Shearing, chief emerging markets economist at Capital Economics.
But Shearing added "there's a growing sense that this may not happen" and that "the U.S. might end up walking away" from NAFTA.
For its part, Mexico is looking elsewhere too. It's renegotiating a free trade agreement with the European Union, shoring up trade ties with Argentina and Brazil, and warming up to the idea of a deal with China.
Related: Mexico and Canada slam U.S. proposals for NAFTA
Talk aside, it will be difficult for either Mexico or Canada to shift its trade away from the United States. About 80% of Mexico's exports go north of the border, and the United States is Canada's top trading partner. Supply chains run across North America.
Business between Canada and Latin America is quite small too. For example, Canada and Colombia traded about $1 billion in goods in the year ending in June, according to Panjiva, a global trade research firm.
Trade between the U.S. and Canada last year totaled $627 billion.
Some doubt Trump would even care if Canada were trying to fire back at his threat to pull out of NAFTA.
"I can't see President Trump giving two hoots what Canada is up to in South America," says Chris Rogers, a research analyst at Panjiva.