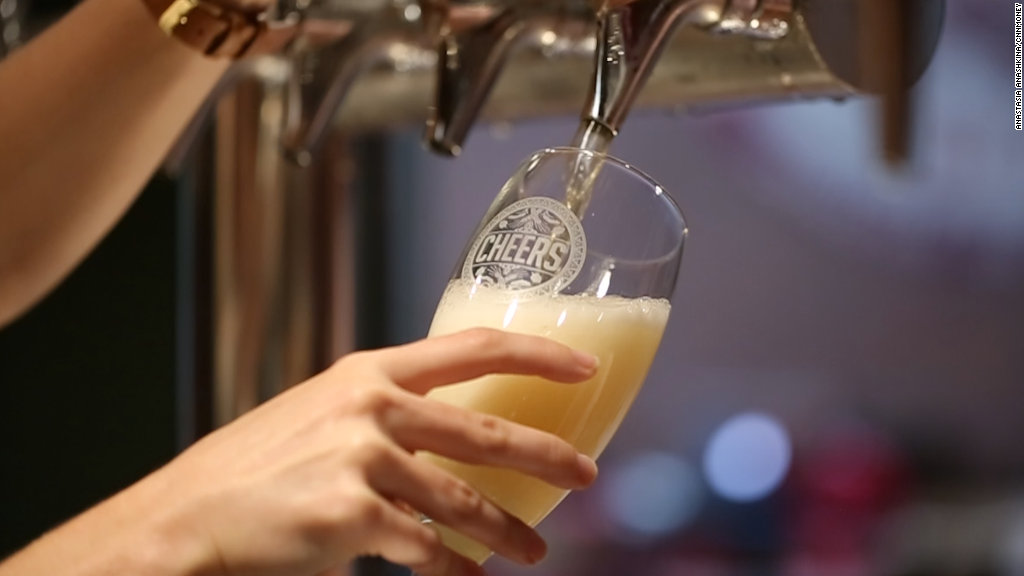 This Bud's not for you?
Anheuser-Busch InBev, the owner of Budweiser, Bud Light and Stella Artois, said that beer sales in the U.S. fell 5.6% in the third quarter.
Those are shockingly bad numbers when you consider that they came during the start of the football season and as the baseball pennant races were heating up with teams getting ready for the playoffs. Shares of BUD fell 2% on the news.
It's also a sign that A-B InBev's push to brand Budweiser beer as "America" on bottles and cans during what the company called its "American Summer" may have failed to catch on with suds-loving consumers.
A-B InBev said that market share for Budweiser and the lower calorie Bud Light fell in the U.S. during the quarter.
Beer snobs in the U.S. are increasingly choosing fancier and pricier craft brews over established brands like Bud.
AB-In Bev has recognized this and has been on a microbrew shopping spree over the past few years, scooping up popular brands like Goose Island, 10 Barrel Brewing and Blue Point.
The company also has a significant minority stake in Craft Brew Alliance (BREW), the publicly traded firm that owns the Kona, Redhook and Widmer Brothers brands of beer.
Related: Corona time! Beer owner's sales soar
But AB-In Bev's growth in the craft segment isn't enough to offset the declines in its top brands just yet.
Still, it wasn't all bad news for the company. A-B InBev said that other established brands, namely Michelob Ultra, Busch and Stella Artois, were growing in the U.S. and helping to pick up the slack for the weaker Bud and Bud Light sales.
Overall revenues were up globally in the quarter thanks to growth in China, South Korea, Brazil, Argentina and Chile. AB-In Bev is also cutting costs thanks to its more than $100 billion merger with SABMiller last year.
And even though BUD stock was down Thursday on the weak U.S. sales, the brewer's shares are still up 13% this year -- better than nearly all its rivals. Boston Beer (SAM), the owner of Sam Adams. is up just 5% while Molson Coors (TAP) is down 17%.
But the American-listed shares of Heineken (HEINY) are up nearly 30% in 2017 while Constellation Brands (STZ), which sells Corona in the U.S., is up almost 40%.