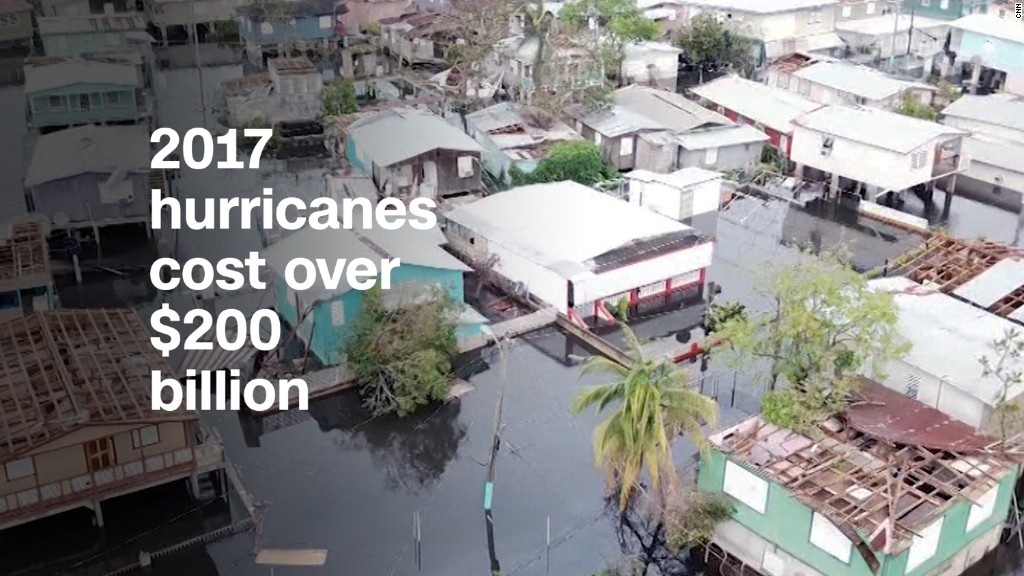 Hurricane Harvey dealt ExxonMobil a $160 million blow, but the oil giant's profits skyrocketed anyway.
Exxon (XOM) said Friday that its profits for the July to September period soared by 50% thanks to higher oil prices. That growth was much faster than Wall Street had been banking on.
The largest U.S. oil company would have earned even more had it not been for Hurricane Harvey, which forced the closure of several Exxon refineries in the Gulf Coast region. Severe flooding caused damage to Exxon's Beaumont and Baytown refineries, which are two of the largest in the U.S.
All told, Exxon said Hurricane Harvey expenses and disruptions slashed its profits by about $160 million.
Exxon and the industry as a whole are still trying to get back on their feet following the oil price crash of the past few years. Cheap oil forced Exxon and its rivals to lay off workers and scrap expensive drilling projects.
Related: Oil giant Shell bets on electric cars
Yet oil companies have benefited in recent months from steadier prices and lower expenses. It also helps that Exxon pumped 2% more oil and gas than last year.
Another sign of improvement: For the fourth quarter in a row, Exxon generated enough money through its business and asset sales to cover the cost of its dividends and investments.
Chevron, the No. 2 U.S. oil company, is also on the upswing. Chevron (CVX) logged a 54% jump in third-quarter profits on Friday as oil and gas production increased.
"Cash flow is at a positive inflection point, with oil and gas production increasing and capital spending falling," John Watson's, who is stepping down as Chevron's CEO in February, said in a statement.
On top of efforts to rebound from the oil crash, the industry has grappled with trouble on the climate change front. A Harvard study published in August concluded that Exxon "misled the public" on climate change for nearly four decades. Last month, San Francisco and Oakland filed lawsuits demanding that Exxon, Chevron and other oil companies pay billions to cover climate change costs.