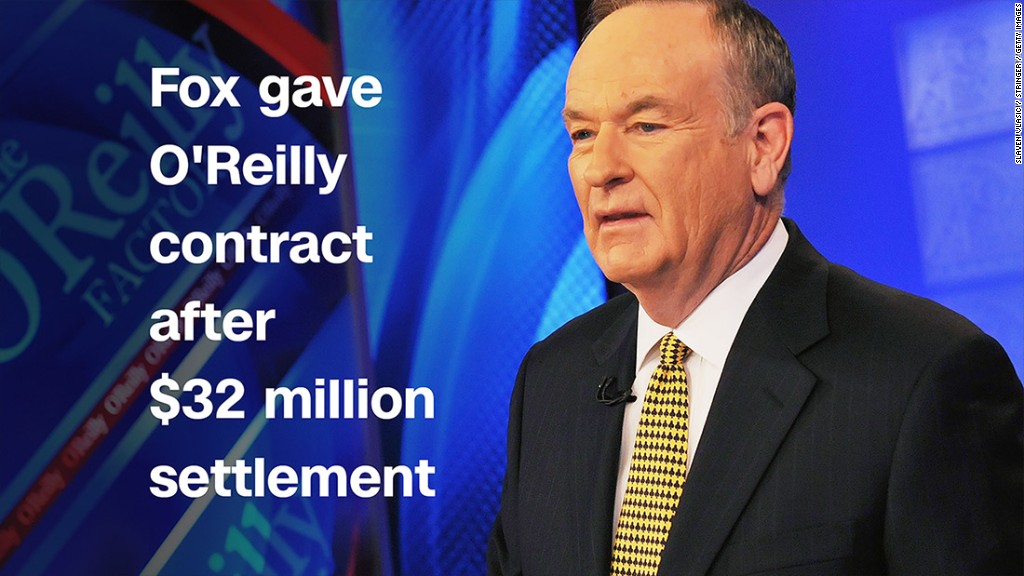 Bill O'Reilly is threatening legal action against a former New Jersey lawmaker who penned a candid account of his ex-girlfriend's alleged encounters with the former Fox News host.
In a summons filed Friday in a New York state court, O'Reilly's attorneys accuse Michael Panter of "making defamatory and false statements in a publicly-available social media post."
They said the former Fox News host is seeking no less than $5 million for "the public hatred, ridicule, disgrace, and permanent harm to his professional and personal reputations as a result" of a post that Panter published on Facebook earlier this week.
In the post, Panter recalled dating a woman who settled a lawsuit with O"Reilly.
"I read a blurb today that referenced her being bound by a non-disclosure agreement," wrote Panter. "However, I hear O'Reilly spinning his falsehoods almost daily. This week he again said he did nothing wrong, while suggesting he's been persecuted and had very few complaints "to Human Resources" during his decades at Fox. Bill should be aware that not everyone is bound by a non-disclosure ... I am not."
Panter went on the recount late night phone calls his ex-girlfriend received from O'Reilly, and said that O'Reilly frequently asked her out on dates.
"My ex's career was largely dependent on staying in O'Reilly's good graces," Panter wrote. "For that reason, she was always hesitant to tell me some details -- likely out of fear than I could jeopardize her career by becoming involved. Sometimes information would slip out."
Panter also claimed that O'Reilly worked with other Fox News executives, including former co-president Bill Shine, to pressure his ex-girlfriend into providing incriminating information on a woman who accused him of sexual harassment.
Panter did not name either woman in the post. A lawyer for Shine did not respond to a request for comment.
O'Reilly has emphatically denied the myriad sexual harassment allegations levied against him. After the New York Times revealed last weekend that he agreed to a $32 million settlement earlier this year with a woman who accused him of sexual misconduct, O'Reilly decried the report as a partisan hit job.
Panter told CNNMoney on Thursday that he was prompted to write it after seeing O'Reilly repeatedly tout his clean record in Fox News' human resources department.
"When I read that, I picture Vladimir Putin defending his presidency by saying there have been no complaints to the KGB about him," Panter said.
The post drew media attention on Thursday morning, prompting O'Reilly's camp to respond forcefully. Mark Fabiani, who is serving as O'Reilly's spokesperson, issued a statement that said, "Mr. O'Reilly will be commencing legal action against Mr. Panter, and the ex-partner he quotes, for all damages he and his family have suffered from this improper conduct."
Fabiani called the post "completely contrived, false and defamatory, aimed at hurting Bill O'Reilly and his family."
O'Reilly said Thursday on Twitter that he had commenced "legal action today against a man lying about me."
"From now on, all defamation will be challenged in court," O'Reilly said. "Enough." Later in the day, on his web show, O'Reilly told viewers that he "had to file a lawsuit against one of the smear merchants who are lying about me."
"I didn't really want to do that. But at this point I have to stop the madness and I'm not going to bore you with it," he said. "It's the same old stuff. There is obviously a witch hunt going on now and a lot of people are getting hurt in the harassment situation." O'Reilly didn't mentioned Panter by name in his tweet or on his show.
Panter's Facebook post remains up. In a statement to CNNMoney on Friday, he said he may have his own case against O'Reilly.
"I am speaking the truth, and expect my account to be fully corroborated," Panter said. "His actions give me a small sense of what victims must feel when speaking up against powerful men, and why more men hesitate to do so. After discussing this matter with a leading firm, I believe there is a strong basis to bring defamation claims against Mr. O'Reilly."
Panter added that he hopes to not take such action, saying he'd prefer the matter to be "amicably resolved."