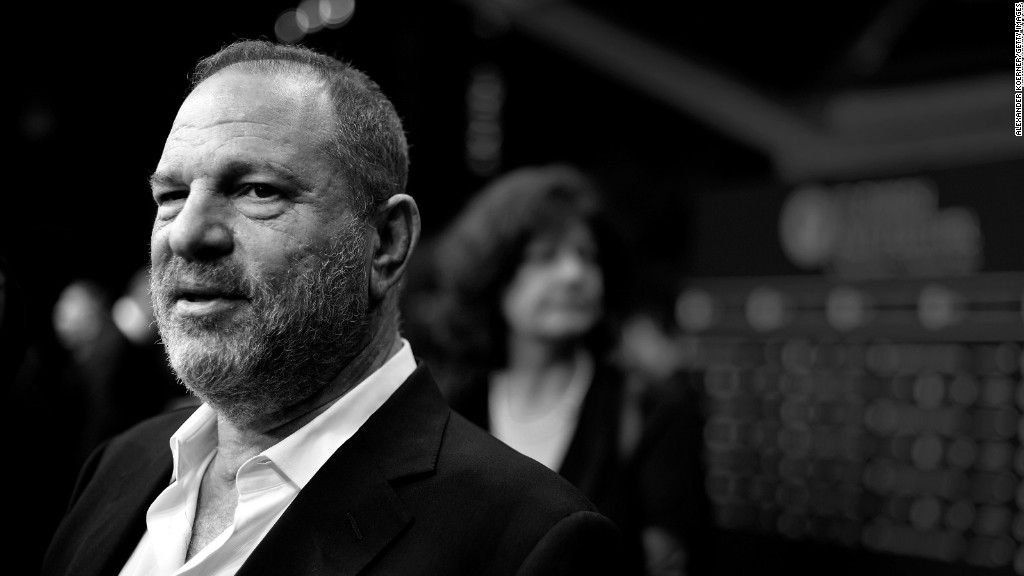 When Harvey Weinstein allegedly propositioned actress Lupita Nyong'o to skip dinner and join him in a "private room upstairs," she said in a first-hand account in The New York Times that her meeting with him took place at one of New York's most iconic restaurants, Tribeca Grill.
Trish Goff, a model who has been on the covers of Vogue, Cosmopolitan and Elle, told The New York Times that when Weinstein allegedly groped her, it too, happened at Tribeca Grill.
A downtown Manhattan haunt favored by the famous, Tribeca Grill opened in 1990 and is co-owned by actor Robert De Niro. The restaurant is located in the heart of affluent Tribeca.
Above the restaurant sits The Weinstein Company's New York headquarters and Weinstein's now former office.
The restaurant's impressive ambiance belies some of the shocking behavior that allegedly took place when Weinstein showed up to dine.
The mogul routinely subjected servers to his tantrums and frequented the restaurant with young women who often disappeared with him for hours at a time before returning to their table to food that grew cold, according to three former restaurant employees who witnessed the behavior. Those sources described to CNN a pattern of behavior that includes groping and pushing alcohol on women who didn't want to drink. Their accounts bear a striking resemblance to what Goff and Nyong'o allege in their personal testimonies about their encounters with the now disgraced Hollywood heavyweight.
"Weinstein was notorious for taking all sorts of 'meetings' with all sorts of young women," said one former employee who worked at the restaurant for nearly a decade starting in 2005. "We'd always go, 'Oh there's Harvey Weinstein at the table with another young girl.'"
Servers often got a "heads up" from one of Weinstein's assistants that he was on the way to the restaurant with a "client." He was typically seated at "his table" in the back of Tribeca Grill near the kitchen and away from the public's prying eyes.
What happens next was always the same, according to the former restaurant employees. Two of three people CNN spoke to did not want to be identified because they still work in the restaurant industry and are worried about the implications of speaking publicly about a past customer, while the third still has friends at the restaurant and did not want to hurt those relationships.
Weinstein would order alcoholic drinks, one for himself and one for his female guest. The food order varied, but he favored caviar, sources said. According to two former servers, the woman would "almost always" turn down his drink order and ask for a non-alcoholic beverage.
But the former servers said they were instructed by management to "do whatever Mr. Weinstein says." This means the female guest was served alcohol whether she ordered it or not.
"The server was not allowed to go with what the female said," said one former server who worked at Tribeca Grill for five months in 2015. "The server had to go with what Harvey said and regardless of whatever the female said we still had to bring the beverage to the table."
A spokesperson said in an email that Tribeca Grill does not condone the actions described by the restaurant's former employees who spoke to CNN.
"We support the hard-working people of the Tribeca Grill every day for the last 27 years. We would never allow any customer to be rude or harass any staff member. It would not be tolerated," the spokesperson said. "We do not defend for a second the actions of Mr. Weinstein and it is inaccurate to try to portray us as part of his dysfunction."
Those who waited on Weinstein were given a handwritten piece of paper by a manager or a host that would "tell us how to handle the table," according to two former servers.
"Harvey was one of the biggest VIPs we had [come to the restaurant] and there were only a few people that were allowed to serve his table," said a former server. "Mainly, the senior servers because he was so incredibly specific on the things that he liked."
Nyong'o's account includes a similar instance in which she ordered juice during a lunch meeting with Weinstein at a different restaurant that she did not name. Weinstein told the waiter to bring her a vodka and diet coke saying, "Get her what I tell you to get her. I'm the one paying the bill." Nyong'o declined to comment for this story.
The actress ordered juice again when the two met at Tribeca Grill a few months later, much to Weinstein's dismay, according to Nyong'o account.
"We ordered drinks and starters," she wrote. "Again he was offended by my non-alcoholic beverage choice but he didn't fight me on it as hard."
What typically happened after drinks and appetizers arrived was like "clockwork," the former employees told CNN. Weinstein and his guest would leave the table with the food untouched and exit through the back door, which leads to his office upstairs or outside. When they returned, sometimes hours later, the two would appear "visibly quiet," one former server said.
Weinstein would send the kitchen into a "tizzy" when he complained that the food was cold upon his return. The mogul's tantrums were legendary at the restaurant.
"He would get angry over little details like if the wrong drink was brought over," said a former server who left Tribeca Grill in 2016 after two years of employment. "In fact, if things didn't go the way he wanted he wasn't above taking the lemons out of his drink and throwing it at the servers. We would put a lemon or lime on a glass of water or a drink and he would take it off the drink and chuck it at the servers to get their attention and make sure he hit them."
Another former employee said, "His sense of entitlement was like none other, the entire staff would cringe when he would come in. One specific time he came into the kitchen and began yelling at a girlfriend of mine who was a server and began calling her 'stupid' because she wasn't getting his food quick enough."
New York Post's Jade Budowski, who was once a server at Tribeca Grill, wrote a firsthand account of what it was like to wait on Weinstein.
"The staff could usually tell that the woman was there to meet him before she had even said a word," she wrote. "If a woman waited for him at the bar, he'd bellow furiously at more than one of us for not having seated her prior to his arrival, despite the fact that she'd insisted on it. 'Why the f- -k isn't she at the table?' he'd say." Budowski declined to comment for this story.
The inappropriate touching and groping that some women alleged in their accounts since The New York Times broke the Weinstein story three weeks ago were sometimes on display at Tribeca Grill.
"He used to say goodbye by embracing [the women] and the embrace would also entail cupping her a**. I've seen him do that more than once," a former employee said.
The New York Times and the New Yorker Magazine published back-to-back stories earlier this month that detail nearly three decades of sexual harassment and sexual assault allegations, including charges of rape. The explosive stories have prompted more women, including Goff and Nyong'o, to come forward and share their experiences.
Weinstein, through a spokeswoman, has "unequivocally" denied "any allegations of non-consensual sex."
Goff told the New York Times she was subjected to Weinstein's groping when she turned down his advances at a meeting at Tribeca Grill.
"I said I wasn't interested in an open relationship, but he was relentless, and I kept trying to shut that down and move on," Goff said. "Then he started putting his hands on my legs, and I said, 'Can you stop doing that?' When we finally stood up to go, he really started groping me, grabbing my breasts, grabbing my face and trying to kiss me. I kept saying, 'Please stop, please stop, but he didn't until I managed to get back into the public space."
When the initial Weinstein story broke, several former and current restaurant employees texted with one another, a former server said.
"When this story dropped all of us who used to work there ... we all said this a**hole got what was coming to him," the server said. "Because he was so terrible to all of us."