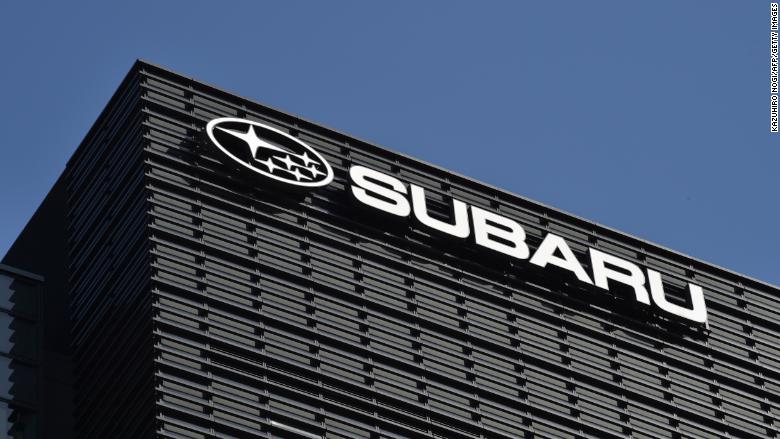 Another day, another crisis at Japan Inc.
Automaker Subaru (FUJHF) said Friday that it's planning to recall roughly 255,000 cars after admitting it allowed uncertified workers to carry out inspections on its vehicles.
The company found that workers at its biggest Japanese factory were still in training to be certified when they took part in inspections.
CEO Yasuyuki Yoshinaga told reporters that the practice stretched back 30 years, but that the company didn't realize until recently that it was breaking government rules.
The issues at Subaru came to light after Nissan (NSANF) reported similar problems last month, prompting the Japanese government to request that other automakers inspect their production lines.
Subaru expects the planned recall to cost it more than ¥5 billion ($44 million).
Related: What's wrong with Japan Inc?
Yoshinaga didn't specify whether any countries outside Japan would be affected by the recall. Only about 15% of Subaru vehicles are sold in Japan. The U.S. is its biggest market.
Subaru shares fell as much as 3.3% in Tokyo on Friday after reports about the scandal appeared in the Japanese media. The stock closed down 2.6%.
The Subaru problems closely follow the crisis at Nissan.
Last week, Nissan said it would halt production of cars for the Japanese market after discovering that inspections were not carried out properly at several factories. It had already announced a recall of 1.2 million vehicles over the issue.
Related: Nissan halts production of cars sold in Japan
Bloomberg reported Friday that the practice of letting uncertified workers carry out inspections at Nissan could stretch back as far as 1979. The company declined to comment on the report, saying it was awaiting the result of an external investigation.
Nissan CEO Hiroto Saikawa said last week that one of the reasons it was difficult to fix the inspections problem was because it had become engrained and part of the company culture.
Subaru's admission adds to an ugly month for corporate Japan.
Earlier in October, Kobe Steel (KBSTY), a century-old industrial giant, admitted to faking quality data on aluminum and copper products shipped to big customers including Toyota (TM) and Boeing (BA).
Other recent scandals include Takata's deadly airbags, Mitsubishi Motors' fudged fuel-efficiency tests and Toshiba (TOSBF)'s damaging debacles over its accounting and its nuclear power business.