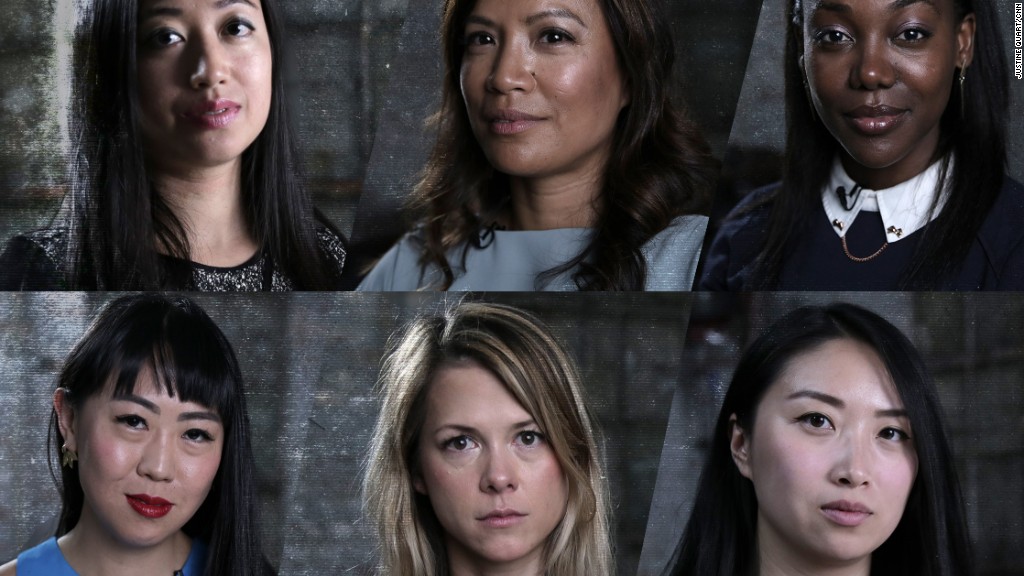 Silicon Valley had a sexual harassment crisis long before Hollywood did.
Four months ago, a flood of women in tech shared their stories, from an investor exposing himself during a meeting to another kissing an entrepreneur without her consent.
Companies promised investigations. Some investors resigned. People suggested ways to crack down, like more specifics on what qualifies as inappropriate behavior. But months later, there have been few tangible changes made by those in power, women say.
The issue is far from resolved. For example, just this week, VC firm Draper Fisher Jurvetson confirmed to CNN Tech it is conducting an ongoing independent investigation into "allegations" around a founding partner which surfaced last summer.
Despite the outrage, entrepreneur Denise Brosseau said the tech industry hasn't done much to make changes that would systemically support women in an industry dominated by men.
There's "too much power, too much money, and too few reasons to change," said Brosseau, co-founder of women's network Springboard and CEO of consulting firm Thought Leadership Lab.
Similar to the dynamic between Weinstein and the Hollywood actresses who have accused him of harassment, there's often no formal employer-to-employee relationship in tech. But there's a huge power imbalance.
What does it take?
According to a study conducted by Baloonr, an app for gathering anonymous feedback, about 35% of respondents said the best way to addressing tech's issue is to put more women in leadership roles. The study was conducted among 90 female venture capitalists and founders who've raised funding for their startups.
The study found only 17% of participants believe a "code of conduct" could facilitate necessary change.
Related: Ellen Pao: 'I turned down millions to tell my story'
Baloonr is typically used by companies to poll their workers. But founder Amanda Greenberg launched a broader survey following the sexual harrassment allegations.
More female venture capitalists
Some women who've shared their harassment experiences said they aren't convinced that those in power -- investing partners and limited partners who control the funds -- are ready to make any real changes.
"Everyone is super supportive until they have to put their money where their mouth is," said Lisa Wang, cofounder of SheWorx, who spoke as part of CNNTech's Money, Power, Sexual Harassment special.
Susan Ho, cofounder of Journy and one of the six women who spoke out against Caldbeck in June, said investors have since asked how they can help. Adding more female investing partners or investing in more female founders are efforts that could help but that many firms are shy about making formal commitments to do so, she said.
"I don't think we're going to see meaningful change unless people really realize they are leaving money on the table," Ho added.
Policies
The venture capital industry has long policed itself, but some hope that will change.
The National Venture Capital Association, a tech trade organization, has committed to working on policy templates and trainings. In September, the association announced an initiative called Venture Forward that's devoted to addressing tech's sexual harassment and diversity and inclusion problem.
NVCA president Bobby Franklin emphasized that the venture capital industry doesn't have highly regulated rules, unlike lawyers who can be disbarred for misconduct.
"Can you keep someone from being a VC? No," Franklin said. "That's why we're trying to be deliberate."
"What we'd like to do is help facilitate programs around sexual harassment training that we hope our members take advantage of and use these tools to educate their own firms about sexual harassment on a regular basis," said Maha Ibrahim, a general partner at venture capital firm Canaan Partners, who is on NVCA's board and is actively involved with Venture Forward.
In August, NVCA held a three-hour sexual harassment workshop in San Francisco with roughly 60 attendees, including Brosseau and entrepreneur Cheryl Yeoh, who helped put the Malaysian startup ecosystem on the map. Yeoh spoke out against investor Dave McClure, who resigned from the firm he cofounded, 500 Startups, in the wake of harassment reports. McClure issued a broad apology for his behavior.
Soon after, NVCA published its framework for moving forward. It included developing industry standard HR policies and best practices for startups.
Related: Readers react to 'Money, Power and Sexual Harassment'
Other ideas that surfaced during the workshop included an industry-wide third-party reporting tool, like Callisto, that could be a resource for reporting harassment. Callisto is already used on some college campuses to track harassment complaints and flag assailants who are repeat offenders.
Another suggestion was to create a fund to help women in tech who are victims of harassment and want to pursue legal cases. (Ellen Pao, who sued Kleiner Perkins for sex discrimination, racked up $2.7 million in legal fees -- not something the average woman in tech can afford.)
"While NVCA deserves praise for catalyzing a healthy discussion ... it maintains they're not in a position to spearhead [a] reporting tool or play an industry ombudsman role," said Yeoh, adding that some attendees formed a subcommittee after attending the workshop.
But those who control the money are the ones who have the power to hold venture firms' feet to the fire, the women said. And most haven't yet, at least not publicly.
"Every firm should publicly commit to publishing their own internal policies and reporting mechanism," said Yeoh. "Most firms still don't have it and have not taken any steps towards it yet. There's no good reason why that should be the case."
Brosseau agrees: "Until this is an economic imperative, nothing will change."