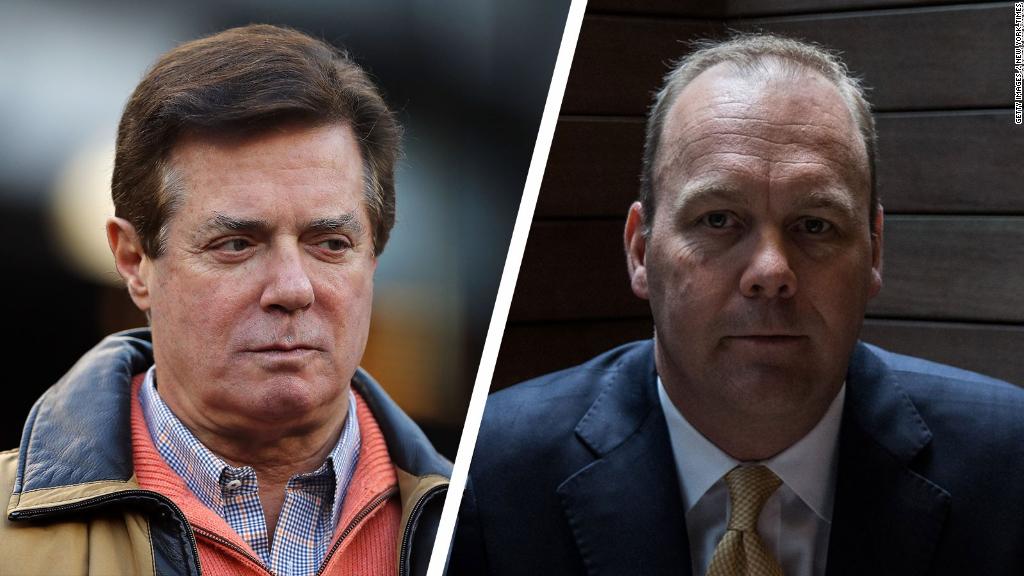 The news that Donald Trump's former campaign head had turned himself over to the FBI was just minutes old on Monday morning when "Fox & Friends" co-host Brian Kilmeade posed a question that was probably on the minds of many viewers.
"Will you please tell us what else is happening in the news?" Kilmeade asked one of the show's other anchors, who dutifully shared a variety of other headlines unrelated to the investigation into the Trump campaign's ties to Russia.
But no other item could eclipse the news that Paul Manafort, Trump's former campaign chairman, had surrendered to authorities. Not even on "Fox & Friends," Trump's favorite cable news program,which often acts as an unofficial arm of the White House communications department.
Related: The latest on Manafort, Gates and Papadopoulos
Around the 8 a.m. hour, the show brought on Fox News correspondent Griff Jenkins, who provided a timeline of events that led to the top story of the day and perhaps Trump's presidency so far: Manafort and his associate, Rick Gates, were handed the first two indictments as part of special counsel Robert Mueller's investigation into the Trump campaign's possible connections to the Russian government.
The development forced Fox News to confront a familiar tension between its ideological allegiance and editorial responsibility. And it underscored how the network employs hard news in its daytime programming and overt commentary in primetime to stitch a narrative tailor-made for its conservative audience.
Fox's stars in the evening hours provided a tour de force in deflection and dismissal. Tucker Carlson led his broadcast by shedding light on what his show's graphics described as the "Real Russia scandal," which of course dealt with the Clintons and Democrats, not Trump.
The indictment of Manafort, Carlson told viewers, "never mentions Donald Trump's presidential campaign, or the 2016 election."
"It only mentions Russia in passing," Carlson said, "even though Russian meddling was the pretext for this investigation in the first place."
Sean Hannity played his usual role of Trump's most loyal media defender by going after "Robert Mueller's witch hunt." Right off the bat, Hannity promised to deliver "one of the most important monologues" he's ever given on the show.
"With the result of the indictment of Paul Manafort and his associate, we will show you, right here, how there is zero evidence of Trump, Russia collusion, zero evidence of campaign collusion," Hannity said. "And in spite of all of that, the media has been lying to you all day, and all weekend long."
The real story, Hannity said, was that Clinton had "sold out America's national security interest."
"Your lying media in this country would have all of you believe the indictment of Paul Manafort and his associate Rick Gates has everything to do with Trump-Russian collusion," Hannity thundered. "It has nothing to do with it."
Fox's daytime coverage of the indictments proved more of a mixed bag, though there was little question how the network's flagship morning program was going to play it.
Kilmeade and his two "Fox & Friends" co-hosts Steve Doocy and Ainsley Earhardt did not ignore the news, of course. But they didn't abandon their role as Trump boosters, either.
After the show ended, Fox News' morning coverage was led by anchors Bill Hemmer and Sandra Smith. Where "Fox & Friends" hewed close to the White House line, Hemmer and Smith delivered the Manafort news straight.
Fox viewers also received sober analysis throughout the day from its stable of Washington correspondents, Bret Baier, James Rosen and Kevin Corke.
The indictment was clearly the network's top story. But in contrast to MSNBC and CNN, which provided wall-to-wall coverage of the indictments all morning, Fox News found plenty of time for other news, running segments on the Republican-led effort to reform taxes, the corruption trial of Democratic Sen. Bob Menendez and Sunday's protest by the Houston Texans -- all legitimate stories, but all relatively minor compared to the significance of the news about Manafort, Gates and also former Trump foreign policy adviser George Papadopoulos, who has already pled guilty to making a false statement to the FBI.
And throughout the day, Fox News' on-air reporting on the Manafort indictment was often followed by segments about the Clinton campaign's role in funding the infamous dossier of allegations about Trump and Russia.
Besides devoting time to other topics, "Fox & Friends" also worked to spin the indictment news. Kilmeade, for one, assured viewers that "just because you're indicted doesn't mean you're guilty of anything," which is true as a matter of law and principle, of course, but bore a different meaning in the way he said it.
And the three hosts of "Fox & Friends" brought on Kellyanne Conway, who resumed the White House's efforts to divert attention to Hillary Clinton and the Democratic National Committee.
"The president's also made very clear...that he considers this a hoax," Conway said. "And that people should be looking into any coordination, if not collusion, between the Clinton campaign, the DNC, the Russian dossier."
Later in the morning, Kilmeade, Doocy and Earhardt brought on attorney Alan Dershowitz.
Dershowitz, described by the hosts as a "lifelong Democrat," though he is perhaps most often seen siding with the right, provided some comforting caveats to the Trump fans watching at home.
"They're going after Manafort on something that apparently that has nothing to do with Trump," Dershowitz said.
Hours after the Dershowitz interview, the president himself was pushing that line, noting on Twitter that the indictment against Manafort stems from activity that came years before Manafort joined the Trump campaign.
It was a recurring sentiment on Fox all morning. Rep. Peter King (R-NY) stressed that nothing in the indictments "in any way involves President Trump."
Appearing from the set of his radio show, Kilmeade joined Hemmer to discuss the news, reiterating that Manfort's indictment "clearly has nothing to do with the campaign."
It wasn't hard to see why Trump and his supporters were eager to push that narrative. As Earhardt put it bluntly earlier Monday morning, "What if Manafort doesn't have anything on the president? No more Russia collusion? Are we done with this?"