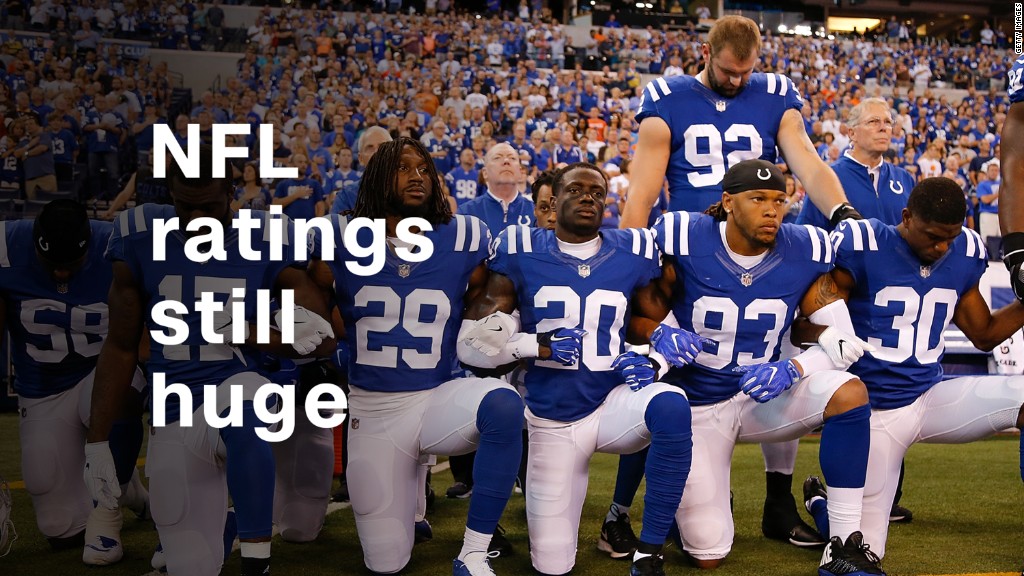 Papa John's is blaming the NFL for hitting its bottom line.
The pizza company, which has been a league sponsor since 2010, sliced its sales and profit forecasts on Tuesday. And Papa John's founder and CEO John Schnatter wasn't shy about who he thinks is to blame for the "debacle": Commissioner Roger Goodell.
"Leadership starts at the top, and this is an example of poor leadership," Schnatter said on a conference call with investors Wednesday. "The NFL has hurt Papa John's shareholders."
NFL spokesman Joe Lockhart declined to comment on Schnatter's comments.
NFL ratings, like the rest of network television, are in a slump. Through Week 7, NFL viewership is down 5% overall from the same point last year.
Though the ratings slump has many causes, some NFL fans may have tuned out because of the controversy over players kneeling during the National Anthem to protest police violence.
President Trump has called on fans to boycott the NFL if the league doesn't crack down on protests. Last month, Vice President Mike Pence left an Indianapolis Colts game after San Francisco 49ers' players took a knee during the anthem.
At a league meeting last month, Goodell and the NFL owners opted not to force players to stand during the Anthem.
The NFL may be part of the problems Papa John's faces, but it's far from the only one. The stock is down 24% this year, while competitors including Domino's (DPZ) have performed well (Domino's stock is up 12% this year).
Still, Schnatter put the NFL squarely at fault. He specifically cited the anthem protests as the root of the problem.
"This should have been nipped in the bud a year and a half ago," Schnatter said. "The controversy is polarizing the customer, polarizing the country."
In response, Papa John's has pulled some of its planned commercials from NFL games this season. Schnatter said the NFL has promised to give the pizza company future spots in return.
"It indeed appears that National Football League strife may be weighing on same-store sales to some degree, with Papa John's as the NFL's Official Pizza Sponsor bearing some brunt of this issue," Instinet analysts wrote in a research note Tuesday. "Sponsorship of NFL = No Free Lunch."
Papa John's still expects sales to increase by 1.5% in North America this year, but that's down from its previous estimates.
Shares of Papa John's (PZZA) tumbled 9% on the lowered estimates.