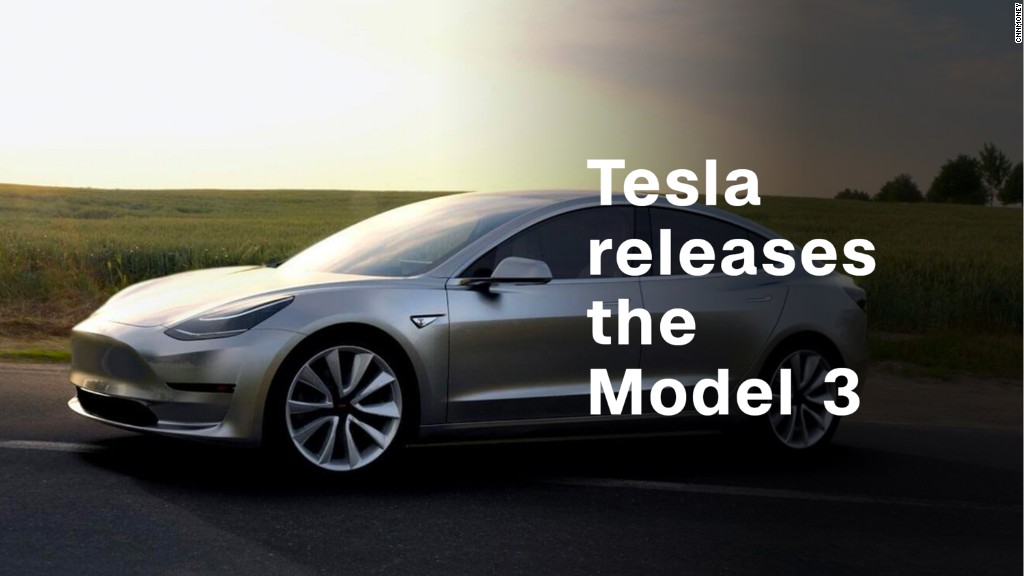 Tesla's first mass market car has been beset with manufacturing issues -- and there' s no end in sight.
The electric carmaker issued its latest earnings report Wednesday, and the firm did little to assuage investors' concerns that Tesla would not be able to significantly ramp up Model 3 production in the near future. The company's stock price sunk more nearly 5% during after-hours trading.
"While we continue to make significant progress each week in fixing Model 3 bottlenecks, the nature of manufacturing challenges during a ramp such as this makes it difficult to predict exactly how long it will take for all bottlenecks to be cleared or when new ones will appear," the company said in a letter to investors.
Tesla (TSLA) was already facing backlash from its shareholders over production of the Model 3, which is the first vehicle that's priced more for the average consumer at $35,000. At least one lawsuit has been filed by investors.
Related: Tesla sued for Model 3 delays
Tesla previously said it would make 1,500 Model 3's during the last quarter, but the firm dramatically undershot that goal. It churned out just 260, Tesla said earlier this month. The company said "a handful" of assembly lines had taken "longer to activate than expected."
Based on figures in Tesla's latest earnings letter, the company isn't expecting to reach its initial goal of making 5,000 Model 3's per week before March 2018.
Tesla, which rarely turns a profit, posted a net loss of $619 million for the quarter.
Among investor worries: The Wall Street Journal reported on October 6, citing unnamed sources, that "as recently as early September major portions of the Model 3" were being built by hand. At the time, Tesla denied the report.
"Every vehicle manufacturing line in the world has both manual and automated processes," said the company's Tuesday statement. "As we've always acknowledged, it will take time to fine-tune the line for higher volumes."
Production issues have been par for the course at Tesla practically since Day 1. Similar problems ramping up production also plagued the company's first two car models -- the Model S sedan and the Model X SUV.
In July, as Tesla delivered the first batch of Model 3's to employees, Tesla CEO Elon Musk admitted the company went through "production hell" to bring all three of its cars to market.
With a simpler, streamlined designed, the Model 3 was designed to make the manufacturing process easier.
Musk said Wednesday things seem to be looking up for the vehicle's production.
"I was really depressed about 3 or 4 weeks ago. We were at level 9," Musk said, referring to how bad things were on a 1-to-10 scale. He added Tesla's now at an 8, and he sees smoother sailing ahead.
Related: Tesla fired union supporters, UAW charges
Tesla also admits that because "the Model 3 production process will be vastly more automated than the production process of Model S, Model X [...] bringing this level of automation online is simply challenging in the early stages of the ramp."
Musk also said Wednesday that one of its current hangups stems from an issue with a subcontractor that "really dropped the ball." He said Tesla wasn't aware of the extent of the issues until very recently, and the company's engineers had to scramble to rewrite software from scratch to compensate for the contractor's error.
Despite the production woes, Tesla has still had a phenomenal year in terms of stock performance. Its shares are up more than 50% so far in 2017.
And the company says there's no signs of demand slowing down.
"We received record net orders for Model S and Model Xs" last quarter, Tesla said in its earnings letter, which later added, "Demand for Model 3 is not going to be a constraint for quite a long time."
Another bright spot in Tesla's report was that the company delivered its 250,000th car last quarter. That means there's now a total of a quarter million Teslas on the road.
"Five years ago, we had only delivered 2,500 cars. So the Tesla fleet has grown by a factor of 100 in five years," Musk said during an earnings call.
--CNNMoney's Chris Isidore contributed to this report.