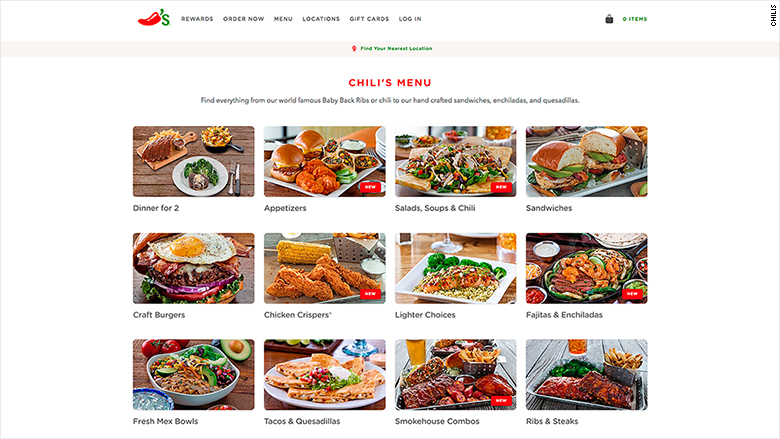 Chili's slimmed-down menu is making its service much speedier.
In mid-September, Chili's announced it would trim its menu by 40% to focus on classic dishes. Chili's doubled down on Texas Size Ribs, Full-On Fajitas, Bigger Big Mouth Burger and Oldtimers with cheese and fries. It hoped the strategy change would shorten wait times at restaurants, which were driving away customers and eating into profits.
The restaurant chain seems to have gotten what it was asking for. The average wait time to get food to customers' tables fell 12% within six weeks of rolling out the new menu, Chili's said.
"More importantly, tickets longer than 15 minutes — and those are ones that generate the greatest number of guest complaints — have dropped 40%, and those guests are now much more likely to return," said Wyman Roberts, CEO of Chili's parent Brinker International, on a conference call with investors Wednesday.
Customers aren't necessarily digging having fewer options: Chili's reported that traffic and sales at restaurants that were open at the same point last year dropped about 3% last quarter. That's a steeper fall than analysts predicted.
Chili's acknowledged the growing pains.
"Whenever you take away 40% of the items that are on your menu, there's a chance that you're going to have some pushback from guests because you may have touched one of their favorites," Roberts said on an investor call. "That's been the biggest challenge."
But investors were elated about the new menu and quicker service. Brinker, which also owns Maggiano's restaurants, spiked 7% Wednesday. It's down slightly Thursday, following broader market declines.
Devastating hurricanes dealt corporate America a major blow
What's next for Chili's? Focusing on providing cheaper options, especially burgers.
"The industry remains highly competitive when it comes to value and we're turning up the dial on our value strategy," Roberts said.
Still, one analyst says it's too soon to tell if Chili's comeback will last.
"We remain guarded, especially as we move into a volatile holiday season," Barclays analyst Jeffrey Bernstein wrote in a research note on Thursday.
Like other restaurants this quarter, Hurricanes Harvey and Irma battered Brinker's bottom line. The company lost around $5.4 million in sales because of the storms.