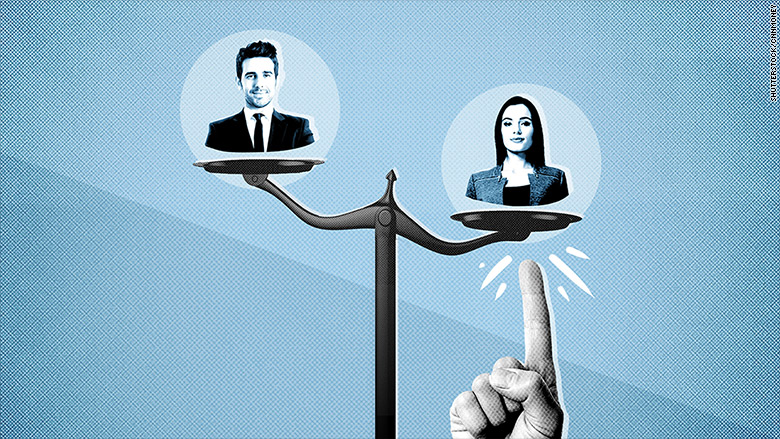 Want to invest in gender equality? There's a growing number of ways to do that.
Earlier this year, National Australia Bank raised 500 million Australian dollars ($384 million) from investors keen to promote gender equality at work, and get a healthy return on their cash. It was the country's first gender bond.
"It's not often that you see capital markets and diversity come together," said Eva Zileli, head of group funding at National Australia Bank.
The proceeds from the five-year bond, which offered investors an annual return of 3.25%, have been loaned to companies in Australia that are trying to foster greater equality between men and women at work.
One of the companies is Mirvac, a real estate group praised by the Australian government's Workplace Gender Equality Agency for its commitment to appointing more women to its board. Mirvac set a target for women to make up half its board and reached it almost three years ahead of schedule.
Related: It's getting even harder to be a women
With its gender equality bond, NAB is following in the footsteps of the International Finance Corporation, an arm of the World Bank that lends to business in developing countries. The IFC launched its "Banking on Women" bond program back in 2013.
"It was the first bond program of its kind focused on creating opportunities for women entrepreneurs in emerging markets," said Denise Odaro, head of investor relations at IFC. "Two [Banking on Women] bonds were issued in 2013 and 2014, which raised $268 million and supported over 20 projects."
Growing demand for 'social bonds'
The growing demand for investments that finance social projects prompted the International Capital Market Association (ICMA) in London to issue new transparency guidelines for social bonds this year.
The IFC has since merged its Banking on Women program into a wider social bond program, a move that Odaro says has helped it to widen its investor base.
"There is certainly growing investor appetite for bonds that are themed as environmental, social and governance," said Odaro. "The shift we are seeing is the appeal of the product to mainstream investors, although this is not without challenges such as the need for liquidity and diversity of issuers."
Related: 6 ways to invest and change the world
Environmental bonds still dominate in terms of volume -- ICMA data show that over $80 billion worth of green bonds were issued in the first nine months of this year, already ahead of the 2016 total.
But social bonds are gaining momentum. Zileli said NAB's gender bond was a "natural progression" for the bank, which had previously issued bonds to finance climate projects. And the Australian bank has plans to issue more social bonds.
"We'd like to continue to build on our socially responsible investment bond issuance, whether that's gender or another theme," Zileli said.
Social bonds, including gender bonds, should continue to attract more investors, but are unlikely to match climate bond volumes.
"I don't think it has the capacity to be as big as green," Zileli said.
"There's a defined amount of lending to support diversity activities. I don't think there's enough lending in that space to see this type of bond reach the levels of climate bonds," she added.
One barrier to growth is measuring the impact of the investment. With a climate bond, investors can see how many carbon emissions have been saved. With social bonds, it's harder to agree reporting standards for different borrowers and themes, Zileli said.