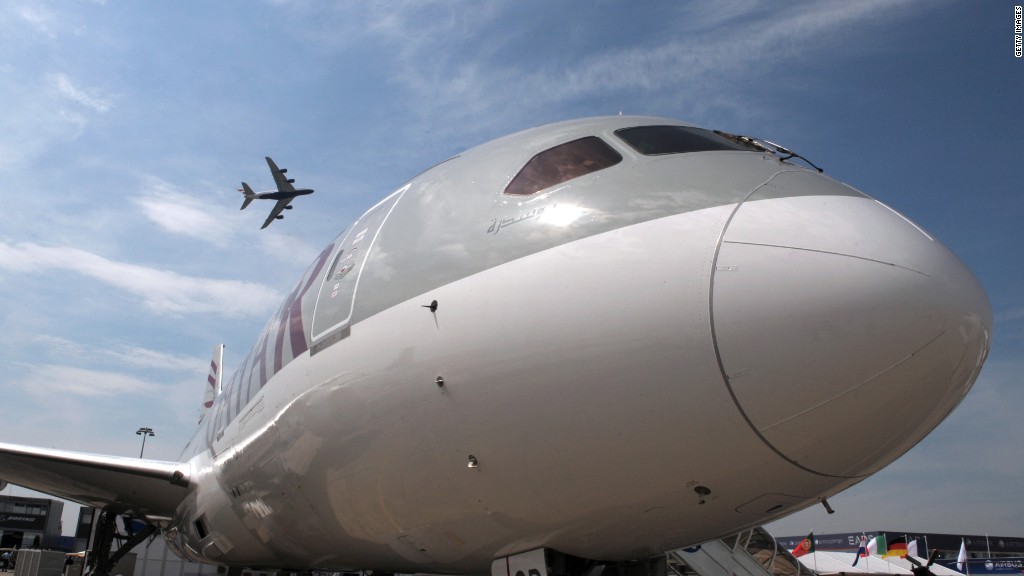 After its attempt to cozy up to American Airlines was rebuffed, Qatar Airways has turned its attentions elsewhere.
Facing problems in some Middle Eastern markets, the state-owned Gulf carrier announced Monday it's buying almost 10% of Hong Kong's Cathay Pacific (CPCAY) for $5.2 billion Hong Kong dollars ($662 million).
The deal makes Qatar Airways the third-biggest shareholder in Cathay after Swire Pacific (SWRAY), a conglomerate that holds a majority stake, and Air China (AIRYY). It also gives the Middle Eastern airline a stronger link to China, which is expected to surpass the U.S. as the world's largest aviation market within five years.
The Cathay move comes three months after Qatar Airways dropped its efforts to buy a 10% stake in American Airlines (AAL), whose CEO Doug Parker publicly knocked back the interest. U.S. airlines have engaged in a public fight with their Gulf rivals in recent years, accusing them of unfairly benefiting from billions of dollars in government subsidies.
Related: Qatar Airways nixes plan to buy 10% stake in American Airlines
Qatar Airways has also suffered from the major diplomatic crisis that has roiled its home country.
Powerful neighbors including Saudi Arabia and the United Arab Emirates cut diplomatic ties and imposed a partial embargo on Qatar earlier this year, alleging Qatari support for terrorism. Qatar Airways is now banned from flying into those countries.
"Qatar Airways faces greater pressure to broaden its global footprint and a need to demonstrate its financial strength," said Corrine Png, an analyst at research firm Crucial Perspective.
However, Cathay investors didn't take the news well. Shares plunged as much as 4.8% in Monday morning trading as the deal raises questions about the struggling Hong Kong airline's long-term strategy. The shares closed down 1.5%.
The Qatar investment dampens speculation about a possible takeover of Cathay by Air China, wrote UBS analyst Eric Lin in a note to clients. That possibility has helped drive Cathay's share price up more than 25% so far this year.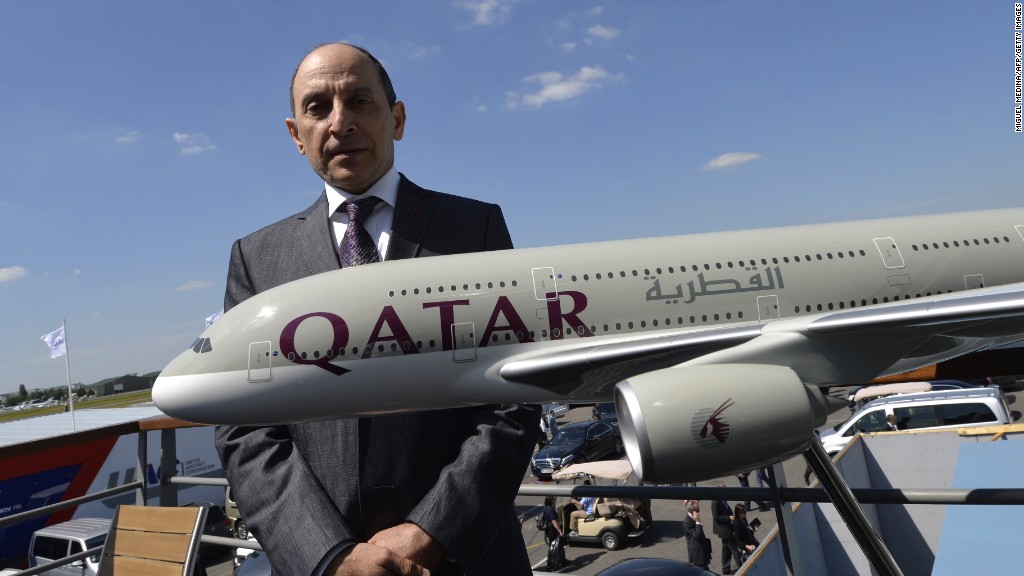 Png said that Qatar Airways is likely to be a vocal shareholder and will seek to influence Cathay's business strategy. That could complicate the Asian airline's turnaround efforts.
"Shareholder meetings are going to get complicated for Cathay," she said.
The airline made a loss of 575 million Hong Kong dollars ($74 million) in its most recent financial year and is cutting hundreds of jobs in a bid to slash costs. It has struggled in recent years in the face of rising competition from mainland Chinese carriers.
Qatar Airways' CEO Akbar Al Baker is known for his outspoken views on the industry. Earlier this year he described U.S. airlines as "crap."
Related: Check out Singapore Airlines' new luxury suites
Png added that Qatar Airways and Cathay Pacific could both benefit from the tie-up by feeding traffic into each others' networks.
A spokesperson for Cathay Pacific declined to comment on the deal beyond a stock market filing the company issued. Spokespeople for Qatar Airways and Air China didn't immediately respond to requests for additional information.
The Cathay deal isn't the first foreign excursion for Qatar Airways. The airline already owns 20% of International Airlines Group, the parent of British Airways and Iberia, and 20% of South America's LATAM Airlines (LTM).
Qatar Airways is buying the Cathay stake from Hong Kong industrial firm Kingboard Chemicals, according to a stock market filing.