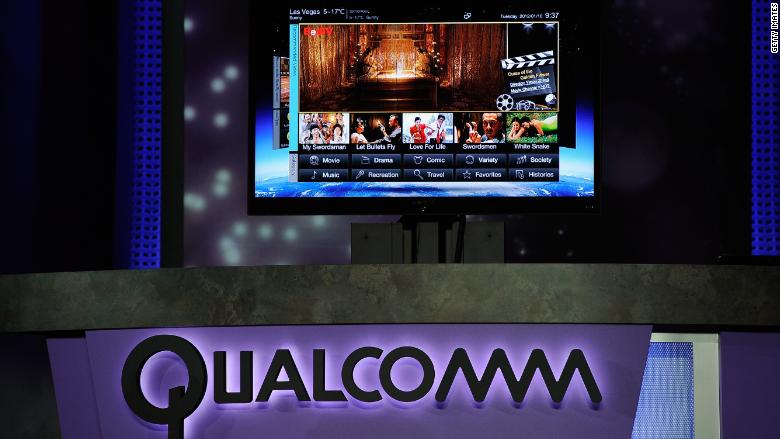 The second-biggest deal in American corporate history could be a marriage between Wi-Fi and wireless.
Broadcom has made a $130 billion unsolicited bid to buy Qualcomm. If completed, it would tie up two seemingly complementary chipmaking behemoths.
Qualcomm made its name inventing the 2G and 3G wireless network technology used by Verizon and Sprint. Now the bulk of its sales come from mobile chips powering the brains in smartphones and the radios that enable cellular communications.
Broadcom primarily makes chips for wired broadband communications, including modems, Wi-Fi, switches and routers.
The deal comes just as every wireless carrier in America is about to unleash its 5G technology. Unlike 4G, 3G and 2G before it, 5G will rely on wired and wireless technology working in tandem.
Because of how 5G technology will be built, wireless carriers will have to deploy small radios -- essentially mini cell towers -- all around the covered area. Each of those towers will need an Ethernet connection. If Broadcom and Qualcomm combine, it could market itself as an end-to-end 5G technology provider.
Qualcomm has endured a miserable 2017, mainly because of an epic standoff with Apple (AAPL). Qualcomm claims Apple violated some its patents and is trying to block iPhone sales in China. Meanwhile, Apple is rumored to be building a future iPhone without Qualcomm components.
Although Qualcomm (QCOM) briefly became the world's largest chipmaker, it was leapfrogged by Intel (INTC) and then Samsung earlier this year. The company's stock has fallen 5% this year -- an opportune time for Broadcom to buy it.
Monday's announcement comes days after President Trump revealed that Broadcom would move its legal headquarters back to the United States. It had previously incorporated in Singapore.
Related: Broadcom moving legal headquarters back to U.S.
That legal maneuver helps Broadcom (AVGO) avoid increased regulatory scrutiny levied on foreign companies that want to buy American corporations.
Still, the deal could invite antitrust concerns. Both companies are big players in the high-end Wi-Fi market, notes Christopher Rolland, semiconductor analyst for Susquehanna.
Another complication: Both companies are in the middle of buying other chipmakers. Qualcomm has agreed to buy NXP (NXPI), and Broadcom is buying Brocade (BRCD).
The only larger deal in U.S. corporate history was AOL's $162 billion deal for CNN parent company Time Warner (TWX) in 1999. The Broadcom-Qualcomm deal would be tied with Verizon's $130 billion purchase of half Vodafone's Verizon Wireless stake in 2013, and Dow's $130 billion merger with DuPont in 2015.