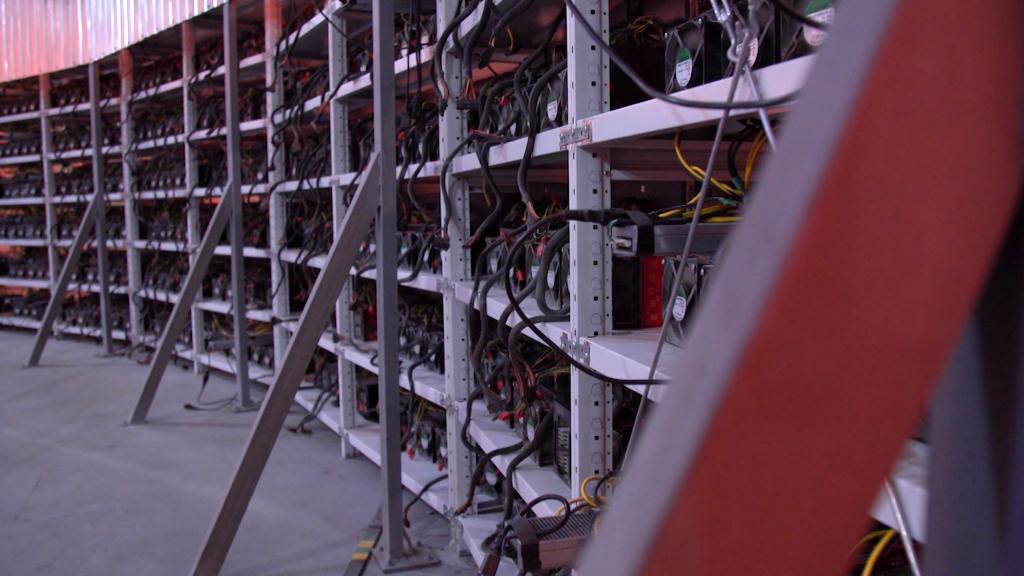 In a former Soviet car factory in the southeast of Moscow, the scene is like one out of a science fiction movie.
Tall shelves are stacked with computer processors jutting out into the middle of the space, spewing gusts of hot air. If you've ever observed your laptop fan kick in, multiply that by about a thousand.
The 9,000 square meter warehouse is where boxy Soviet cars used to roll off the production line. Now, it hosts the work of Dmitry Marinichev, President Putin's internet ombudsman who heads his own IT solutions company RadiusGroup.
In 2014, Dmitry Marinichev was appointed to the role designed to act as a liaison between internet companies and the government. He was also recently named one of four potential presidential candidates from Russia's "Party of Growth," a more Kremlin-friendly opposition party campaigning on a pro-business platform.
Marinichev is currently building what's called the Russian Mining Center, a project he hopes will put Russia on the cryptocurrency map.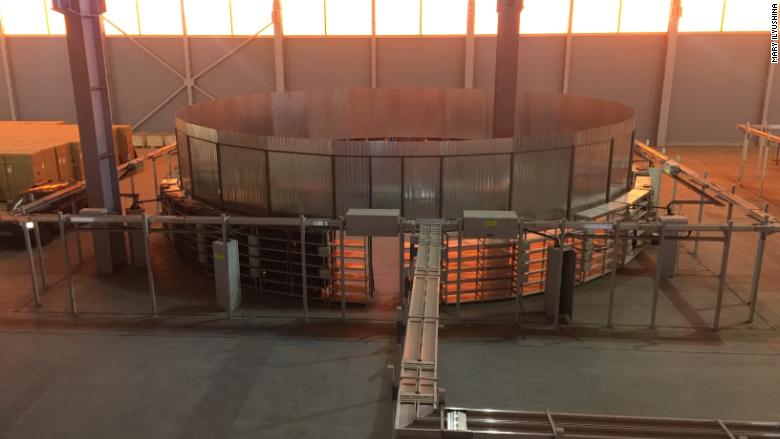 Cryptocurrencies are virtual "coins" that are "mined" by computers completing complex algorithms. The most famous and widely used cryptocurrency is bitcoin. It exists on a shared data network called a "blockchain" and has no central bank or central authority, meaning transactions can be done between people and entities directly, without the need for banks or governments to be involved.
So far, Marinichev and his partners have invested $10 million dollars into the project. They've also raised the equivalent of $43 million in an Initial Coin Offering -- the cryptocurrency equivalent of an IPO -- and plan to add around five times as many "mining computers" to their facility by the end of the year.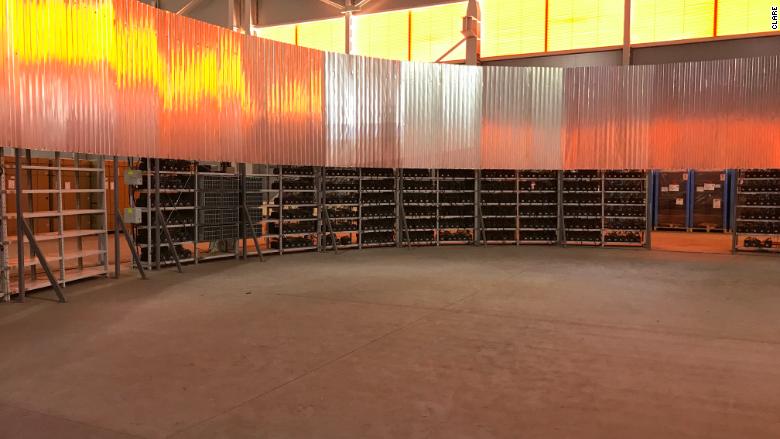 The team manufactures the computers themselves. Playing host, Marinichev shows off a high-tech assembly line where 3D-modelled motherboards are stitched and soldered into life. Some will be used in this facility, others will be sold to other mining operations.
"First of all, it's business," Marinichev told CNN. "But this is a new milestone in the development of mankind."
Playing catch up
Russia is still a laggard when it comes to the official acceptance of cryptocurrencies.
Unlike the U.S. and much of Europe, it is currently illegal to pay for anything with cryptocurrencies in Russia or convert them into rubles.
And the central bank is not budging. In September, it issued a warning that the anonymity of cryptocurrencies could lead to citizens being drawn into "illegal activities including laundering illegal funds, and the financing of terrorism."
The central bank said it was "premature" to consider legalizing cryptocurrencies as a financial instrument. In October, the deputy governor of the Bank of Russia said the bank was considering restrictions on websites that sell cryptocurrencies.
Marinichev is hoping his project will prove to Russian authorities that cryptocurrencies, and the blockchain technology that powers them are a critical part of the country's future.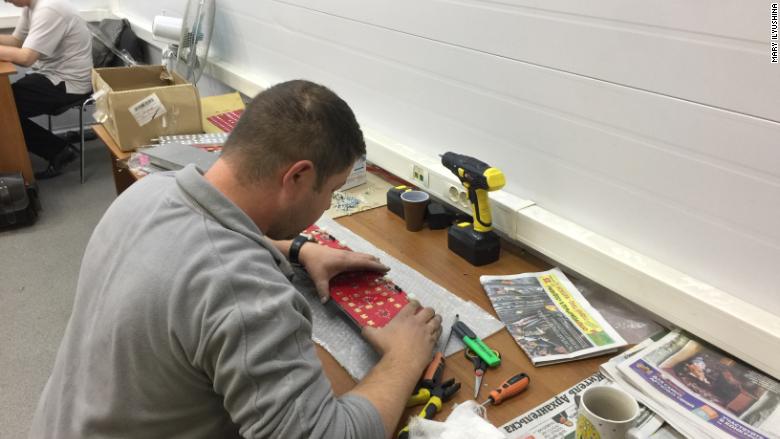 He's already seeing signs of progress. In June, President Putin met with Vitalik Buterin, the Russian-Canadian inventor of Ethereum, the closest competitor to Bitcoin. The meeting sent a flutter of excitement through the cryptocurrency community in Russia.
The Kremlin read-out of the meeting stated the following: "The President supported the idea of establishing ties with possible Russian partners."
Putin recently held a high-level meeting with his finance minister and central bank chief on cryptocurrencies warning of "serious risks," and could be used by criminals.
At the same time, however, he insisted Russia needs to come up with a way of regulating them.
That job has fallen to a special working group in the Russian State Duma, the lower house of parliament. And it's far from easy. Elina Sidorenko, a criminal law professor who heads up that group, said her biggest concern was initially the anonymity of transactions and the difficulty of applying anti-money laundering standards to cryptocurrency payments.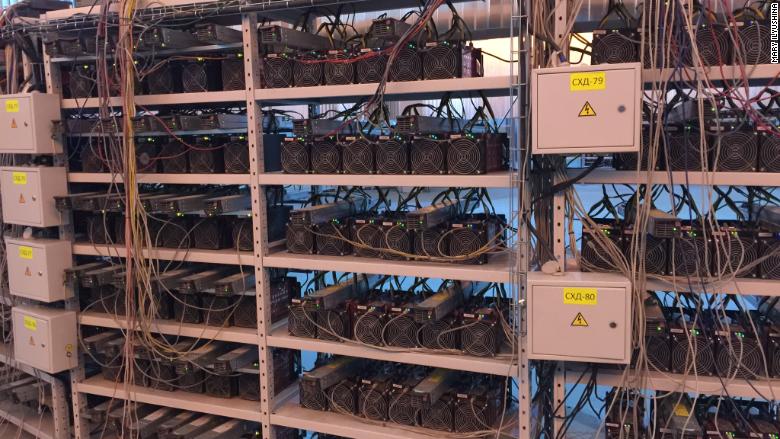 But she told CNN new challenges keep appearing. Her group had been set to publish new legislation in October, but it had to delay it for a few months to try to factor in some new issues: the implications of China's crackdown on crytocurrency exchanges, as well as how to regulate ICO's and tokens.
Still, Sidorenko is convinced Russia can't afford to ignore the potential benefits of cryptocurrencies to "advance the Russian economy."
"In addition to oil and natural resources, we have IT specialists, technologists, developers and computer geniuses conquering the world, so we should make use of this resource," she said.
Russia's 'Crypterati'
Russian cryptocurrency entrepreneurs are already making an impact. Alexander Ivanov is a former physicist, who now runs Waves, a blockchain platform that allows users to create tokens for things like loyalty programs and vouchers, trade in cryptocurrencies, and make payments.
The company claims to have a market cap of around $400 million and says 80% of its business is actually done outside of Russia. Waves was recently behind a blockchain loyalty program from Burger King in Russia called "Whoppercoin," where customers could accumulate digital tokens to redeem in store.
Ivanov said the attraction for him is the stability of the blockchain technology, and the fact that its decentralized so no one central authority can switch it off.
He said there's still a "barrier of understanding" for some people but that won't be forever.
"I think blockchain will repeat the history of internet and probably even be bigger than the internet itself," he said.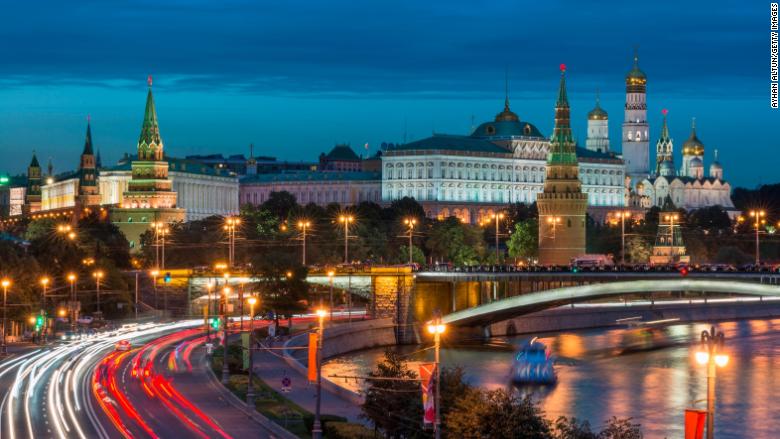 Ivanov and I visited a Moscow restaurant called Lavkalavka, which is part of a farming collective that uses local, organically grown products. It started accepting bitcoin in August. The meal cost about 0.02BTC ($100).
The restaurant carried out a mirror transaction in rubles to avoid falling foul of the Russian legal system. Owner Boris Akimov said accepting bitcoin is a marketing initiative at the moment, and a way to help the company better understand cryptocurrencies.
His business also set up its own cryptocurrency called Biocoin, which is used by farmers in their cooperative to trade in goods and equipment. Biocoins are also used as a loyalty system in Lavkalavka and other participating and restaurants. People are given a certain amount when they buy something, and can exchange them for future purchases.
In from the cold
There are many reasons Russia is drawn to cryptocurrencies. Akimov said the idea of a financial system not dominated by the U.S. dollar is part of the appeal.
"Cryptocurrency is a way to change the whole financial system in the world," Akimov said.
The banking system is currently under the stranglehold of U.S. and EU sanctions, and unable to access to Western capital.
"I can't say that bitcoin will allow for dodging sanctions [because] that wouldn't be true," Marinichev said. "Bitcoin can help the world change; it'll allow it to cleanse itself from the madness of some individuals, governments, parliaments."
So far, experts say Russia only has about 3% of all bitcoin "nodes" -- or computers -- on the bitcoin network.
Another advantage to growing Russia's share is the cold weather, according to Marinichev. This means the expense of cooling the mining equipment is dramatically reduced. Electricity is also cheap, and there's a lot of it available.
For Sidorenko, cryptocurrencies are a bit like the Russian winter: difficult to manage but inevitable.
"We must live with this reality, and we must regulate this thing," she said. "But we must minimize the risks involved in using it."