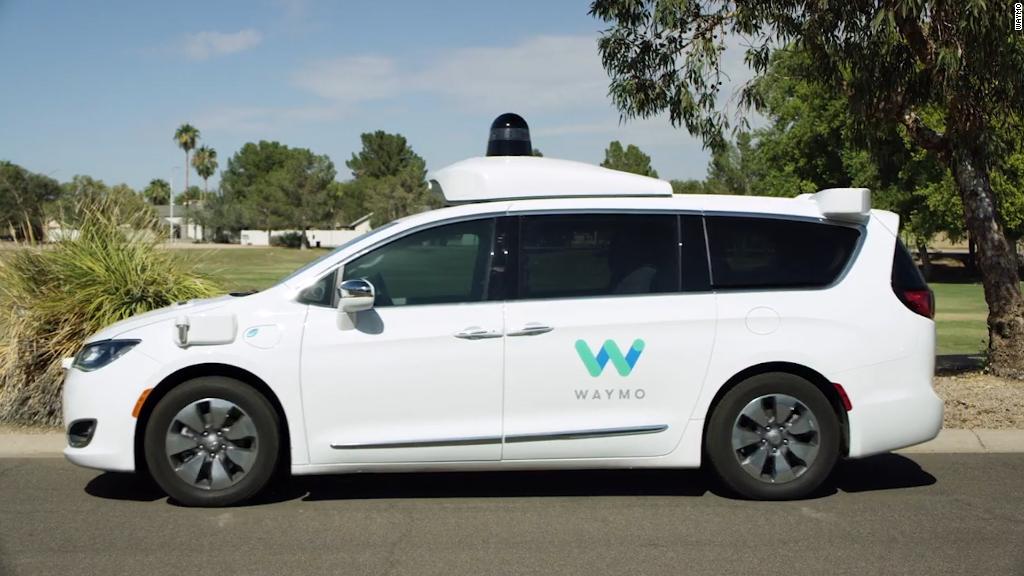 In a major milestone for autonomous vehicles, Waymo is now testing self-driving vehicles on public roads without anyone behind the wheel.
John Krafcik, CEO of Waymo, the self-driving arm of Google's parent company, made the announcement Tuesday at Web Summit in Lisbon, Portugal.
Waymo will allow the public to start riding in the fully self-driving vehicles in the next few months. The trips will take place in Phoenix, Arizona, where Waymo has already been testing its technology.
Participants in Waymo's early rider program, which gives free rides to Phoenix area residents, will be first to ride alone in its Chrysler Pacifica vans.
"This is a major step forward," Jay Tibshraeny, Mayor of Chandler, Arizona told CNN Tech. "We're glad to be a the forefront of that testing."
For now, there will be no charge for these rides. But the news is a step toward, with Waymo offering a paid service that competes with ride-sharing companies such as Uber and Lyft.
"This is a signal to the rest of the industry that Waymo has a business plan," Gartner analyst Mike Ramsey told CNN Tech. "The thought and energy they've put into putting something like this on the road is underestimated. Of all the companies out there, they've really thought holistically about this."
The news also signals Waymo's confidence that its vehicles are safe enough to operate without a test driver. Waymo will have at least one employee in the back seat, but they will have no more control over the vehicle than any regular passenger.
Many self-driving companies have circled 2020 as the date when self-driving vehicle technology would be deployed on U.S. roads.
Like the rest of the self-driving industry, Waymo has generally kept test drivers in self-driving vehicles as a safeguard. The industry risks a potential backlash against the technology if Waymo's autonomous vehicles are at fault in a high-profile crash.
Related: How free self-driving car rides could change everything
Studies have shown that most Americans do not want to ride in a self-driving vehicle due to safety concerns. Waymo recently released a safety report, offering some details on how it tests its vehicles. It also launched a campaign with partners this fall to educate the public about autonomous vehicles.
Experts widely expect autonomous vehicles to be far safer than human drivers. Crashes are overwhelmingly caused by human error. However, regulators have struggled with determining how to validate that an autonomous vehicle is safe enough.
Waymo largely shifted its testing from California to Arizona amid frustrations with its home state's slow progress toward embracing autonomous vehicles.
Arizona has been more receptive to the technology, and its warmer weather is ideal for self-driving cars.