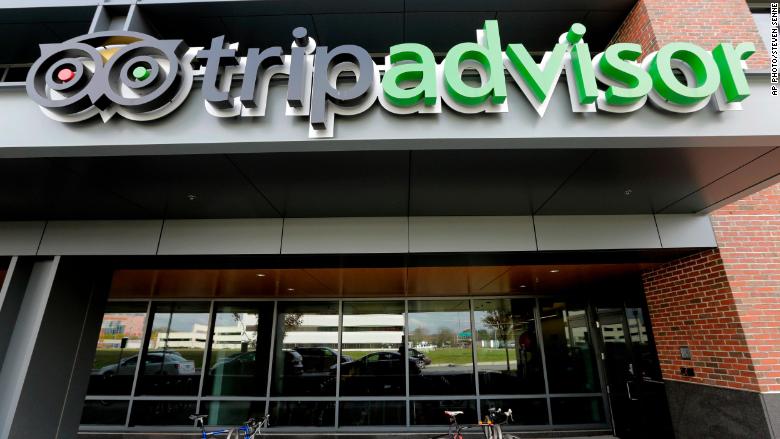 TripAdvisor is making it easier for users to see if any safety concerns have been flagged about hotels they're researching.
The travel site has added a new warning message for businesses where sexual assault and other significant safety incidents have been reported.
It has so far put the message, which it calls a "badge," on the pages for three resorts in Mexico. The badges are meant to flag all health, safety and discrimination issues, including theft, sexual assault and rape, TripAdvisor spokesman Brian Hoyt told CNNMoney.
Businesses will be "badged for a minimum period of three months, and we hope it will be a catalyst ... to change their ways," Hoyt said. The new policy was first reported by The New York Times.
The three resorts flagged by TripAdvisor are the Grand Velas Riviera Maya, the Iberostar Paraiso Maya and the Iberostar Paraiso Lindo. They are some of the most popular resorts in the Playa del Carmen area of Mexico, with thousands of reviews on TripAdvisor.
TripAdvisor said they are the first -- but unlikely the last -- properties to receive the new warning.
"There's potentially going to be more as we continue to vet properties that come up in the news," Hoyt said. The company did an inventory of reviews posted in the last year and found "thousand of issues come up about health and safety and discrimination," he said.
Grand Velas Riviera Maya and Iberostar did not immediately respond to requests for comment outside of business hours.
Related: Uber pledges $5 million to sexual assault prevention
The new approach to warning guests about safety concerns comes after The Milwaukee Journal Sentinel reported last week that TripAdvisor had removed forum posts and reviews warning about rape and injuries at several resorts in Mexico.
Following the report, TripAdvisor apologized to Kristie Love, a 35-year-old mother from Dallas. The Journal Sentinel reported the company had repeatedly removed a post by Love from 2010 in which she said she had been raped by a security guard at Iberostar Paraiso Maya. TripAdvisor has since republished her forum post.
The company maintains that it does not take down reviews or forum posts because they mention sexual assault or rape. In 2010, however, forum posts were subjected to a family friendly policy, meant to prohibit sexually explicit language, curse words and the posting of nude photos, according to Hoyt. He said the level of moderation was a "bit of an overreach in 2010."
The policy was changed a few years later to enable consumers to post about issues including sexual assault and rape, he said.
Related: How companies can stop sexual harassment before it starts
TripAdvisor's new badge appears as a warning in a red box at the top of the page that users see after they click to view a resort's details.
It says: "TripAdvisor has been made aware of recent media reports or events concerning this property which may not be reflected in reviews found on this listing. Accordingly, you may wish to perform additional research for information about this property when making your travel plans."
The message does not explicitly say a business is being flagged for sexual assault or safety incidents. That language may change in the future, but for now the badge is meant to be a warning sign to customers to encourage them to do additional research, Hoyt said.
A TripAdvisor committee will be reviewing badges to determine if they need to be kept attached to a business beyond the initial three months.
Related: Facebook's imperfect fight against revenge porn
TripAdvisor is also rolling out a new policy on communicating with users about why reviews or forum posts are rejected.
Reviews are supposed to contain first-hand accounts only, so including a medical diagnosis or relaying a story from another person would lead to the post being taken down and a user receiving a generic rejection notice citing hearsay.
Now, users will be told exactly which part of their review violates guidelines.
"Often it's a sentence that can be edited out and that review can be posted," Hoyt said. "We've personally reached out to a lot of folks brought up in the press lately. Several of them have chosen to rewrite their reviews and edit out that second-hand information."
Forum posts are regulated differently from reviews in that they do allow hearsay.