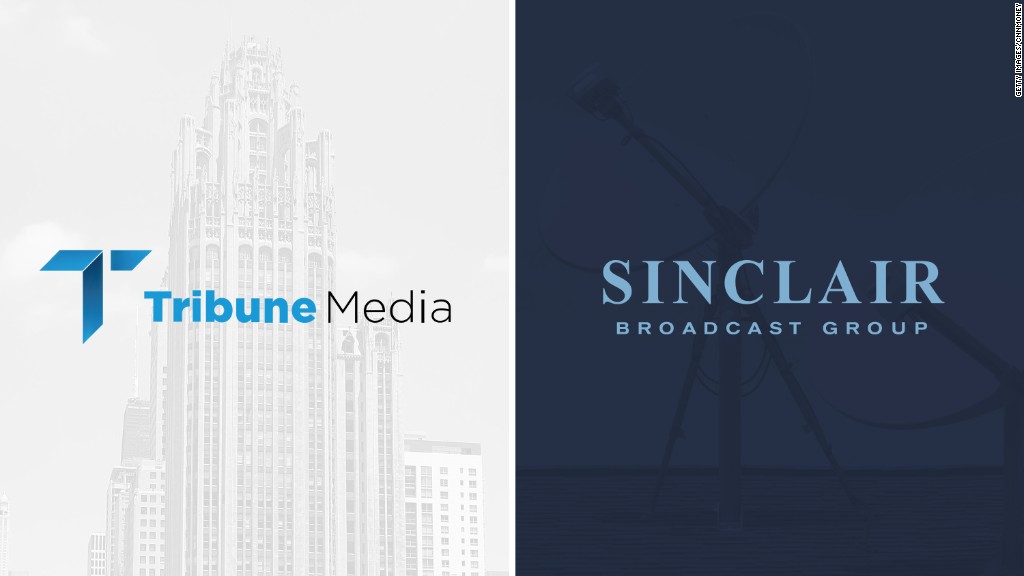 The proposed AT&T-Time Warner deal is hanging in the balance, but another major media merger appears poised for approval -- though not necessarily on schedule.
Sinclair Broadcast Group, the largest owner of local television stations in the country, is bidding to become even bigger with a $3.9 billion acquisition of Tribune Media. The deal's fate has been the subject of speculation this week, given the government's surprisingly hard line against AT&T's tentative purchase of Time Warner.
The move, which could put the conservative-oriented Sinclair in a position to mount a legitimate challenge to Fox News should it choose to do so, came closer to becoming a reality last month when Tribune shareholders voted resoundingly in favor of the deal.
The Sinclair-Tribune acqusition requires approval from the Federal Communications Commission because of the local stations involved; Time Warner has sold the properties it owned which were subject to FCC oversight and so does not need its approval for its deal.
Related: AT&T chief says he's ready to go to court to get Time Warner deal done
There are notable differences between the two mergers, both politically and functionally. Rule changes at the FCC have paved the way for the type of media consolidation that Sinclair is pursuing, while the company's conservative leanings have endeared it more to the White House than a significant asset in the Time Warner portfolio: CNN.
A day before the Tribune shareholders' vote, the FCC paused its self-imposed 180-day shot clock deadline for review of the deal in order to allow for additional public comment, a common practice. Regulators for the FCC have asked Sinclair to explain how it intends to meet TV station ownership limits, while the Department of Justice is also reviewing the deal on anti-trust grounds. But federal approval has been widely expected across the industry.
Spokespeople for the FCC and the Justice Department did not respond to a request for comment.
Launched out of Baltimore in 1971, Sinclair has ballooned into a juggernaut that owns or operates nearly 200 TV stations. The merger with Tribune would bring that number to 233, making the company the nation's largest broadcaster with a reach of 72% of U.S. households, though Sinclair would need to sell some of those licenses in order to comply with the FCC's nationwide TV ownership limits.
Bolstering the prospects of the deal: a rule change approved by the FCC in April that loosened those same limits.
The media industry has been roiled over the last year with a wave of attempted consolidation. Along with AT&T and Sinclair, Discovery Communications announced in July that it's acquiring Scripps Network. Moreover, Disney has reportedly been in talks to buy parts of 21st Century Fox.
On Thursday, AT&T CEO Randall Stephenson suggested that the government's objections to his company's merger may have a chilling effect on deals such as Disney-Fox.
"I suspect a lot of people in the industry are just on pause waiting to see what happens with our deal," Stephenson said at the New York Times DealBook conference.
Sinclair has remained publicly confident that the deal will go through; the company's president and CEO Chris Ripley has said he expects it to close by year's end. In August, Ripley said the acquisition "will help to ensure the future of the free and local television model for both Tribune and Sinclair's local communities."
Of course, AT&T executives expected their acquisition of Time Warner to be finalized by the end of the year, too. That merger was dealt a significant blow during a meeting on Monday in which, according to sources familiar with the matter, the Justice Department anti-trust division told AT&T that the sale would only be approved if it sold off DirecTV, which the company bought two years ago, or Turner, which includes channels such as CNN, TNT and TBS. Those properties account for a significant portion of Time Warner's profits.
Industry experts widely believed that the AT&T-Time Warner deal was on firm legal footing, given that it represents a "vertical merger," meaning that the portfolios of the respective companies are not in competition with one another. By contrast, a horizontal merger, like Sinclair-Tribune, occurs between two companies in the same market, which can reduce competition.
Makan Delrahim, the Justice Department's newly confirmed antitrust chief, said last year that he didn't see the deal "as a major antitrust problem." He has apparently changed his mind since then, and was in the meeting during which the DOJ told AT&T that it would have to sell DirecTV or Turner.
Many of the same advocacy groups oppose both the AT&T and Sinclair deals. Democrats like Sen. Al Franken have been opposed to AT&T's deal, but have also expressed wariness over the prospect of President Trump's meddling.
Some senior Democrats have been vocal critics of the Sinclair-Tribune proposal, too. Late last month, Democratic Sen. Dick Durbin sent a letter to FCC Chairman Ajit Pai, who was chosen by President Trump, saying that the Sinclair-Tribune merger would "violate many long-standing Federal Communications Commission (FCC) rules." Durbin lamented that the FCC "is now going out of it is (sic) way to clear barriers to the deal by rolling any rule that may pose a problem to it."
If Sinclair succeeds and AT&T's deal is scuttled, it may give the appearance of presidential meddling. Sinclair stations are required to run segments featuring conservative commentary. One recurring segment is led by Boris Epshteyn, a former Trump administration official who was hired by Sinclair as an analyst in April. White House adviser Jared Kushner said last year that the Trump campaign had a deal with Sinclair in order to secure positive coverage.
Trump has spoken out against the AT&T-Time Warner deal, with his objections seemingly centered around the news outlet he attacks perhaps more than any other: CNN.