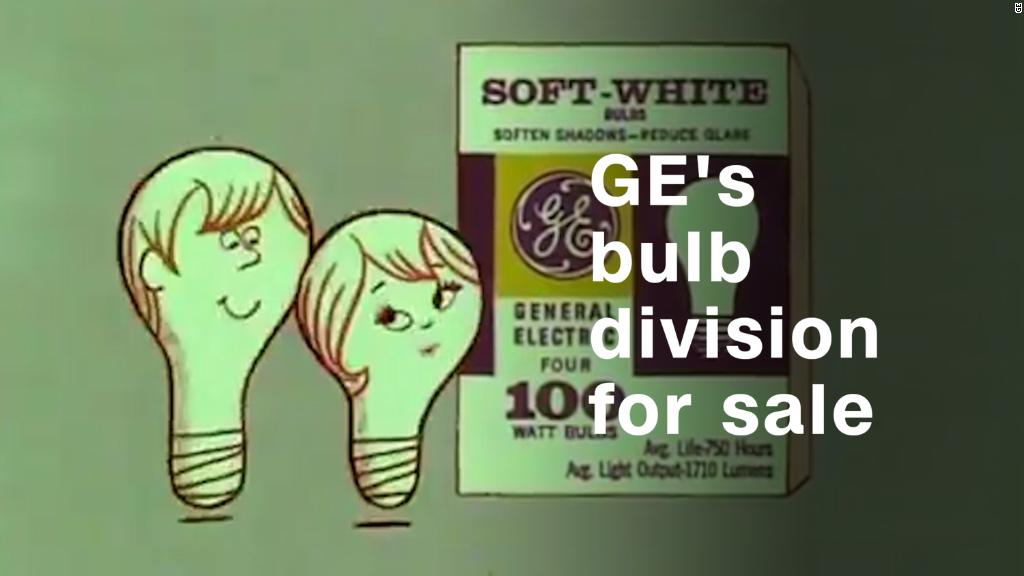 General Electric is slashing its coveted stock dividend in half and getting even smaller by selling storied businesses such as its railroad and light bulb units.
The dividend cut, only GE's second since the Great Depression, shows the depths of the iconic company's financial problems.
GE (GE) is one of America's most widely held stocks, and countless shareholders, including retirees, rely on the dividend payments. But the company is under enormous pressure to restore investor confidence shaken by a serious cash crunch.
The stock has lost 40% of its value this year. GE plunged 8% on Monday, to the lowest level in five and a half years, after the company announced the restructuring and diminished financial targets. The new dividend will be 12 cents a share, down from 24 cents.
GE had been one of the biggest dividend payers in the United States, behind giants like ExxonMobil (XOM), Apple (AAPL) and Microsoft (MSFT).
By cutting the dividend in half, GE will save more than $4 billion per year. That makes it one of the largest dividend cuts in the history of the S&P 500 and the biggest since 2009, according to S&P Dow Jones Indices.
GE made an even bigger dividend cut in 2009, during the Great Recession. But dividend cuts are rare these days. Many companies are increasing them because the U.S. economy is healthy and the stock market is booming.
Related: The incredible shrinking GE is about to get even smaller
The problem for GE is that it's not making enough money to cover its dividend payments. Free cash flow, which measures how much cash is being generated after investing in the business, has deteriorated for six straight years.
Even after the painful dividend cut, about 85% of GE's estimated free cash flow will go toward dividend payments, according to JPMorgan. That's well above rivals like Honeywell (HON) and United Technologies (UTX) and speaks to the seriousness of the cash crunch.
The dividend isn't the only thing getting smaller at GE. The company also unveiled plans to shrink its board of directors from 18 members to a dozen next year. The new board will also include a committee focused on how GE spends its money.
GE has also cut its workforce, which totaled about 295,000 at the end of 2016. GE told investors on Monday that its corporate headcount will be 25% smaller in 2018.
A person familiar with the matter told CNNMoney that about 1,500 jobs were eliminated and the cuts are almost complete. The person said the job cuts focused mostly on corporate functions like GE's global research center and its global growth organization, which promotes international sales.
GE also plans to get rid of $20 billion worth of businesses in the next year or two, including the transportation division, which houses the century-old railroad business that makes locomotives and rail equipment. Among other units on the chopping block, GE reiterated a desire to sell the light bulb business that has symbolized the company for 125 years.
John Flannery, GE's new CEO, said during a presentation that the company is considering "exit options" for Baker Hughes. (BHGE) Baker Hughes is majority-owned by GE and was only formed last year by combining the two companies' oil and gas businesses.
While Flannery said the merger is "going well," he expressed concern over how much the business depends on volatile energy prices.
GE has already gotten rid of its real estate portfolio, its dishwasher and appliance business, and media properties NBC and Universal Studios. More recently, it unloaded its water business and a unit that makes electrical equipment for utilities.
Related: GE is breaking up with the light bulb
All this is part of GE's mission to focus on being a modern industrial company that sells things like jet engines, power plants and MRI machines.
Yet some of GE's core businesses are struggling, especially the power division, which has been hurt as utilities switch to renewable energy like solar.
GE warned it now expects to make just $1 to $1.07 per share next year. That's roughly half of the goal GE had less than a year ago.
Flannery wants to bring more accountability to GE, in part by revamping its pay structure. Under the new plan, about half of senior execs' compensation will come from stock rewards, compared with only 20% now.
"This is our time to reinvent the company," Flannery told employees. "This is our time to show our passion, our fury and our resolve. It's game on."