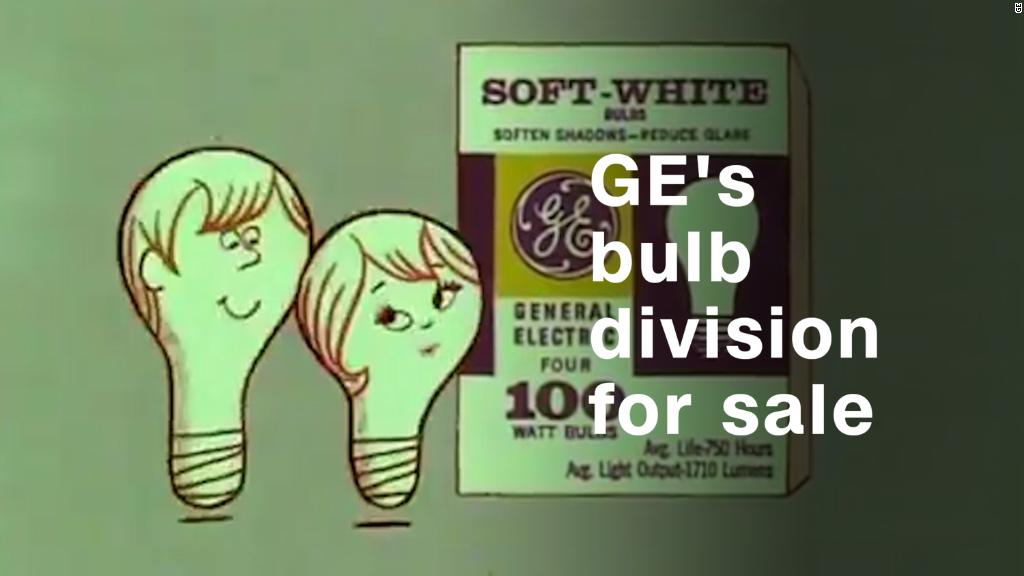 General Electric is getting rid of the light bulb, the most iconic product of GE's 125-year existence.
Unveiling GE's roadmap, new CEO John Flannery said that the company would focus on its health, power and aviation businesses. Lighting didn't make the cut to be part of GE's future.
The news itself isn't a shock: The company said in July that it was looking to sell its lighting business. Lighting is by far GE's smallest division, making up just under 2% of the company's overall revenue. And light bulb sales have fallen 66% so far this year.
Still, a GE (GE) without light bulbs feels like an AT&T without telephone service, Campbell's without tomato soup or GM without Chevrolet.
Light bulbs' and GE: An intertwined history
Thomas Edison invented the first commercially viable incandescent light bulb in 1879. A year later, he founded the Edison Lamp Company and began manufacturing light bulbs for sale. By 1890, Edison had consolidated Edison Lamp with most of his other businesses under Edison General Electric, and in 1892 merged with the Thomson-Houston Electric Company to form the GE we all know.
Light bulbs quickly took off after that, as did innovation that improved the invention. In 1892, GE began machine-molding bulbs instead of hand-blowing them. In 1906, GE engineer William Coolidge developed the modern light bulb with a long-lasting and super-bright tungsten filament -- an improvement that GE commercialized in 1911.
Related: GE cuts its dividend for just second time since the Depression
By 1935, GE's light bulbs were bright enough to light the first ever Major League Baseball night game, played in Cincinnati. GE invented the fluorescent bulb in 1938, the halogen lamp in 1959 and the LED in 1962.
GE made more recent advances too. In 2001, it introduced GE Reveal light bulbs that filter out yellow light to produce more natural illumination. And in 2010, it produced its first ever smart LED bulb that connects to the internet.
When GE ditches its lighting division, a move scheduled for next year or 2019, it will be the first time the light bulb hasn't been part of GE since the darn thing was invented.
What's wrong with light bulbs
So why ditch light bulbs now? The market is dimming, so to speak.
Business was booming between 2007 and 2014, when customers bought up expensive LED light bulbs to replace their inefficient incandescents.
But there's a problem for light bulb makers like GE: LEDs last for decades. With no need to replace them, the bottom fell out of the market. Prices -- and revenue -- began to tumble.
Related: GE wants to unload its iconic light bulb business
The dust finally appears to be settling, and IHS lighting analyst Jamie Fox said in a recent report that he expects growth to return to the light bulb market this year.
GE agrees and actually has high near-term hopes for its lighting business. The company said Monday it expects light bulb sales to grow a modest 5% and profit to rise 15% next year.
But that growth will largely be fueled by Current, a billion-dollar GE business that sells LED lighting systems to businesses. GE plans on selling Current along with its consumer lighting division (a buyer has yet to emerge).
In its presentation to investors Monday, GE said its future would focus on businesses with strong growth, predictability and cash generation. None of those apply to light bulbs.