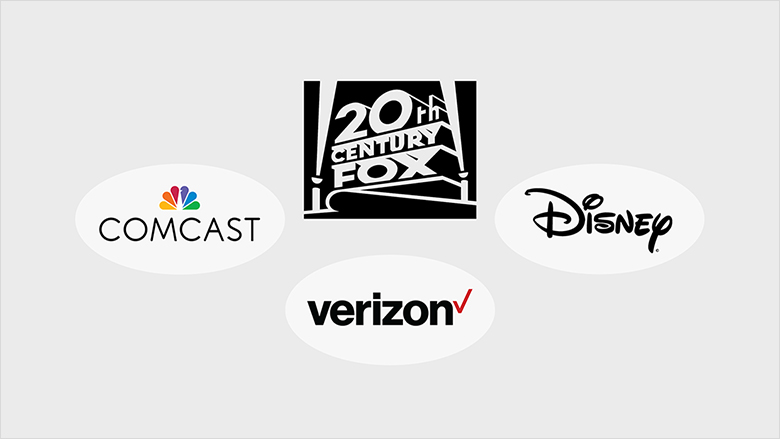 Rupert Murdoch is serious about selling 21st Century Fox, and he has suitors.
Both Comcast and Verizon have approached 21st Century Fox about acquiring most of the company, sources familiar with the talks told CNN on Thursday.
One of the people cautioned that the talks are at a "very early" stage, but that Murdoch seems genuinely motivated to sell.
The news comes ten days after revelations that 21st Century Fox had previously been in talks with Disney about a similar acquisition. Disney is no longer in talks with Fox, though those talks could be revisited.
21st Century Fox shares jumped by more than 8% in after-hours trading on Thursday.
Sources familiar with the talks said Comcast and Verizon were interested in acquiring the same assets that Disney had expressed interest in: Fox's movie and television studios, entertainment cable networks, and international businesses. Fox would keep its news and sports holdings and restructure around those assets.
For Comcast, this is seen as an international expansion strategy -- Murdoch's stakes in satellite distributors like Star and Sky would give the Philadelphia-based company a new level of global reach.
Comcast is also said to be keenly interested in Fox's movie and TV studio, one of the sources said.
The November 6 news report about Disney's talks with Fox is what prompted Comcast and other potential buyers to reach out to Fox, the person added.
For Verizon, the wireless giant, Fox's assets would significantly expand its entertainment offerings. That's the same thing Verizon's primary wireless rival, AT&T, is trying to do by buying Time Warner, the parent company of CNN, HBO, Warner Bros. and other media assets.
The U.S. Justice Department's antitrust divisions has concerns about the AT&T deal, and may ultimately sue to block the merger, according to sources.
A deal between Fox and one of its suitors would result in a slimmed-down version of the Murdoch media empire.
Fox would refocus its business around its core news and sports channels like Fox News and Fox Sports 1.
Rupert Murdoch's sons James and Lachlan jointly run the business with him. There has been speculation on Wall Street that the family would try to reunite its TV channels with its publishing business, News Corp, which was spun off in 2014.
Spokespeople for Comcast, Verizon and Fox declined to comment. The Wall Street Journal, which is also owned by Murdoch, was first to report the news.