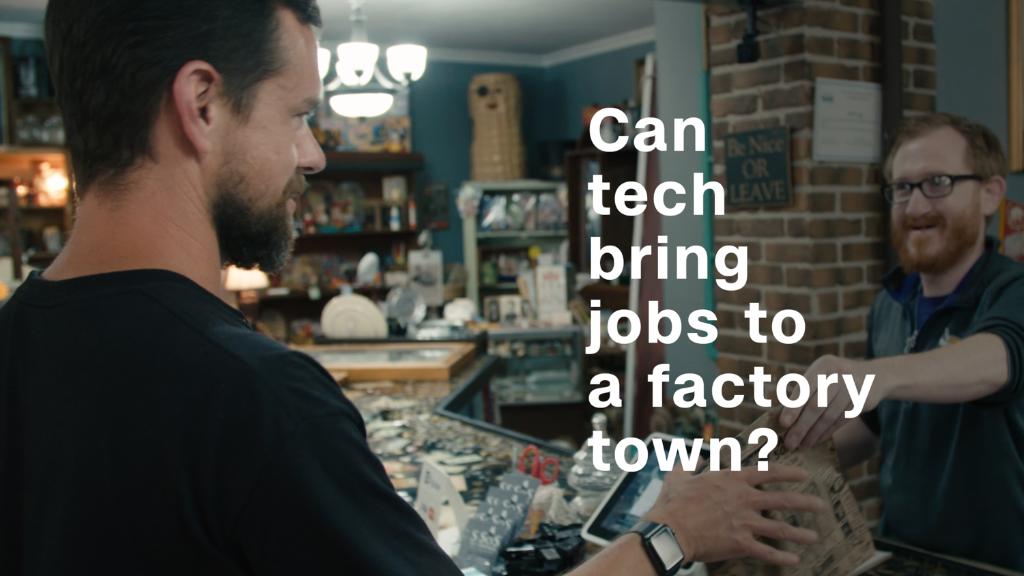 Walking through Webster City, Iowa is like stepping into a time capsule.
So it might come as a surprise to see Jack Dorsey, the founder of Twitter and Square, pop in and out of the small businesses that line the streets.
"We have to be connected with who we serve," Dorsey told CNN Tech's Laurie Segall. "Otherwise, we're not going to serve them in the right way. And that only comes through conversation and talking with people."
In Webster City, with a population of 8,000, residents live by an ethos known locally as "Iowa nice." Despite its charm, the town has had a tough few years.
In March 2011, appliance manufacturer Electrolux moved its washer and dryer factory to Mexico -- taking 2,300 jobs with it.
The impact was severe.
"People were moving away and businesses were closing," said Jeff Pingel, a former Electrolux employee. "You could feel it. It was just devastating to people."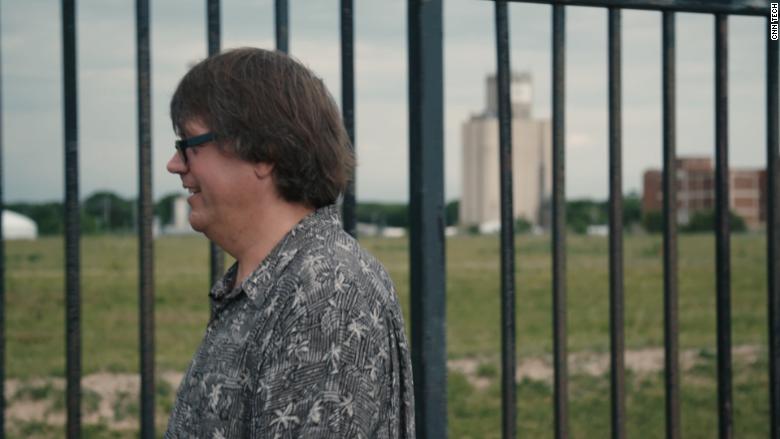 Former Electrolux union leader Jerry Kloberdanz said the closure made the community fear not being able to make ends meet.
"I honestly thought I would not get another job making over $10 an hour," Kloberdanz said.
But in recent years, Webster City started to turn around. Small business owners began adopting tech tools like Square to cater to travelers passing through town often without cash. (Webster City is right off I-35, making it a pit stop on the way to Des Moines).
Related: Square's new strategy is paying off. Its stock is up 175% this year
The platform, which launched in 2009, allows anyone with a tablet or smartphone to accept credit card payments. Merchants connect Square's physical card-reader to the mobile device through a headphone jack or charging port.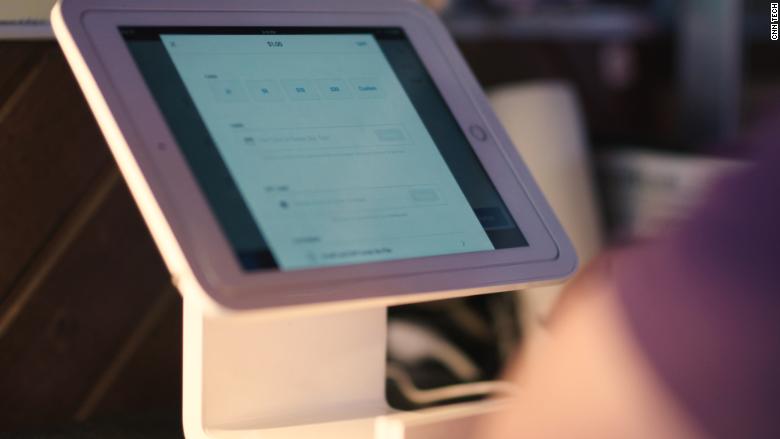 "People would come in who were traveling through town, and they wouldn't carry cash," said Kay Ross, owner of Seneca Street Saloon. "I was very concerned that we would miss out on return business. [But] the fact that we are able to take debit and credit cards now is huge."
About 2 million businesses nationwide use Square. The company continues to innovate with new products. It recently announced its first standalone cash register with its software and payments technology built inside. Square stock is up 175% this year, compared with 2016.
Related: Square unveils cash register of the future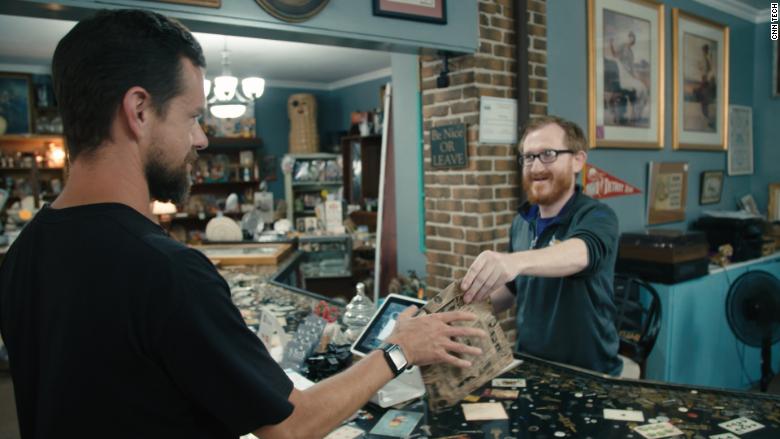 More than 40 businesses now use Square in Webster City.
"How the community rose up to make itself better is something we need to see all over the country," Dorsey told CNN Tech. "This is a good case study and a good model for how I think we can continue to invest in small cities and small towns and small communities."
When Square discovered the town's residents had pioneered a grassroots fundraising effort to reopen a local shuttered movie theater, the company sent a film crew to document the comeback. It also made an undisclosed donation and set up a Cash Tag, allowing any Square Cash user to contribute to the theater's maintenance. Similar to Venmo, the Square Cash app lets users instantly send money to others.
Earlier this year, the Square-funded documentary "Made In Iowa" premiered at the Webster Theater. Dorsey came to town for its debut.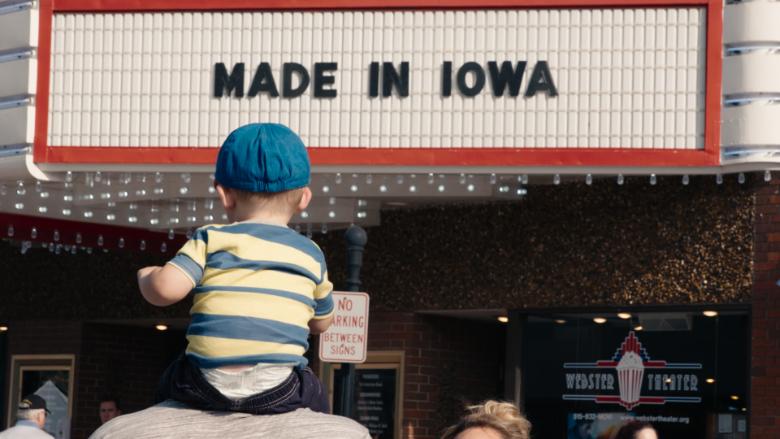 But the community is still recovering -- and its story is not entirely uncommon.
More factory jobs are being outsourced or automated across the U.S. as a shift toward robotics impacts the job market. According to a PricewaterhouseCoopers estimate, about 38% of jobs are at a high risk of becoming automated in the next 15 years.
The Bureau of Labor and Statistics projects there will be 80,000 fewer fast food jobs by 2024. Retail and driving jobs could also be among the most affected.
Related: Robots: Is your job at risk?
"Every day there [are] jobs that are getting automated, but somebody [still] has to repair that equipment. You have to program that equipment. You have to operate that equipment," said Kloberdanz. "So, it's not like all the jobs are going to go away. "
This type of perspective has inspired some in Silicon Valley to try and reverse the trend.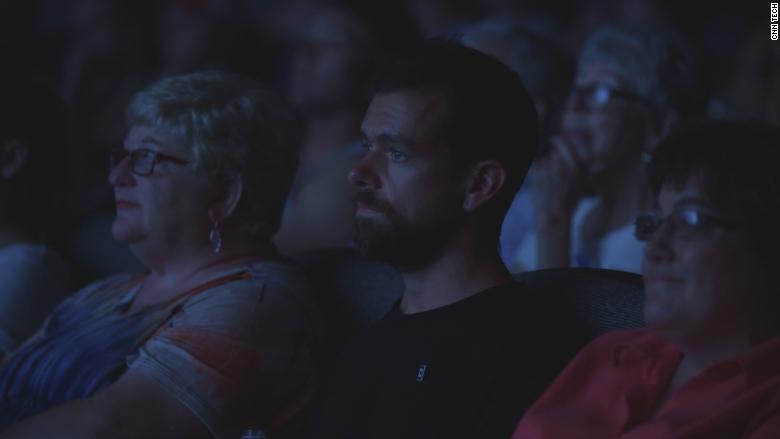 Facebook CEO Mark Zuckerberg has met with people in 30 states this year to understand how they foresee tech impacting how we work and live.
The social network also recently launched an education initiative, called Community Boost, that will send employees to various cities to teach local business owners how to use tech tools like Facebook.
Meanwhile, 238 cities and regions across North America recently campaigned to host Amazon's second headquarters, which could bring jobs and encourage innovation in areas outside of Silicon Valley.
Related: 8 cities fit for Amazon's second headquarters
"I think we don't do our best work, and are not our best selves, when we put the technology [and the tool] first," Dorsey said. "We have to remember, these are things meant to be used, and they're meant to be used by people."
Dorsey is hopeful that training workers with new tech skills, combined with the right government policies, could help the country adapt to changes in the way we work.
"Where one effort goes away, another is created in its place," Dorsey said. "I believe that. But it does take work, and it does take responsibility of our companies, of our organizations, of our governments, to help prepare people and to get them ready."
There's still work to be done in Webster City but residents are optimistic about the future.
"Does that mean we are going to be as successful as we used to be?" Kloberdanz said said. "I don't know. I'm hopeful that we will."
CNN Tech's Laurie Segall contributed to this report