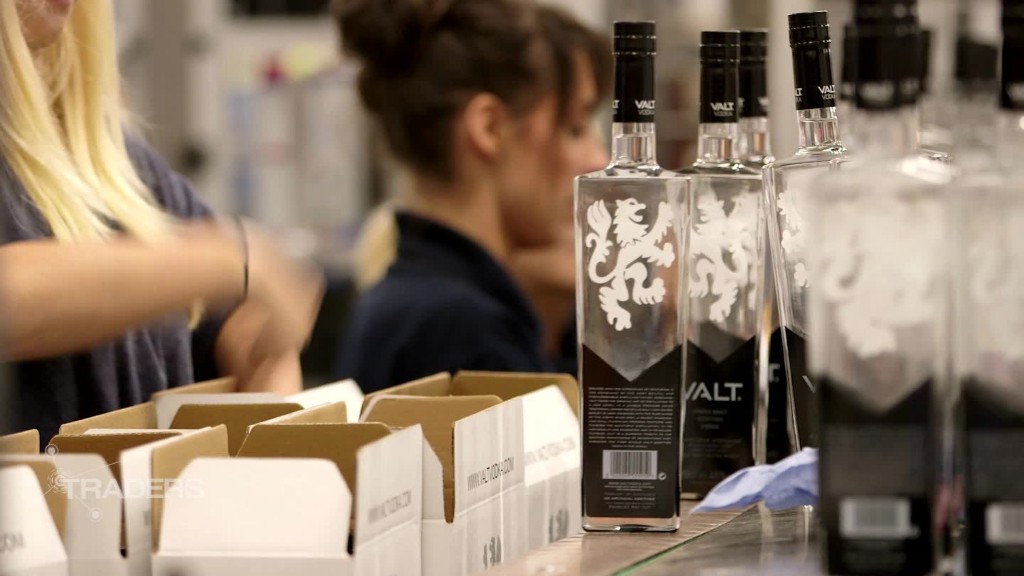 The world's most valuable liquor maker is finding out what it's like to be critiqued by Chinese authorities.
Shares in Kweichow Moutai, China's top booze brand, fell by as much as 5.7% on Friday after state-run news agency Xinhua urged investors to take a "rational view" of the company. The fall wiped roughly $8 billion off Moutai's value.
"It's important for Kweichow Moutai, with a total market value of 900 billion yuan, to stick to its slow pace," Xinhua said in an editorial published Thursday. "Pulling up a plant to make it grow inevitably leads to unbearable pain. Short-sighted speculation will cause tremendous damage to the value of investment."
Moutai's stock has been on a tear this year, soaring by as much as 107%. With a whopping market value of $130.9 billion, the company dwarfs Diageo (DEO), the producer of Johnnie Walker whisky.
At the heart of the popular brand is baijiu, a Chinese liquor distilled from sorghum and rice. Baijiu used to be a premium beverage, passed out at events such as government banquets. Now, it's found across the country.
Soon after Xinhua published its rare critique, Moutai acknowledged its stock price "has risen a lot."
"Moutai is aware of recent media and research reports," it said in a statement to the Shanghai stock exchange. "We solemnly remind investors to take account of potential risks, invest rationally and not to follow the trend blindly."
Related: The world's most valuable liquor company is now Chinese
Hao Hong, head of research at BOCOM International, the securities arm of China's Bank of Communications, called the Xinhua column "the catalyst" for Friday's stock plunge.
"Any sort of negative news, especially from official media, could be a catalyst for people to take their money off the table," he told CNNMoney.
It is unusual for Chinese authorities to single out a stock. The last time it happened in such a high-profile way -- when Tencent (TCEHY) was blamed for children spending too much time playing its "Honor of Kings" mobile game -- the tech giant also suffered a selloff, Hong noted.
Officials were probably trying to "protect smaller investors" from rising risk, he added.
Investors have been excited by Moutai's robust earnings growth, its beloved brand and a cash flow rarely seen among Chinese firms, helped by a steady rise in prices.
"Very predictable company -- I mean, that's the beauty of it," Hong said. "Only two other companies can generate such big [profits]: Tencent and Alibaba (BABA)."
Related: How to drink baijiu: Beijing's pros share their tips
By Friday's market close, Moutai had stabilized slightly, trading down 4%. Most analysts continue to have a buy rating on the stock, and zero recommend selling.
-- Serenitie Wang contributed reporting.