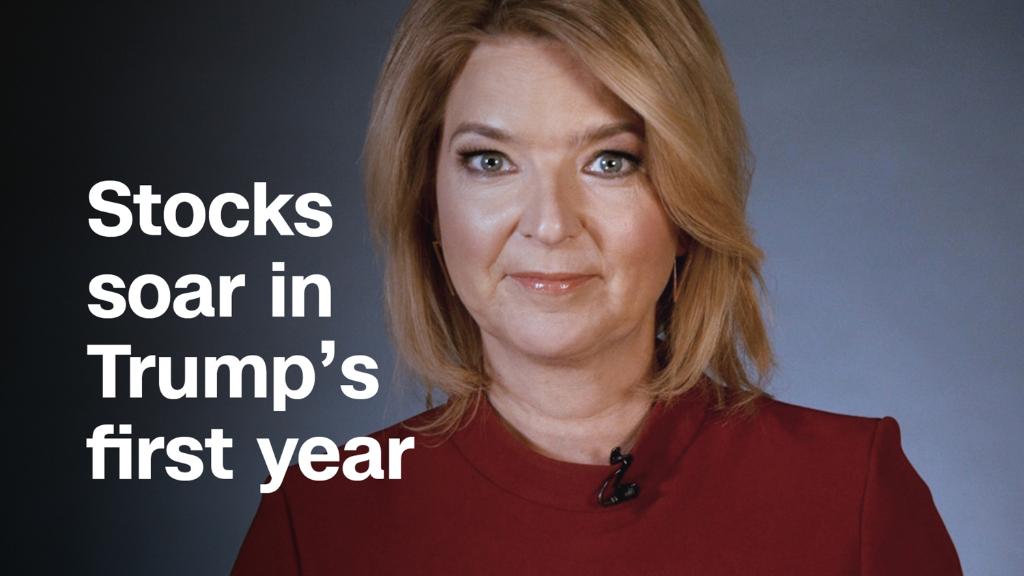 1. It's been at least a decade since things were going this well for Wall Street.
The stock market is on fire, corporate profits are roaring thanks to a healthy economy, and President Trump has installed new financial watchdogs who have promised to take a lighter regulatory approach. The tax bills now moving through Congress also go easy on some big players on Wall Street, such as private equity managers, despite Trump's promises during the campaign to crack down on one of their favorite tax loopholes. Even the IPO market is coming back to life.
Clearly, Wall Street already has a ton to be thankful for this Thanksgiving. The GOP tax cut would only add to the feast.
The House bill that passed last week would slash the corporate tax rate to 20% from 35%. The tax cut would lift big bank earnings by 15%, according to KBW. Profits at Wells Fargo (WFC), Bank of America (BAC) and JPMorgan Chase (JPM) could soar by 20% or more.
Of course, the tax overhaul still faces obstacles in the Senate. And even if it gets through there, it'll have to be reconciled with the starkly different version passed by the House.
Still, hopes for big tax cuts have helped lift the stock market to new heights. The Dow has surged nearly 19% this year, while the Nasdaq is up a whopping 26%.
Stocks aren't just booming in the U.S. It's a global phenomenon, driven by a rare period of synchronized growth from major economies. The global stock market has climbed every single month this year, something that's never happened during the 30-year history of the MSCI AC World Index, according to Charles Schwab.
It also helps that inflation remains very low, something that should keep central banks from raising interest rates too rapidly. Wall Street has dubbed it a "goldilocks" backdrop: steady growth that is neither too hot nor too cold.
If anything, the risk is that euphoria takes over and ruins the party by sparking a melt-up that overheats the market.
There are already signs that investors are chasing gains, no matter the price level.
Bank of America Merrill Lynch polled investors and found record-high levels who believe stocks are overvalued (48%) and are taking above-normal levels of risk (16%). Yet they continue to plow into stocks, with average cash levels dipping to four-year lows.
The survey is, according to BofA, "an indicator of irrational exuberance."
2. Black Friday is finally here: Holiday shopping season is officially here. Unofficially, it's been here for weeks. Amazon (AMZN), Sears (SHLD), Home Depot (HD) and other retailers are already offering reduced prices for some items, and Walmart (WMT) already hosted some of its shopping parties (yes, shopping parties).
But that doesn't mean Black Friday and Thanksgiving don't matter to retailers. This year, several stores will open their doors on Thanksgiving Day and remain open or reopen them on Black Friday. Some, like GameStop, are reversing decisions made in previous years to close on Thanksgiving in honor of the holiday. And the stakes are high for brick-and-mortar locations -- more store closings have been announced in 2017 than any other year on record.
Last year, more people shopped on Black Friday than they did in 2015. But they spent less, according to the National Retail Federation. This year, the NRF expects holiday sales in November and December to tick up by about 4% compared to 2016 -- but PricewaterhouseCoopers predicts that Black Friday shopping will fall by 16%.
3. U.K. budget announcement: The British government will publish its autumn budget on Wednesday. U.K. citizens will be watching for whether Chancellor of the Exchequer Philip Hammond will dip into the country's reserves to prepare for a "no deal" Brexit: The nightmare scenario in which Britain leaves the European Union in 2019 without agreeing to a new deal with the bloc.
If that happens, it would be a financial and logistical disaster: Flights would be grounded, border crossings delayed, and tens of thousand of jobs lost. And without a trade deal with Europe, British households could pay an extra $345 per year.
Talks between the U.K. and the E.U. are supposed to wrap up next summer, but little progress has been made so far.
4. Earnings end on a high note? After weeks of mostly solid earnings this past quarter, we'll hear from three more high-performing companies. Hewlett Packard (HPE) and Salesforce (CRM), both set to report on Tuesday, have soared by more than 45% and 56% this year, respectively.
Lowe's (LOW), which also plans to share its results on Tuesday, has risen nearly 12% this year. That still puts it well ahead of most other retailers.
5. Coming this week:
Tuesday -- Campbell (CPB), Lowe's, Salesforce and HP earnings
Wednesday -- Consumer sentiment survey
Thursday -- Markets closed for Thanksgiving
Friday -- Markets close at 1 p.m.