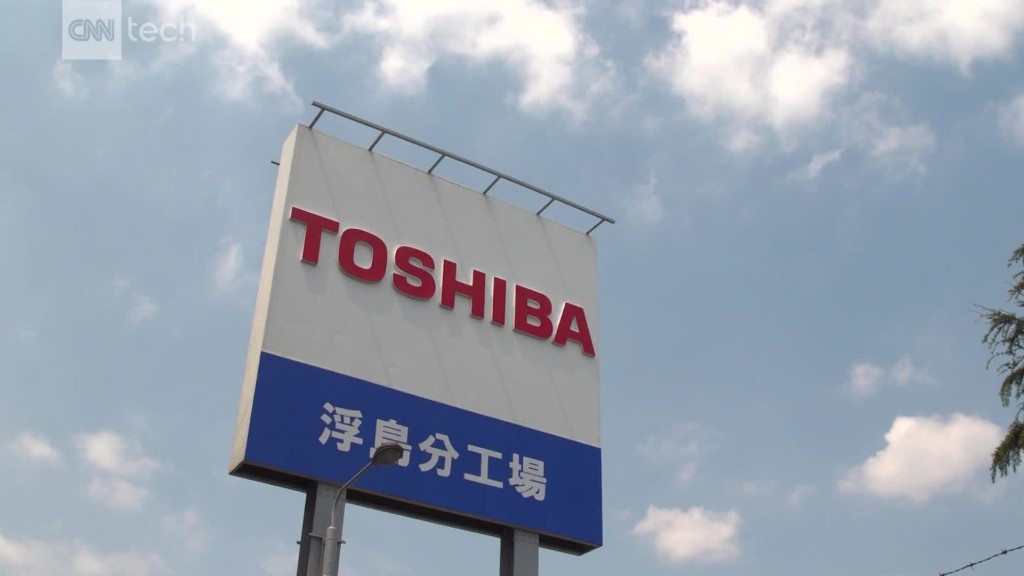 Toshiba's stock plummeted Monday, after the company announced plans to raise $5 billion to avoid being booted off the Tokyo Stock Exchange.
Shares in the Japanese firm fell more than 6% in Tokyo, before paring some of those losses to close down 5.8%.
The drop comes a day after the troubled conglomerate announced it would sell new shares worth 600 billion yen ($5.4 billion). Toshiba (TOSBF) will issue about 2.3 billion new shares priced at 262.8 yen ($2.35) per share, it said Sunday -- about 10% cheaper than Friday's closing price of 292 yen ($2.61).
The firm has until next March to dig itself out of massive debt and get its balance sheet in order, failing which it will have to stop trading publicly.
Related: Apple-backed group to buy Toshiba chip business for $18 billion
Seeking a major injection of cash is the latest survival move from Toshiba, which is dealing with a crippling financial crisis.
The struggling company agreed to sell its prized memory chip business in September, to a consortium led by private equity firm Bain Capital and backed financially by Apple, (AAPL) Dell (DVMT) and other U.S. and Japanese firms.
But regulatory reviews and a challenge from U.S. data storage firm Western Digital could delay the sale beyond the critical March deadline.
Related: Toshiba: Too big to fail?
The collapse of Toshiba's U.S. nuclear unit Westinghouse, which filed for bankruptcy earlier this year, cost the storied Japanese company some $6.4 billion.
The loss forced Toshiba to report a negative net worth for the last fiscal year.