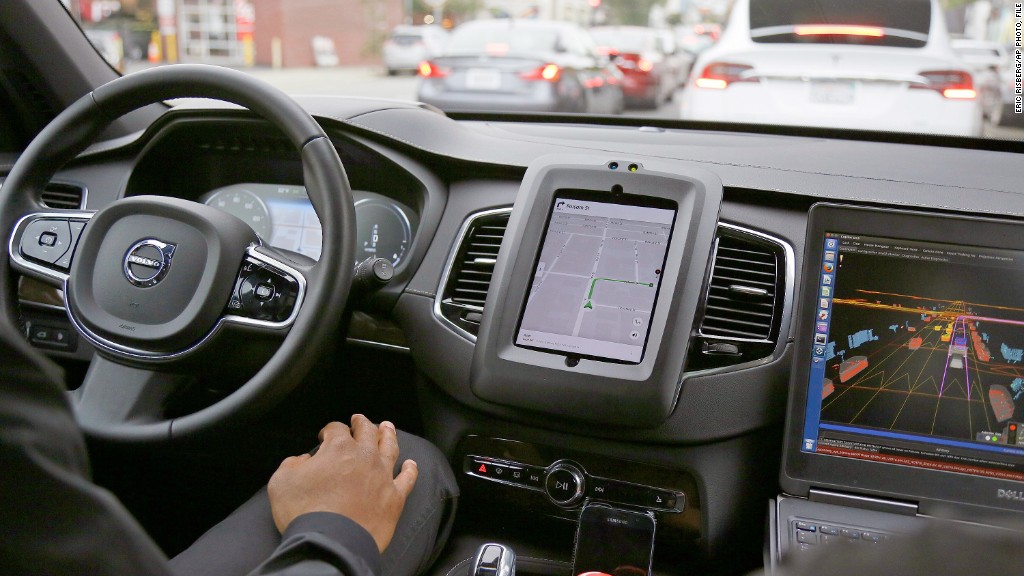 Uber and Volvo are taking a major step toward putting driverless cars on the road.
The ride-hailing company has agreed to buy "tens of thousands" of cars from the Swedish automaker, the companies announced Monday.
The framework agreement, which isn't exclusive, runs from 2019 to 2021. The Wall Street Journal reported that such a deal could be worth an estimated $1 billion.
Volvo said it would sell Uber XC90 premium SUVs as "base vehicles" for the autonomous car project.
Uber would not share financial information about the project, and Volvo did not immediately respond to a request for further comment.
It's a significant move forward for what has already been a longstanding partnership between the two companies. Last year, they announced a $300 million project to jointly develop autonomous cars.
Related: Self-driving cars could make jaywalking legal
Uber first tested its driverless taxi service in Pittsburgh, and it also tests cars in Arizona. An expansion to parts of California ran into trouble when state regulators dinged the test vehicles for not having the proper permits.
Sarah Abboud, an Uber spokeswoman, said the Volvo prototype vehicles were not built for scale manufacturing or true autonomy -- the step that removes a driver from the car completely.
She said the new agreement puts Uber on the path toward rolling out mass-produced autonomous cars at scale.
The use of autonomous cars is widely seen as critical for the future of Uber's business. Automakers like Tesla (TSLA), Ford (F) and GM (GM) are also toying with autonomous cars and ride services.
Without the cost of having to pay a driver, self-driving taxis are expected to cost significantly less than traditional taxi and Uber rides.
Related: Ford ramping up new tech, but carefully
Volvo, meanwhile, says the project will help it reach its own goal: being the "supplier of choice" for ride-sharing service providers around the world.
"The automotive industry is being disrupted by technology and Volvo Cars chooses to be an active part of that disruption," said Håkan Samuelsson, Volvo's president and chief executive, in a news release.
The announcement also comes ahead of some uncertainty for Uber's self-driving technology development. The company is being sued by Alphabet's Waymo, which claims Uber used information stolen by a former Waymo employee.
That case is set to go to trial in December.
--CNN Tech's Matt McFarland contributed to this story.