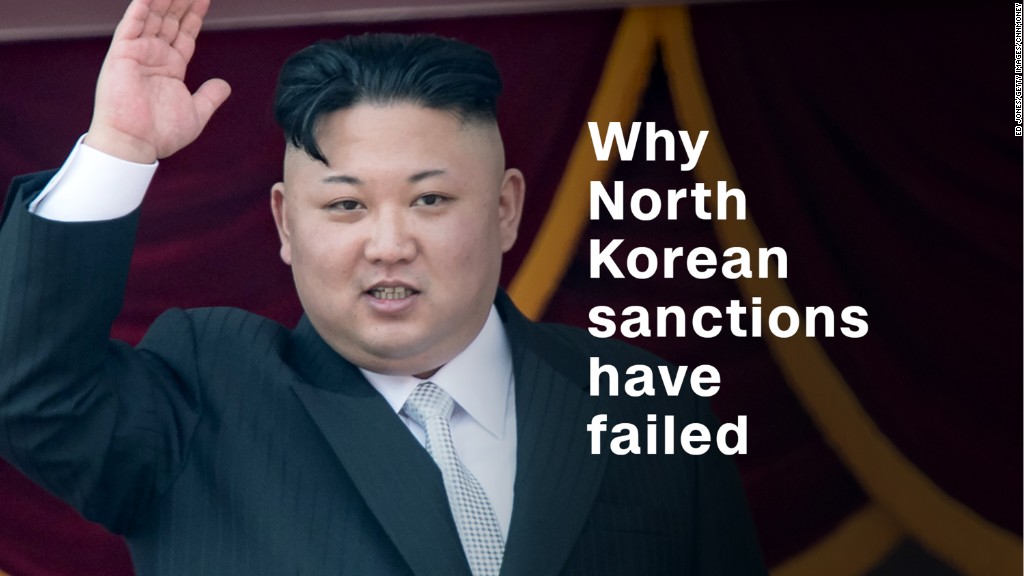 The Trump administration intensified pressure on North Korean leader Kim Jong Un to disband his nuclear weapons program by imposing another round of sanctions -- this time, on one Chinese businessman and several North Korean shipping and trading companies and vessels.
"As North Korea continues to threaten international peace and security, we are steadfast in our determination to maximize economic pressure to isolate it from outside sources of trade and revenue while exposing its evasive tactics," said Treasury Secretary Steven Mnuchin in a statement.
In total, Tuesday's action targets one individual, 13 companies and 20 vessels that have engaged in trade worth hundreds of millions of dollars with North Korea.
Treasury said a number of persons targeted in the announcement operate in the North Korean transportation industry or import or export goods to the rogue state. North Korea is known to employ deceptive shipping practices, including ship-to-ship transfers, according to the Treasury Department.
Related: Trump gives 'final warning' on North Korea trade
Three Chinese trading companies exported roughly $650 million in goods to North Korea and imported more than $100 million. The products included notebook computers, coal and iron.
Another Chinese firm, Dandong Dongyuan Industrial, exported more than $28 million in motor vehicles, electrical machinery and other items associated with nuclear reactors to North Korea over several years. Dongyuan has also been associated with front companies for North Korean organizations known to develop weapons of mass destruction.
Another organization was designated for exporting workers from North Korea.
The latest move comes a day after Trump declared he was placing North Korea back on the list of state sponsors of terrorism. President George W. Bush removed the rogue nation from the list in 2008.
North Korea is now one of only four countries in the world with that label. The others include Iran, Sudan and Syria.
President Trump has been steadfast in upholding his policy of exerting "maximum pressure" on North Korea to isolate the regime. Monday's announcement was seen by analysts as a diplomatic tool by the administration to heighten pressure on foreign countries to stop doing business with North Korea.
"Anything you can do to add on to the narrative business with North Korea is not acceptable -- and certainly the state sponsor determination does that -- pushes it in the right direction to cut off their relationships," said Anthony Ruggiero, a senior fellow at the Foundation for the Defense of Democracies.
Such a designation, prevents North Korea from receiving U.S. foreign assistance and places a ban on defense exports and sales. The designation also allows the U.S. to punish people or countries who trade with it.
Related: North Korea still making millions from small arms exports
Under sanctions legislation signed by Trump in August, the State Department was required to report to Congress whether it would re-designate North Korea earlier this month. The agency had opted to delay the decision until after the president's trip to Asia.
Secretary of State Rex Tillerson acknowledged the designation would bring a few new sanctions beyond those already imposed. But he noted the decision to add North Korea back to the list was ultimately a message to the regime about the U.S.'s resolve to "disrupt and dissuade" certain actors from doing business with North Korea.
The latest sanctions are expected to be one of several to be announced against North Korea in the coming weeks, Trump said on Monday. The series of actions would bring U.S. sanctions against Pyongyang to their highest level ever.
Already, the Treasury Department has designated eight North Korean banks and more than two dozen North Korean nationals working in countries like China, Russia and Libya.
The North Korean regime is believed to use a complex network of front companies to do business in China and other countries in order to dodge sanctions. The September order put the onus on banks and other firms to find out whether their clients have any dealings with North Korea.
Related: North Korea is trying to amass a bitcoin war chest
In September, Trump signed an executive order that would penalize any company or person doing business with North Korea by either cutting off their access to the U.S. financial system or freezing their assets -- or potentially both.
Under the order, Trump gave Treasury Secretary Steven Mnuchin and Tillerson more power to slap sanctions aimed at curbing North Korea's nuclear efforts. Mnuchin now has the ability to freeze assets of any individual or business that trades in goods, services or technology with Pyongyang.
Mnuchin said last week at The Wall Street Journal's CEO Council he has no doubt sanctions work. "In the case of Iran, the only reason they came to negotiate was this," he said.
"We're going through a process where I think the sanctions are beginning to work [in North Korea] and we'll continue to put more on," he said.
--CNN's Dan Merica, Jeremy Diamond and Zachary Cohn contributed to this report.