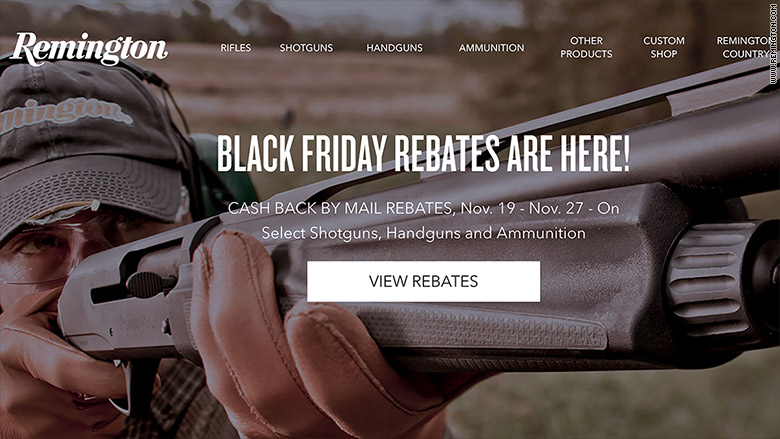 Gun dealers are expecting Black Friday to provide a respite from the Trump slump.
The biggest shopping day of the year is also the biggest day for stores that sell guns and ammo. And it's especially important in a year when sales have sagged.
Remington and Browning, two of the biggest names in the business, are offering cash rebates this week of up to $200 for shotguns and $100 for rifles, which are popular purchases during the fall hunting season.
Cabela's is offering 14 days of deals for rifles, handguns and ammunition, with discounts of up to 50% on Thanksgiving Day. Some companies, like Slide Fire, which makes bump stock devices, are also offering Cyber Monday discounts.
Smaller businesses are offering discounts, too. Sharp Shooters USA, a gun retailer and range outside Atlanta, is offering $50 to $200 off some shotguns and bolt-action rifles for hunting, said Tom Deets, who owns the business with his wife, Leslie.
Sales were strong last year on Black Friday. It was also the biggest single day on record for background checks by the FBI, which loosely track gun sales.
But after that, sales slumped. Many gun retailers and manufacturers had expected Hillary Clinton to win the election, and they stockpiled inventory, expecting sales to rise because of the prospect of tighter gun control.
With President Trump in office and Republicans running Congress, the opposite has happened. American Outdoor Brands (AOBC), which owns the Smith & Wesson brand, reported in September that its quarterly sales had dropped 37% from a year ago and its profit cut in half.
Rick Friedman, co-owner of RTSP, a gun store and range in Randolph, New Jersey, said sales there jumped 30% on Black Friday last year but have dropped 10% overall in the wake of Trump's election.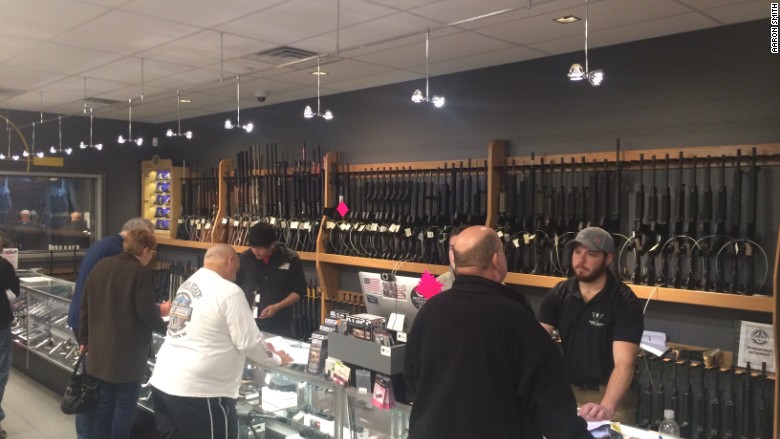 Related: Black Friday 2016 was the biggest day ever for gun sales
For this Black Friday, he's offering a 10% discount on all firearms just like before, and he's hoping to get a lift in sales because New Jersey just elected a Democrat, Phil Murphy, as governor.
"It's still the largest day in the year for gun sales," he said. "With Murphy winning the election in New Jersey, you have an impending need or desire by the locals to come out."
Patrick Hayden, owner of Kentucky Gun Company, near Louisville, said he's offering discounts and specials, but he added, "We don't expect it to be drastically different than last year."
"Keep in mind the election was already over by Black Friday last year," he said.
Related: Vista Outdoor's gun and ammo sales tank under Trump
Many gun dealers have sold off their excess inventory. That may be why Black Friday sales at gun stores are less pervasive than they might otherwise be.
"I don't think that we're going to see the numbers that we saw in November last year but I still think they're going to be strong," Deets said. "We're not going to have these blowout deals where we're giving away firearms. We don't feel like we need to."
Still, lots of gun dealers are offering discounts, and some do still have inventory to unload.
"I think the market is still over-saturated with guns and so forth," said Louis Frutuoso, owner of Standard Manufacturing, a Connecticut gun maker. He said dealers are being "very aggressive on pricing."
He also said the healthier economy could work out well for gun dealers ahead of the holidays.
"I think we have an opportunity to do very well this Black Friday/Cyber Monday because people do have money," he said.