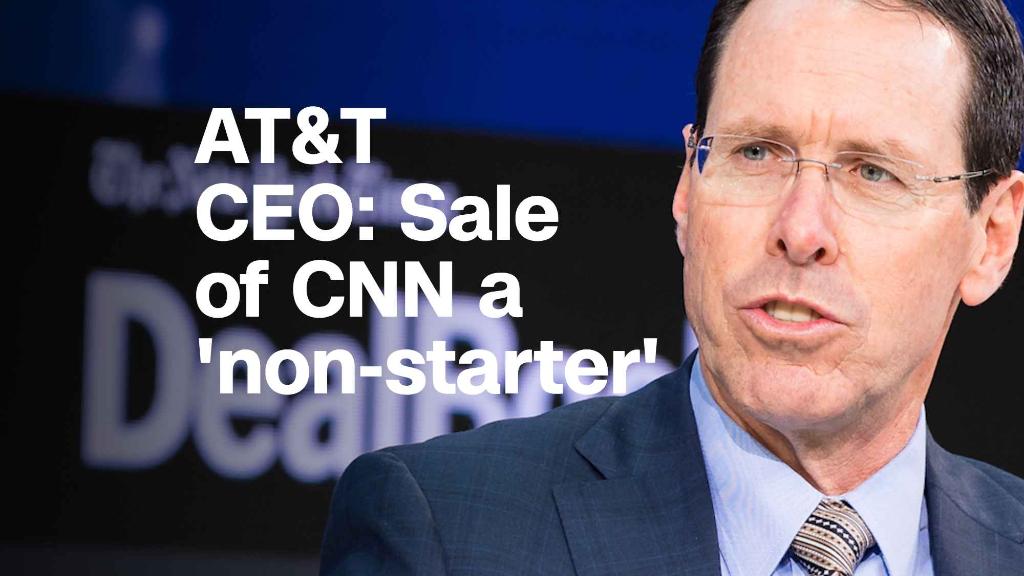 Blocking AT&T's purchase of Time Warner is a seemingly odd assault on business from the CEO president.
President Trump's Justice Department just became the first since the Carter administration to fight a merger between two companies in different lines of business. Because those so-called vertical mergers typically don't reduce competition, U.S. regulators very rarely try to stop them.
The government's effort to block AT&T's proposed acquisition of Time Warner, the parent company of CNN, would be a stunning move for an administration of either party. It signals a stark change in how antitrust law is enforced in the United States. But it's particularly surprising for a Republican president who campaigned on a pro-business, anti-regulation platform.
"For the those who thought the Trump administration would be lax on antitrust, they can throw that assumption out the window," said David Balto, a former FTC policy director during the Clinton administration. "This certainly raises concerns for other vertical mergers."
Deal or no deal?
The Trump administration is reviewing or set to review several high-profile mergers over the next few months. Sinclair is trying to buy Tribune. 21st Century Fox is reportedly looking for a buyer, and United Technologies is trying to acquire Rockwell Collins.
Corporate America will be watching the outcome of each of those deals closely as other companies consider their own merger plans.
Antitrust experts believe two mergers in particular could face intense scrutiny: CVS' reported attempt to buy Aetna and Luxottica's bid to acquire Essilor.
CVS is expected to make a bid for Aetna in an attempt to stave off a looming threat from Amazon, which itself is rumored to be entering the prescription drug retail business. CVS (CVS) is the nation's largest pharmacy, and Aetna (AET) is one of America's largest health insurers.
Luxottica, which holds a commanding lead in the markets for eyeglasses and vision insurance, wants to buy Essilor, the biggest lens maker. As the eyewear industry consolidates, Luxottica and Essilor are trying to build a soup-to-nuts company that offers everything for people who wear glasses.
Related: Some politicians cautiously praise Trump blocking AT&T-Time Warner
Both are the kind of vertical mergers that would have been expected to easily pass regulatory muster. After the Justice Department lawsuit against the AT&T acquisition of Time Warner, those deals are far less certain.
"This marks the beginning of an ice age," said Tim Wu, a professor of antitrust law at Columbia Law School. "The burden is on companies now to prove they'll help Joe Six Pack on the street and not just improve their defense against competitors."
That doesn't mean all vertical mergers will be blocked. For example, Amazon's deal with Whole Foods was also a vertical merger that the Trump Justice Department blessed. That went through after Amazon pledged to lower prices and shake up an old-fashioned and broken grocery industry.
But deals that struggle to prove how they'll help consumers could get smacked down in the future, Wu believes.
The Trump question
Of course, all this assumes that the Trump administration's rationale for suing AT&T (T) and Time Warner (TWX) is apolitical, not motivated by the president's hostility to CNN. As Wu puts it, "We're assuming this is bona fide and not Trumpified."
There's reason to believe that this is a legitimate shift in antitrust enforcement. The last two years of the Obama administration's antitrust agencies were very active. In 2016 alone, regulators blocked several colossal deals, including two proposed health care acquisitions, Halliburton's attempt to buy Baker Hughes and Staples' effort to buy Office Depot.
"This kind of sentiment has been brewing in these agencies for some time," Wu noted.
Historically, antitrust law enforcement culture hasn't directly tracked with political changes. The more lax approach began late in President Reagan's term but continued throughout the Clinton and Obama administrations.
Because each deal has its own particularities, it will be impossible to gauge regulators' consistency even if Trump administration regulators ultimately approve the CVS-Aetna or Luxottica-Essilor deals.
But if the government waves through other deals similar to AT&T-Time Warner, it would be pretty suspicious.
"If they don't apply the same standards to other vertical mergers, certainly that would heighten concerns that this was a political decision motivated to punish CNN," Balto said.