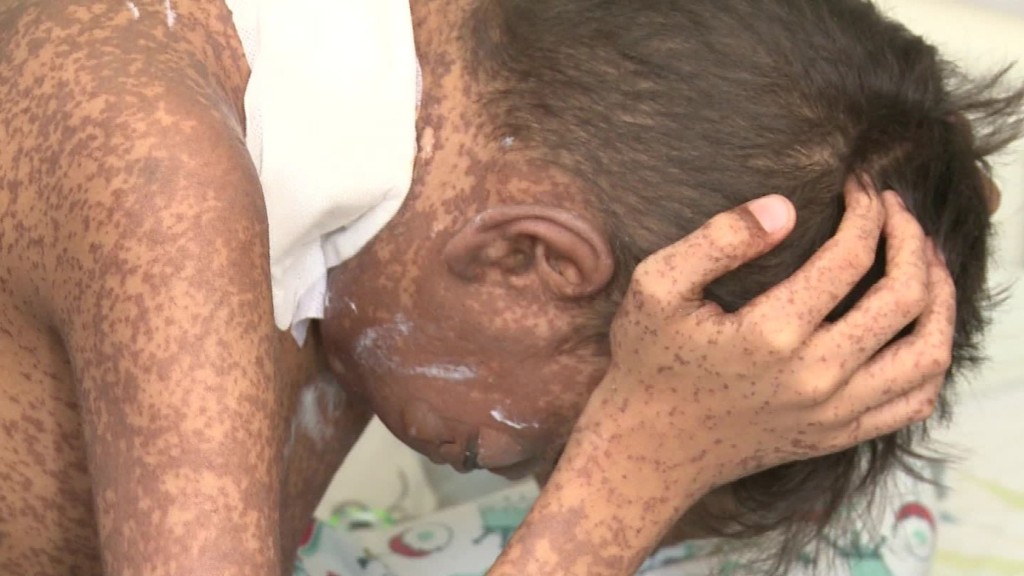 Venezuela's money is nearly worthless, and its cash crisis is only getting worse.
The country is spiraling further into a humanitarian disaster spurred by the government's economic policies, which have caused the currency, the bolivar, to plunge in value and prices to skyrocket. Food and medicine shortages have been reported across Venezuela.
The bolivar has lost 96% of its value this year. As of Tuesday, it took 84,000 bolivars to buy an American dollar. At the beginning of this month, a dollar was worth 41,000 bolivars. And at the start of this year, it only took 3,100 bolivars to buy a dollar, according to DolarToday, a website that tracks the unofficial exchange rate.
Related: Putin extends lifeline to cash-strapped Venezuela
Millions of Venezuelans look at DolarToday or another site, Paralelo Venezuela, to find out how much money they need to buy groceries -- if there's food on the shelves at all. The government's official exchange rate has been deemed meaningless.
Inflation in Venezuela has soared to 4,115% compared with a year ago, according to Steve Hanke, a professor of applied economics at Johns Hopkins University, who is an expert on hyperinflation. The crisis has deepened since the government defaulted on some of its debts.
"The economy is really in a complete death spiral," says Hanke. "It's gotten a lot worse there in the last two weeks."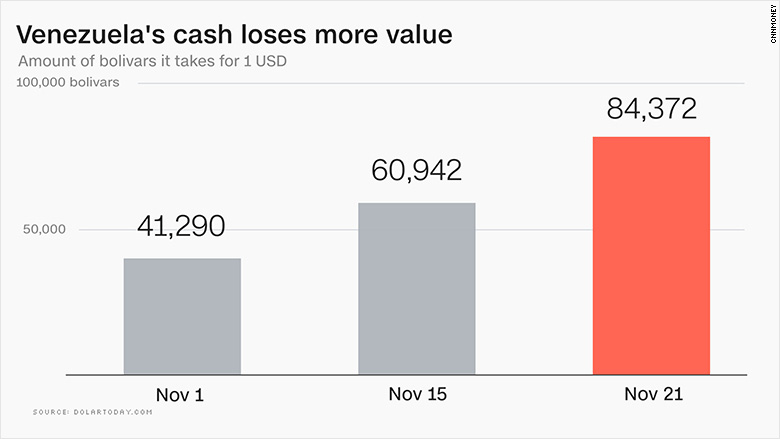 Other estimates are lower than Hanke's but exorbitant by any country's standards. The Venezuelan research firm Ecoanalitica estimates that prices spiked about 1,430% in October compared with a year ago. Prices at hotels and restaurants were up 70% in October from the month before.
Soaring prices force Venezuelans to wait hours in line at the ATM, the supermarket or both, just to get by. And things could get worse soon.
Both the government and its state-run oil company, PDVSA, recently defaulted on some debts. If more defaults follow, investors could organize and seize Venezuela's only valuable asset -- oil -- in the United States. That would choke off the government's main source of cash, which it needs to import food and medicine.
Related: Venezuela just defaulted, moving deeper into crisis
President Nicolas Maduro, whom the Trump administration labels a dictator, demanded earlier this month that the nation's debt be restructured. The government and PDVSA owe more than $60 billion just to bondholders. The central bank has less than $10 billion in reserves, which have slowly dwindled over the last few years as the country has paid debts.
The country's liabilities extend far beyond debts to bondholders. In total, Venezuela owes $141 billion to bondholders, Russia, China, contractors and oil service providers, according to an analysis by Moody's Investor Service.