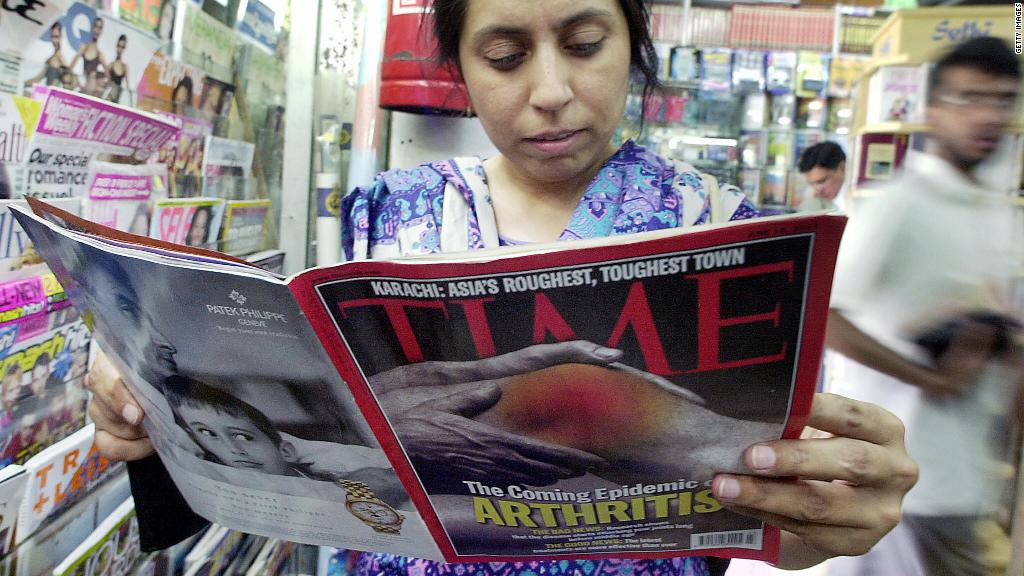 Following Meredith's acquisition of Time Inc. on Sunday, Time employees were curious about which titles in the company's prestigious portfolio Meredith would keep.
At a Monday town hall, a Time Inc. employee asked CEO Rich Battista if those working at brands like Time, Fortune and Sports Illustrated should be worried about the future of the publications. A deal between Time and Meredith fell apart in 2013, reportedly because the media company was not interested in some of Time's most iconic brands.
"I wasn't around in 2013, so I don't know all the details, and I'm not sure it was just that, but that may have been a piece of it," Battista told the employee. "They're going to do a pretty exhaustive review and at that time they're going to decide what makes sense for them going forward."
A spokesperson for Meredith, the owner of top magazines such as Better Homes & Gardens, echoed that sentiment -- telling CNNMoney that the company will do a complete combined company portfolio review of both Meredith and Time titles before making any decisions.
Time held two town halls on Monday following news Sunday night that Meredith agreed to buy the company for $2.8 billion, giving Meredith control of dozens of other big titles under the Time Inc. umbrella. CNNMoney obtained a recording of one of Monday's town hall events.
Meredith anticipates reduced costs of $400 million to $500 million "in the first full two years of operation," the company said in a press release.
The acquisition also made news due to the involvement of Charles and David Koch, who helped back the deal.
Meredith said in a statement that the Koch brothers, who are huge donors to the Republican party and conservative causes, will not have seats on the board "and will have no influence on Meredith's editorial or managerial operations."
Related: Time Inc. has new owners, including the Koch brothers
However, during the Time town hall on Monday, the first question to Battista was about the Kochs -- with one employee asking why the brothers would invest more than $600 million in the company "if not to influence our journalism?"
"I can't speculate on exactly what their decision making was," Battista responded. "What I can do is tell you the facts we got today, and those are that Meredith has made it clear in their press release that the Koch brothers won't have any board seat, that they won't be influencing management, or editorial operations."
He added that the brothers invest in businesses "all across the business landscape" and that beyond that, there's not much more he could say about it.
Battista also told employees at the town hall that he will be leaving the company at the close of the transaction.
"It's a great privilege and honor to be president and CEO of such an incredible, storied company," he said. "And such a great honor to work with all of you."
Time Inc. did not immediately respond for comment on this story.