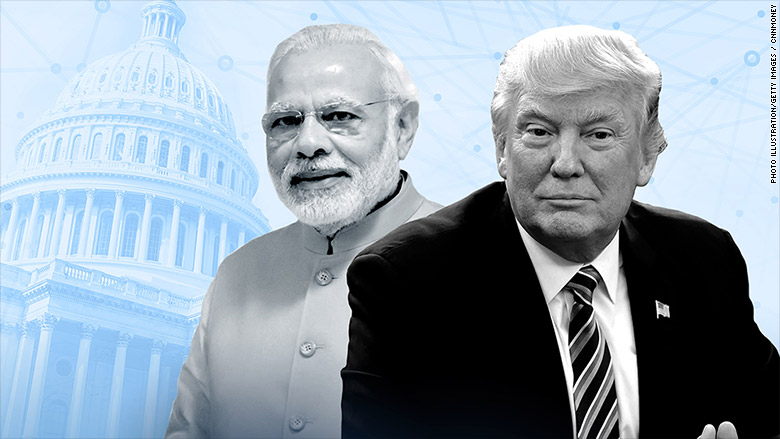 Prime Minister Narendra Modi's attempts to overhaul India's economy just won a vote of confidence from the U.S. administration.
"We're very encouraged with the prime minister's reforms ... peeling back regulation, which encourages businesses to invest," said Ray Washburne, who heads the Overseas Private Investment Corporation (OPIC), a U.S. government agency tasked with helping American companies do business in emerging markets.
"That's encouraged OPIC to get more involved in India," he told CNNMoney.
Modi's reforms have had mixed results since he took office in 2014. Economic growth has slowed sharply over the past 12 months to its weakest rate in three years.
Washburne, appointed by President Trump in August, was speaking on the sidelines of the Global Entrepreneurship Summit in Hyderabad, hosted jointly by India and the U.S.
Related: Moody's loves Modi's plans for India
The Texas-based investor said India's myriad regulations -- which often differ across the country's 29 states -- have been the main obstacle to U.S. companies investing in the country.
Modi's main initiative to simplify regulations took the form of an overhaul of India's tax system, enacted in July. The introduction of a national goods and services tax assigns products a single tax rate across the country, effectively turning it into a single market for the first time.
"That's important to us," Washburne said. "If someone's going to do business in multiple states, they need to pretty much have a common law."
OPIC has helped American businesses invest nearly $1.5 billion in 38 projects across India, he added, in sectors ranging from energy to banking. Another $1 billion is in the pipeline.
Washburne's bullishness masks underlying tensions between the two countries. India is on a list of countries Trump has criticized for running a trade surplus with the U.S.
Related: Ivanka Trump says women can power India's economy
And the president's campaign to "Buy American, Hire American" appears to clash with Modi's "Make in India" initiative designed to expand his country's manufacturing base.
Trump's rhetoric on immigration, especially his plans to re-examine the H-1B work visa, have also caused anxiety in India, whose tech industry sends thousands of engineers to the U.S.
"We are committed to expanding our trade relationship and our investment relationship with India. It's in the interest of both our economies," Thomas Vajda, the acting deputy assistant secretary for South Asia at the U.S. State Department, told CNNMoney.
"But it's very important, from our perspective, that that trade relationship be fair and balanced."