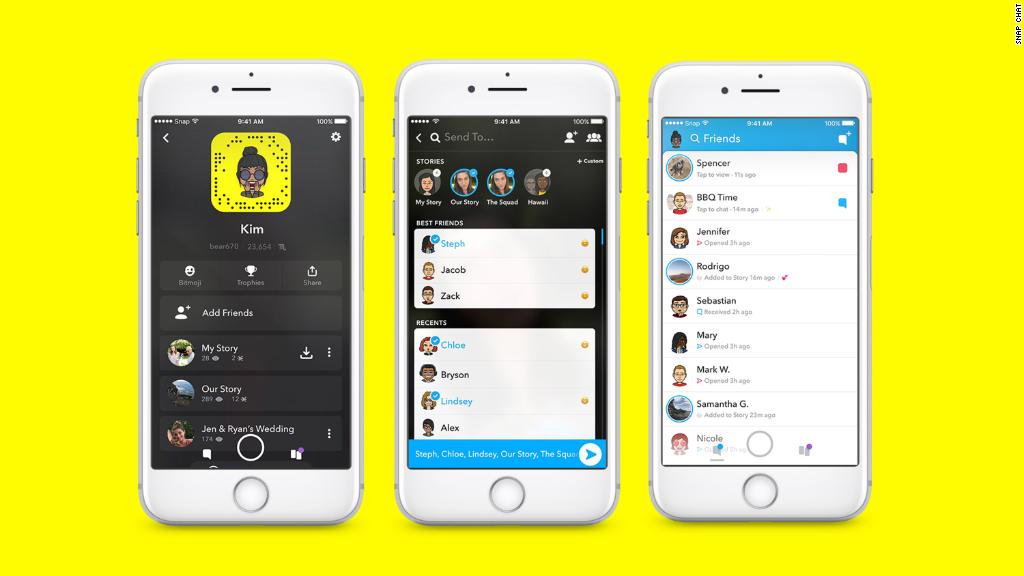 Snapchat is betting that the future of social media involves keeping the social separate from the media.
Snap (SNAP), the parent company of Snapchat, unveiled a significant redesign of its flagship app on Wednesday to make it easier to use after struggling to grow its audience since going public in March.
With the new design, Snapchat will still open up to a camera, but it promises to have a clearer delineation between content from friends and content from publishers.
If you swipe right from the main camera screen, you'll see a redesign Discover page of stories from publishers and creators as well as curated posts from the community, arranged in order of relevance for you based on Snapchat's algorithms.
Snapchat's Discover feed currently has stories and shows from publishers like The New York Times, NBC and CNN.
If you swipe left from the camera, you'll see a Friends page that pulls together your chats and Snapchat stories, with new messages and friends you've chatted with recently appearing higher on the screen.
"One of the complaints we've heard about social media is that photos and videos from your friends are mixed in with content from publishers and creators and influencers," Evan Spiegel, Snap's CEO, said in a statement. "But your friends aren't content, they're relationships."
Related: Snapchat adds features as rivalry with Instagram intensifies
In a separate post Wednesday, Spiegel went a step further by suggesting other platforms -- presumably Facebook (FB) and Twitter (TWTR) -- contributed to the spread of misinformation online by delivering news stories in a social feed intended for friends.
"Social media fueled 'fake news' because content designed to be shared by friends is not necessarily content designed to deliver accurate information," Spiegel wrote on Axios. "After all, how many times have you shared something you've never bothered to read?"
As part of its redesign announcement, Snap also said it will rely on "human curators" to moderate content that appears on the Discover page -- a move it says will "protect our community from filter bubbles and fake news."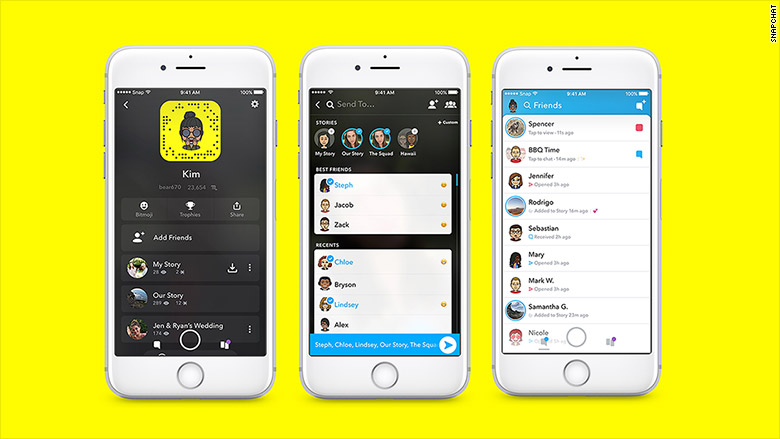 Pitching itself as a possible antidote to fake news may make for savvy marketing for Snapchat at a time when Facebook, Twitter and Google (GOOGL) are under scrutiny for their role in spreading Russian propaganda during the 2016 election.
But the driving force behind the Snapchat redesign is more fundamental: the messaging app was too hard to use.
"One thing that we have heard over the years is that Snapchat is difficult to understand or hard to use, and our team has been working on responding to this feedback," Spiegel said on an earnings call earlier this month, teasing plans for the redesign.
Spiegel noted at the time that the redesign could be "disruptive" to Snap's business in the short term. "We don't yet know how the behavior of our community will change when they begin to use our updated application," he said.
Snap's decision to overhaul its core product is particularly startling as it comes just eight months after Snap went public. But it's been clear for months that something needed to change.
Snapchat added just 4.5 million new daily active users in the third quarter, bringing its total audience to 178 million daily users. Instagram Stories, a Snapchat knockoff product, recently hit 300 million daily users.