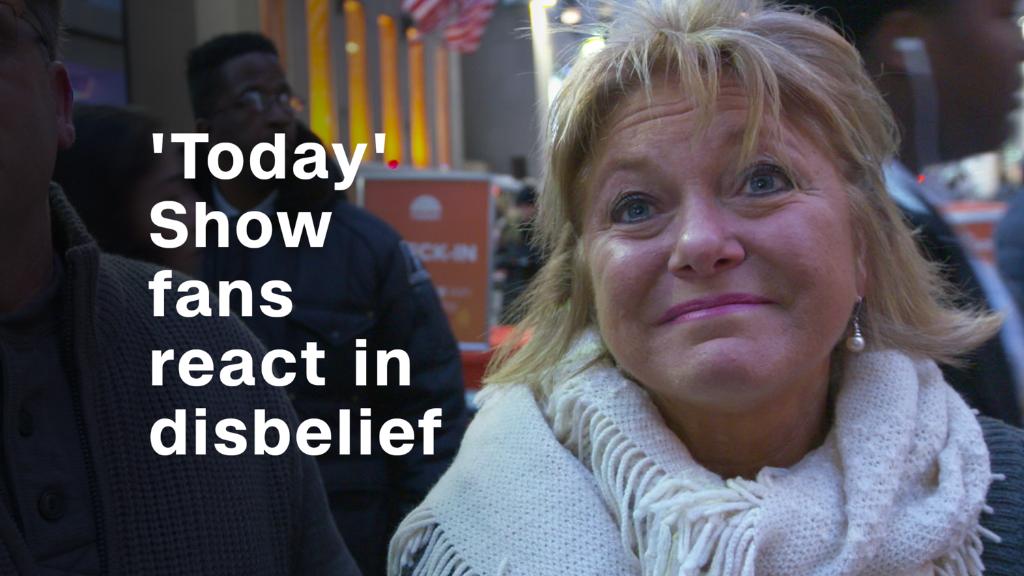 Nothing in television news approaches the morning shows for (manufactured) intimacy.
Viewers watch the hosts in their bedclothes, listen along as they get dressed. It's so much a part of typical morning routines that the shows have actively sought to portray themselves as reflections of the American family: Dad and Mom on the couch together, discussing the events of the day, sharing moments with the funny kids, and the rest of us.
It was always a fantasy, of course, though the shows have often shared unsettling traits with real families -- like dissension and dysfunction. But sexual misconduct invading the happy family is far beyond discomforting. It is a convulsive, cataclysmic event.
The news Wednesday that Matt Lauer, probably the biggest star morning television has ever produced, had been summarily fired after serious allegations of sexual misconduct, is a ground-shaking event for morning TV -- not only because he has been so prominent a part of that landscape for so long, but also because his shocking exit thoroughly explodes the mise en scene every morning show has carefully constructed for a generation.
Morning television has always been built around appeal to female viewers. But for most of its early years it was almost as male-centric on the air as the evening news. The shows had male hosts, beginning with Dave Garroway on "Today." There wasn't a female co-host: there was a "Today" girl, like Barbara Walters. Later, hosts like Tom Brokaw on "Today" and David Hartman on "Good Morning, America" would share the couch with a "co-host" (Jane Pauley and Joan Lunden) but the man would always open the show. It was a family, but decidedly a patriarchy.
That started to change when Katie Couric emerged as a star of the morning when paired with Bryant Gumbel, but even that only evolved after a true divorce-like series of events, when NBC's effort to introduce Deborah Norville to its "morning family" with Pauley still on hand was seen by viewers as akin to a wife being supplanted by "the other woman." Pauley stepped away; Norville got pilloried. Couric saved the situation by rising to the occasion. Even then, late into their partnership, Gumbel managed to describe their partnership in baseball terms unflattering to Couric, describing himself as the "closer" and her as "the set-up" pitcher.
Related: 'We loved Matt Lauer': 'Today' show fans show up day after bombshell firing
Couric survived that pairing and segued smoothly into a new partnership with Lauer. It was the first time the morning seemed a match between true equals. The family concept on morning TV paralleled trends in the nation, with women claiming more equal status. Still, after Couric left and Lauer remained, "Today" returned to a largely Daddy-centric format.
Now, coming as they do after so many other egregious and offensive accounts of sexual impropriety and worse by men in places of power and prestige, the allegations against Lauer have had the impact of a cozy family household turning suddenly sordid, like a father in a domestic sitcom tearing off a mask to reveal a Mr. Hyde figure so crazed he tears apart the furniture, abuses the wife, and kills the family dog.
Matt Lauer? He hosted the Thanksgiving Parade less than a week ago, for heaven's sake. He has sat convivially next to a succession of female hosts -- most of whom spoke of their deep fondness for him -- exchanging the usual jolly banter and intimate details of regular life. (Except, of course, for the unpleasantness of his brief pairing with Ann Curry, which hit the dysfunction button especially hard.)
A lot of women were dismayed by how that unfolded and long held it against Lauer, at least partly because his estrangement from Curry again disrupted the smooth family morning TV narrative. But that episode ultimately played as relationship conflict, with Lauer as the instigator. What's going on now is exponentially uglier.
Related: The media men who have been accused of sexual misconduct
Because it is also a betrayal. The male host of "Today" might be arrogant at times, might be overbearing, might be insensitive. But the male host of "Today," the father-figure of the format, cannot be toxic, a threat, a monster.
Those are the words now associated with the rogue's gallery of male offenders whose egregious sexual behavior has become the propulsive cultural headline of the last two months. It only underscores how thoroughly the morning family myth has been obliterated that Lauer is the second morning host accused of grotesque sexual excess, following on the skin-crawling details of the allegations against CBS' Charlie Rose.
For the moment, the intense focus will be on what this means for NBC and the rain-maker of its news division. What will NBC do to try to preserve the lucrative -- and iconic -- "Today" franchise?
With the fantasy of a quintessentially American morning family sharing its breakfast with the nation now in tatters, maybe one answer is to go all in on one of the kinds of modern families: leave Dad as central figure out of the portrait, at least for a while.
Maybe a group of smart, professional women can carry the load on the air. They do it plenty in real families.